USA Luge Captures Gold and Bronze During Second Junior World Cup
by Chris Gregg special for USA Luge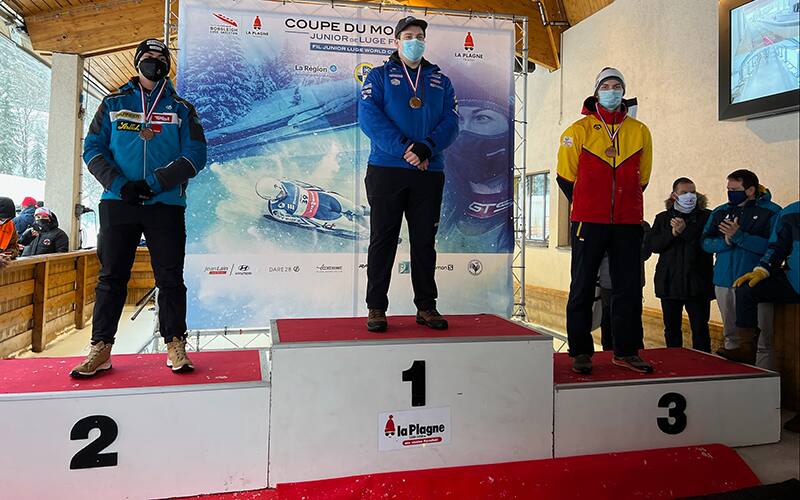 Above: Matt Greiner (center) wins! Photos: Katja Haupt
LA PLAGNE, France - As the second FIL Luge World Cup for Women's Doubles, Junior and Youth athletes continued in La Plagne, racers from the United States added more medals to their collection in the final two days of competition.
Following their historic silver medals during the first-ever women's doubles World Cup race on Dec. 2, the team of Chevonne Forgan of Chelmsford, Mass. and Sophie Kirby of Ray Brook, N.Y. took bronze during the Dec. 3 Women's Doubles race.
Matt Greiner of Park City, Utah added his second gold medal of the season to his collection in the Junior Men's singles division. Hunter Harris of East Fairfield, Vt. Was 10th. Michael O'Hara of La Crescenta, Calif. placed 13th.
After taking gold during their international racing debut on Dec. 2, the doubles team of Marcus Mueller of Brookfield. Wis. and Ansel Haugsjaa of Framington, Mass. slid into first place, capturing another gold in Youth A Men's doubles.
"I was very happy with our runs, especially following a rough start to the week with some issues with our sled that the coaches were able to help us work out," said Mueller. "We [Ansel and I] are incredibly proud of taking two gold medals during our very first time racing internationally!"
Aidan Mueller of West Islip, N.Y. and Frank Ike of Lititz, Penn.were sitting in 5th place after the first run but were disqualified after their sled was found to be overweight.
Mueller also took bronze in the Youth A Men's singles races. Aidan Mueller of West Islip, N.Y. was behind Marcus Mueller by 0.47 seconds, taking 4th. Haugsjaa took 6th in the same race.
Doubles team of Maya Chan of Chicago and Reannyn Weiler of Whitesboro, N.Y. placed 10th in Junior Women's doubles.
Sophia Gordon of Sussex, Wis. placed 5th in Youth A Women's singles.
In Junior Women's singles Elana Morrison of Muskegon, Mich. placed 12th, followed by Emma Erickson of Park City, Utah in 14th.
In the team competition, the United States, represented by Morrison, Greiner and the doubles team of Mueller/Haugsjaa placed fourth.
The Women's Doubles and Junior World Cup continues Dec. 10-11 in Innsbruck, Austria.
For complete results, visit https://www.fil-luge.org/en/multimedia/2nd-junior-world-cup-1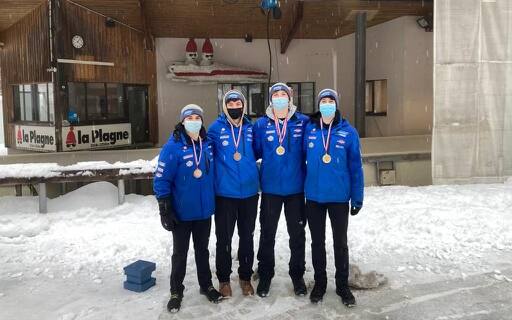 Above: Frank Ike, Aidan Mueller, Marcus Mueller and Ansel Haugsjaa