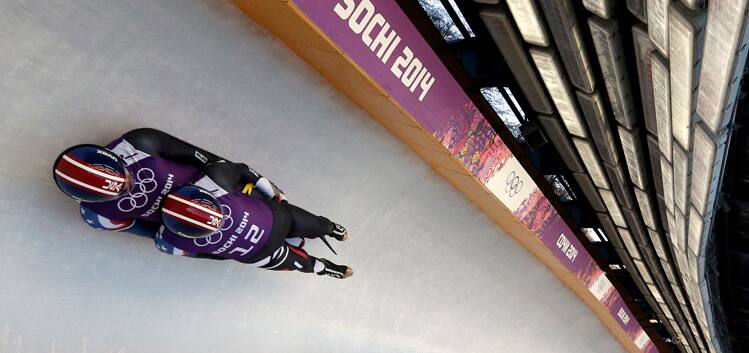 Vision
Our vision is to make the US Olympic luge team the best in the world.

Our Mission
The mission of the USLA shall be to promote and grow the sport of luge in the United States, and to do whatever possible so that our athletes achieve sustained competitive excellence in the sport of luge in Olympic, World Championship, and other international competitions in a manner consistent with highest standards of sportsmanship. It is our responsibility to cultivate and steward a culture of dignity and respect in sport by fostering a safe and supported environment on and off the field of play.
Core Values
Ownership: We are a high-performance team and take ownership, accountability, and responsibility for our individual work to achieve collective results.

Collaboration: We are inclusive, we are open-minded and we work together as a team to reach our shared goals.

Respect – Mutual respect of each other's contributions to our team's goals is a vital component of our team's success.

Communication: Everyone's feedback is appreciated, respected and always welcome. Open, honest and timely communication is critical to our team's achievements.

Continuous Improvement: We are dedicated to continuously improving our performance and outcomes. We are driven to deliver exceptional results and are committed to excellence.

Developing the sport: We champion the growth and development of luge in the United States through the engagement of current and former athletes, sponsors, volunteers, families and fans in ways that foster belonging.
We are one team and share the same values throughout our entire organization.
USA Luge is an Olympic class member organization of the United States Olympic Committee (USOC) and is the National Governing Body (NGB) for the sport of luge in the United States. A not-for-profit organization, USA Luge - the official American representative to the International Luge Federation (F.I.L.) - is based in Lake Placid, N.Y. with a western office in Park City, Utah, and its natural track operations in the Marquette/Negaunee, Mich. area. Chartered in 1979, as a direct result of the Congressional Amateur Sports Act of 1978, it is the responsibility of USA Luge to recruit, prepare, train and equip the United States National Luge Team for international and Olympic competition, as well as promote the growth of the sport nationwide.
Technical, marketing and administrative support is all provided through USA Luge's offices in Lake Placid. Coaching is provided through the Lake Placid, Park City and Marquette/Negaunee offices. Annually, a number of important competitions are held at the Mt. Van Hoevenberg complex, the Park City 2002 Olympic course, the summer and winter tracks in Muskegon, Mich., as well as the Lucy Hill, Mich. natural track run.
Lake Placid has been host to important international competitions such as the 23rd World Luge Championships, numerous World Cups, the 1st, 10th and 23rd Junior World Luge Championships and the 2000 Winter Goodwill Games. Lake Placid hosted the 41st World Luge Championships in February of 2009. The original luge run, which hosted the luge competitions during the 1980 Olympic Winter Games, was replaced by a combined luge/bobsled/skeleton track in Feb. 2000. The Park City track has hosted the 2002 Olympic Winter Games' luge competitions, the 38th World Championships and numerous World Cups. In the summer of 2010, the short-course winter luge track in Muskegon added a summer luge track designed for use with wheeled sleds. Both sites host races on a regular basis. The Lucy Hill track has also hosted several domestic and international events.
All four facilities regularly serve as sites for many recruitment and development training camps, as well as National Team training and racing in the two disciplines of the sport