Britcher silver medal, Mazdzer/Terdiman 5th in opening Sprint World Cup races in Sochi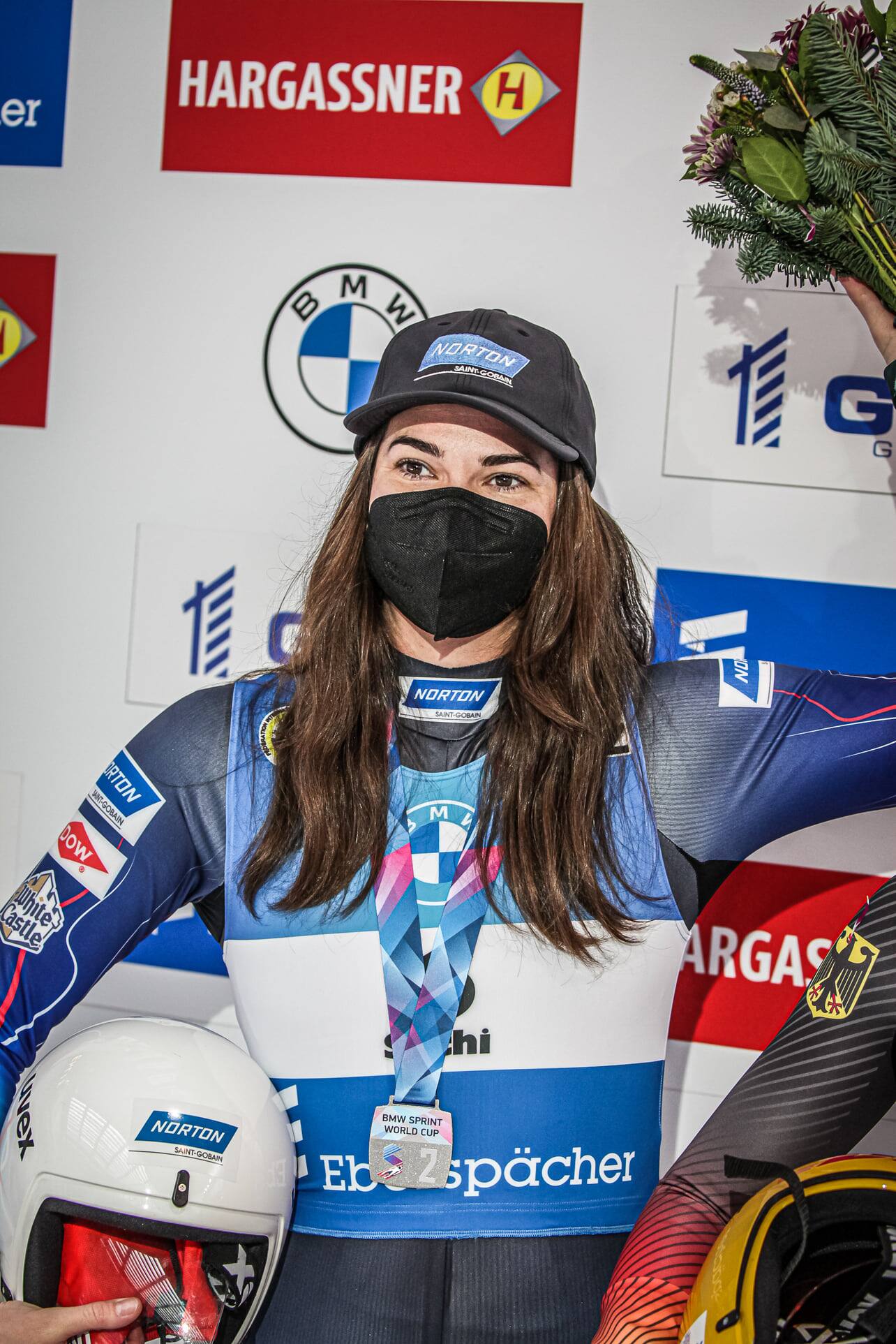 Above: Summer Britcher with her Sprint World Cup silver medal in Sochi, Russia on December 5, 2021. All photos: FIL / Mareks Galinovskis
KRASNAYA POLYANA, Russia – Summer Britcher picked up USA Luge's second medal of the season Sunday in the resort above Sochi when she raced to the silver in the opening sprint World Cup event. Teammates Chris Mazdzer and Jayson Terdiman, 13th on Saturday in the traditional competition, were fifth in the doubles sprint.
The event is a one-heat dash where the sliders, from their usual start heights, generate about 100 meters of momentum before the timing is triggered, hence the "flying start" concept to begin each run.
Earlier in the day, Britcher, a two-time Olympian, finished 10th for the second straight week in the traditional two-heat singles race. She has now satisfied the criteria for USA Luge Tier B Beijing Olympic qualification.
"My sprint race this evening was really good," said the Glen Rock, Pa. resident. "I was finally able to figure out some problem spots for me from earlier in the World Cup. I really put down a great run and happy to come away with a silver medal."
Ashley Farquharson achieved Tier B status last weekend. On Sunday, the Park City, Utah slider was 13th in singles and 14th in the sprint.
Fellow Parkite Brittney Arndt placed 19th in the singles race and did not qualify for the bonus World Cup points afforded by the sprint. Only the top 15 in the discipline race advance to the sprint.
Given that the second weekend on the 2014 Olympic track replaced Lake Placid on the schedule, the races doubled as the American Pacific Championships between North American and Asian teams. Britcher and Farquharson were 1-2 in the race within a race, with Arndt fourth.
After losing fall training time together due to Mazdzer's broken foot, the top U.S. doubles team is gradually ramping up with their eyes on the big prize in February.
"We went back to Jayson's older sled because it is much more consistent," said Mazdzer, of Salt Lake City, the 2018 Olympic silver medalist. "Still not entirely there with less than 10 runs on it all season but we have had success on it in the past and it seemed like the right decision to use this week. We still had (more) time in the run but overall, pretty happy with fifth. Now if only we could have had two of those runs in the World Cup…."

Jonny Gustafson, of Massena, N.Y., was the lone USA Luge representative in the men's sprint. On a loaner sled from Russia, Gustafson finished 15th a day after claiming the America Pacific title. A significant amount of luge equipment remains at the Beijing airport.
From the United States standpoint, sprint results do not count toward Olympic qualification.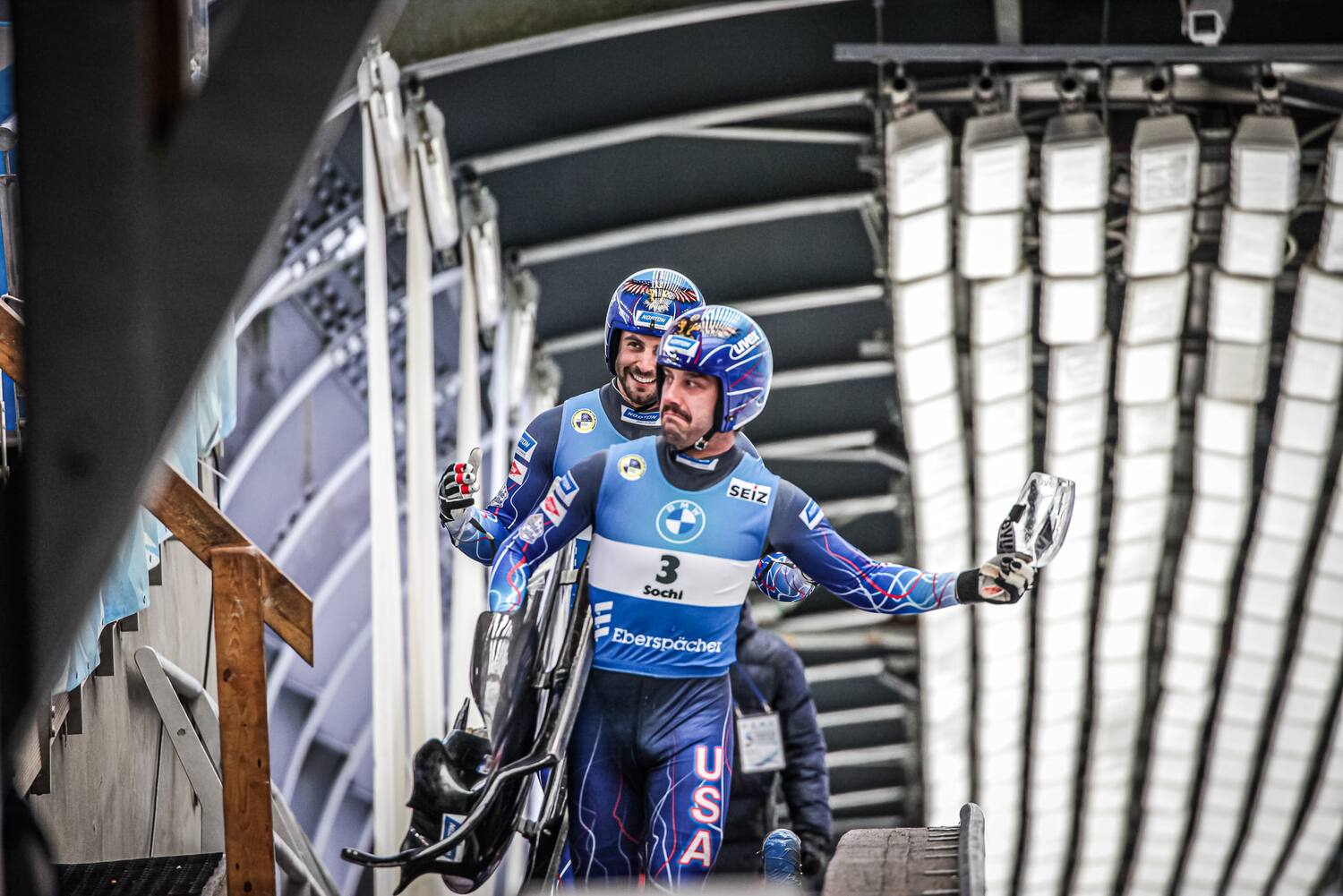 Jayson Terdiman (front) and Chris Mazdzer
WOMEN'S SINGLES
Julia Taubitz and Natalie Geisenberger returned to the top Sunday, leading a German domination of the women's race. Taubitz, World Cup and World Champion, captured the event by over 0.3 of a second. In winning both the singles and sprint races – her first two victories of the winter - she now has 15 career gold medals.
Geisenberger, the four-time Olympic gold medalist who found herself in the unfamiliar position of having to qualify Friday in the Nations Cup, picked up the silver medal with the third and fifth fastest heat times, respectively. Teammate Anna Berreiter, who has won already in the early stages of the World Cup season as she strives for her first Olympic berth, was fourth.
Latvian Kendija Aparjode scored her second medal in three weeks by finishing third. Aparjode was motivated by the inaugural World Cup win by her brother Kristers Aparjods just 24 hours earlier. That marked the first-ever singles triumph by Latvia.
Ekaterina Katnikova sat in second place entering the final leg. But the Russian's second heat did not start well and got worse when she lost her face shield in turn 11. She completed the run with watery eyes, poor aerodynamics and well down the final results list.
Pyeongchang Olympic silver medalist Dajana Eitberger, of Germany, "won" the last run and improved to ninth place at the end.
Madeleine Egle, of Austria, the gold medalist in Beijing two weeks ago, was fifth.
Once again, one of the underlying stories continues to be the absence of 33 sled boxes that remain in Beijing customs. As of Sunday, they had not started the journey to Altenberg. The International Luge Federation (FIL) reported Sunday that "11 leading athletes were missing sleds and equipment completely." Andrea Voetter, of Italy, was seventh on borrowed gear, while others, said the FIL, could not start.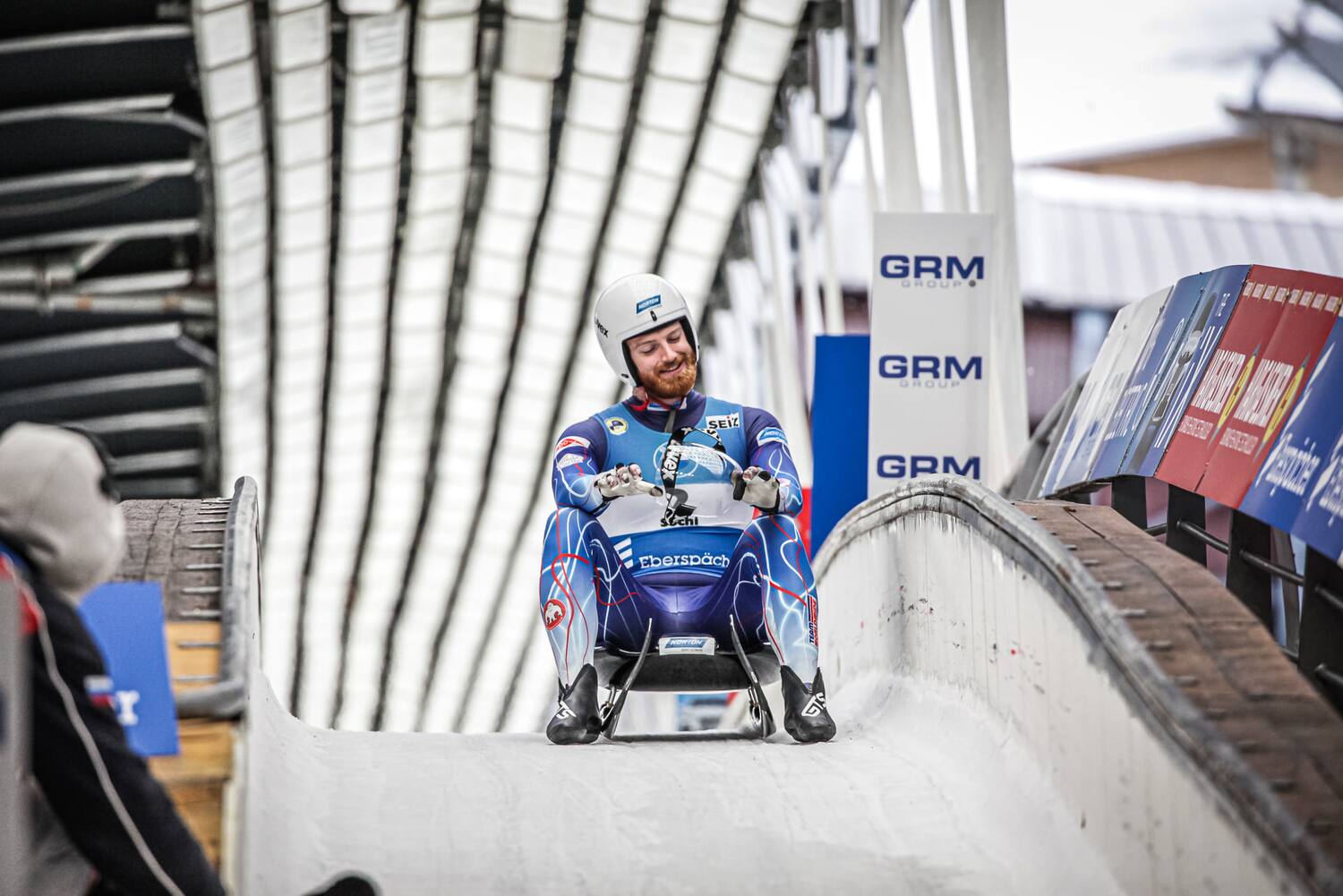 Jonny Gustafson
SPRINT
Taubitz completed her sweep of the doubleheader later in the day with a sprint gold. She clocked 31.743, while Britcher was right behind in 31.764. Eitberger trailed by another 0.01 of a second. Four German lugers were in the top six that also included the Latvian Aparjode.
The Sics brothers of Latvia, Andris and Juris, won the initial sprint doubles race of the season, marking four consecutive podium results to start the year for the athletes in their mid to late 30s. In addition, the ageless wonders have recorded nine consecutive podiums dating back to last season. Four of the nine have been victories.
Their time of 31.385 seconds was 0.03 clear of the field. Uncharacteristically, the top German sleds of Toni Eggert and Sascha Benecken was seventh, followed by Tobias Wendl and Tobias Arlt in eighth.
The fifth place by Mazdzer/Terdiman has them now pointed in the right direction.
"Even though we went back to 'Old Faithful' this week, we have not given up on the new sled," remarked Terdiman, of Berwick, Pa., looking for his third Olympic berth. "We look forward to having Andre (Florschuetz, sled-builder) with us for a little bit, and plan on using his expertise in the next steps with the new one.
"Like Chris said, we are pretty happy with fifth today. Of course, we want more. We are very competitive guys, but we also have to keep reminding ourselves that we are still in our 'preseason' form, and with some more runs and more time on the tracks, we should see ourselves improve from where we are now."
Italy's Dominik Fischnaller, on the podium for the second straight day, grabbed sprint gold on teammate Leon Felderer's sled due to the equipment fiasco that continues in Beijing. Fischnaller's time of 34.833 led Russian Roman Repilov by only 0.03 of a second, while Wolfgang Kindl of Austria was the bronze medalist.
World Cup leader Johannes Ludwig was sixth, with compatriot Felix Loch seventh. Aparjods took eighth.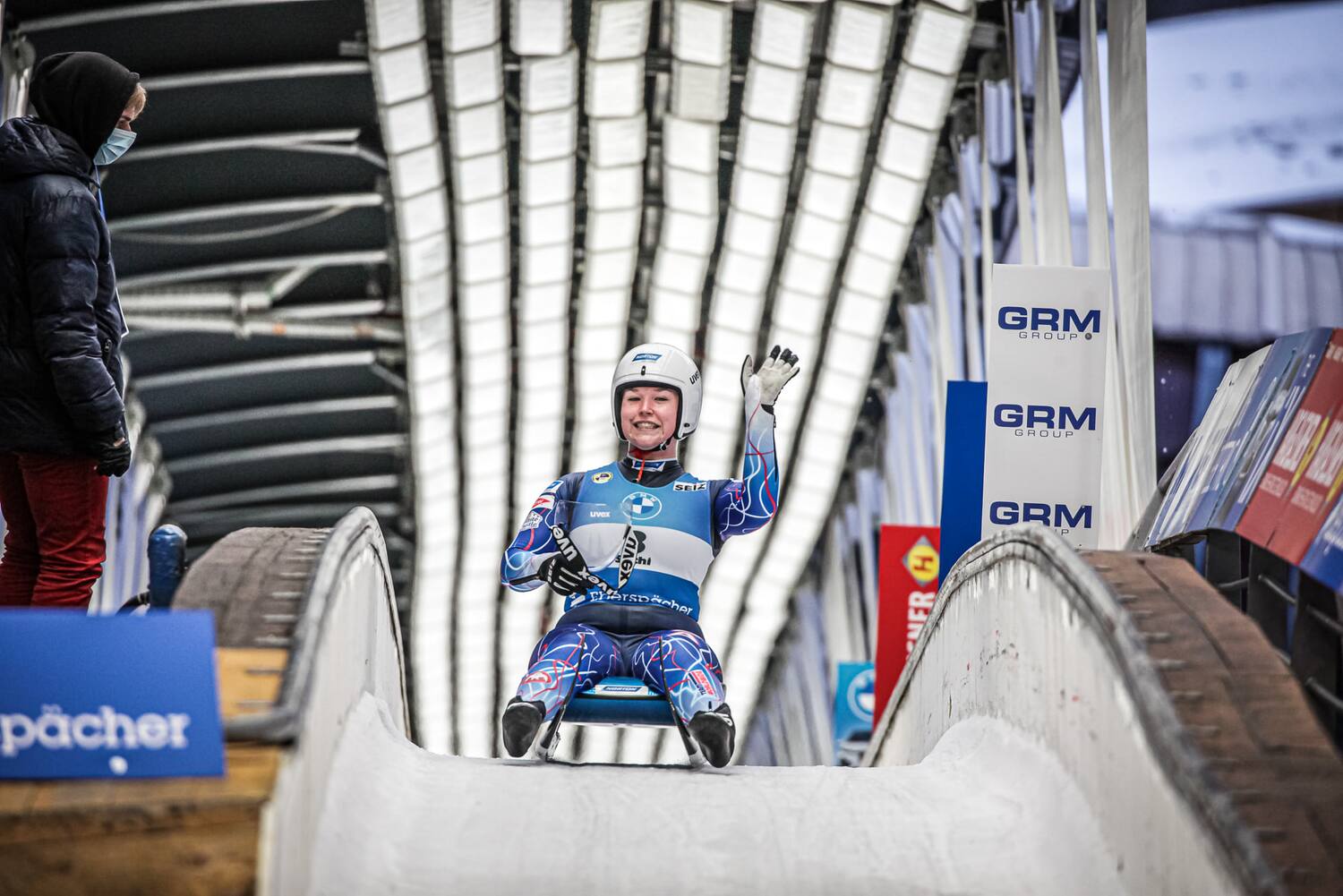 Ashley Farquharson
OVERALL STANDINGS (with points after four events)
Women:
1) Taubitz, 324
2) Berreiter, 275
3) Aparjode, 245
8) Britcher, 185
10) Farquharson, 132
29) Arndt, 34
33) Sweeney, 25 (has only raced once)
Men:
1) Ludwig, 335
2) Loch, 266
3) R. Repilov, 239
17) Gustafson, 87
21) West, 69
27) Mazdzer, 43
Doubles:
1) Sics/Sics, 340
2) Eggert/Benecken, 291
3) Bogdanov/Prokhorov, 261
T11) Mazdzer/Terdiman, 133
19) DiGregorio/Hollander, 66
26) Kellogg/Segger, 39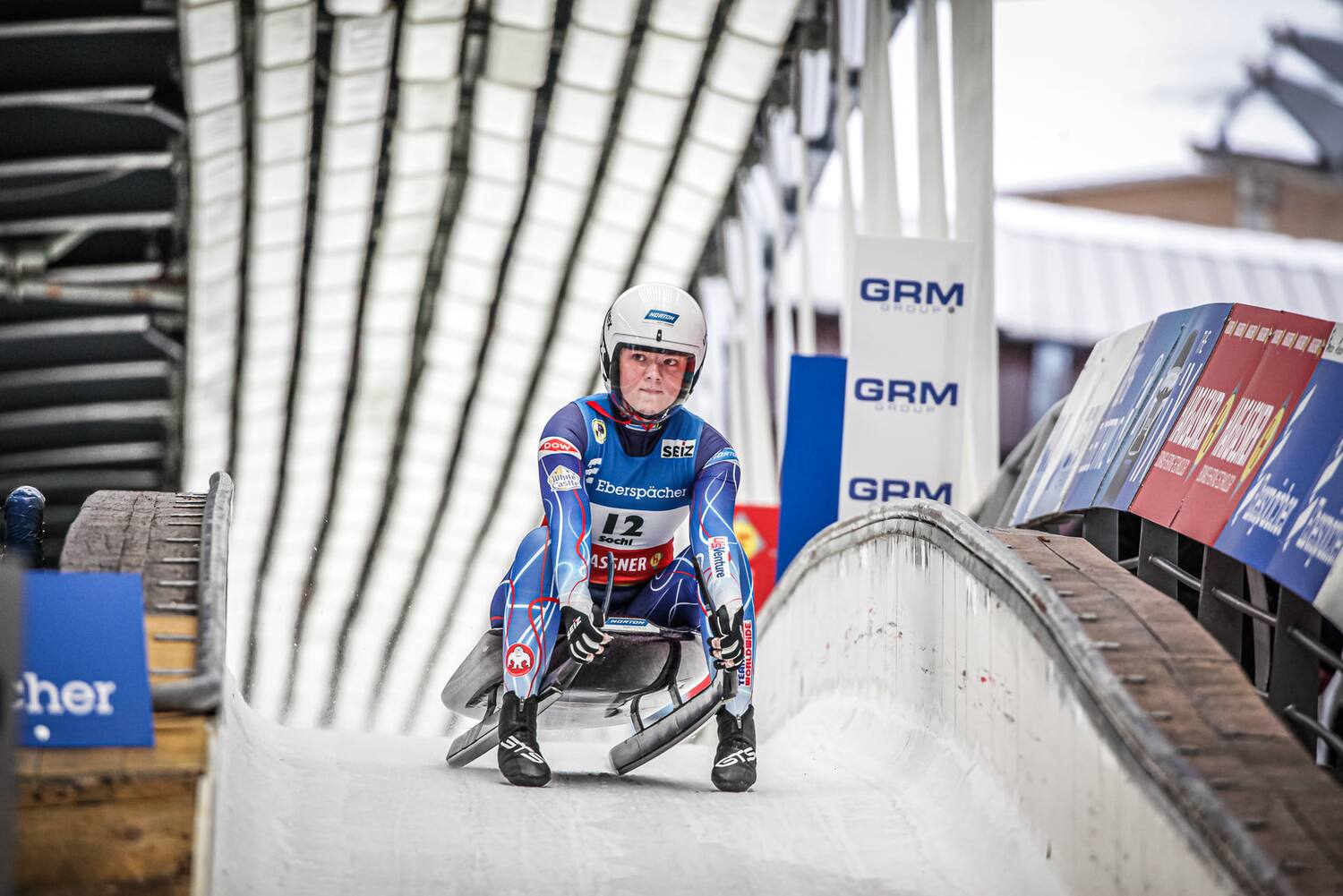 Brittney Arndt
The Eberspacher World Cup circuit now packs its bags and boards the charter for Monday's flight to Germany. Altenberg awaits and is the scene for next week's fourth series of the season.
In a U.S. preview of the upcoming competitions near the border of the Czech Republic, Britcher said, "I'm looking forward to racing in Altenberg. I'm a little bummed that we weren't able to get training on the Altenberg track. It's a huge benefit to get some additional training on a track before you go to race there. There was an international training week there, but the U.S. team could not attend so it'll be a little bit of a tough situation to only get those five training runs, but I'm excited to what myself and the team can do."
Broadcast coverage on NBC Sports Network from Sochi airs tonight (Dec. 5) from 6:30-8:30 EST.