Sweeney 5th, Britcher 10th in Altenberg Women's World Cup race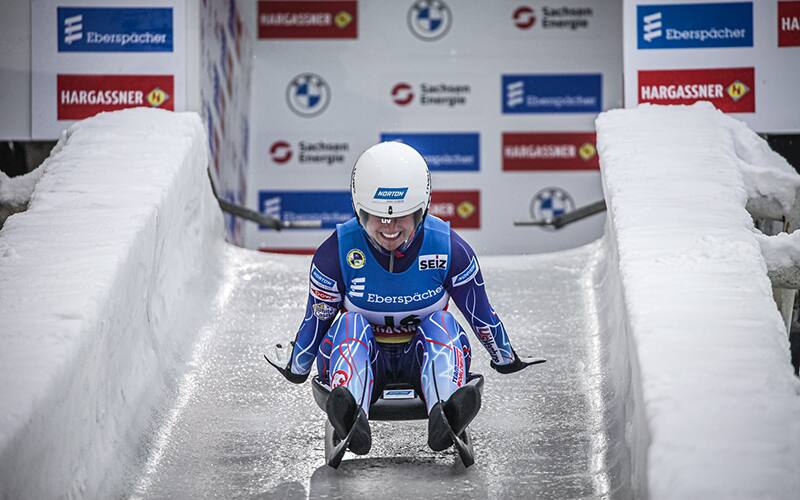 Above: Emily Sweeney paddles down the start ramp in Altenberg, Germany during the luge World Cup on December 11, 2021. Photos: FIL / Mareks Galinovskis
ALTENBERG, Germany – American Emily Sweeney used a brilliant second run Saturday to improve from eighth place to fifth in an Eberspacher World Cup luge race in Altenberg.
The performance satisfies a Tier A Olympic qualification and occurred after missing the two Sochi World Cup weekends through no fault of her own. As a member of the Army's World Class Athlete Program (WCAP), she was prevented from entering Russia as the result of a mandate from the U.S. Department of Defense impacting all military personnel. The Lake Placid resident did not compete in the three previous races and spent that time training on European tracks.
"The past two weeks prior to this was pretty challenging," stated Sweeney. "All that kept going through my mind were zeroes, just knowing I had zero opportunity to get the qualification we need for the Olympic team, and also just points. Those are huge to miss out on two World Cups in an Olympic year. It was a big hit, so it was really challenging. The first week I did a really good job making the best of the situation, and just going after it the second week. I think mentally I got down a little bit, but it's great to be back with the team. To have people cheering and training with you is a really special thing."
Sweeney, a 2018 Olympian, qualified for the event with a silver medal in Friday's Nations Cup race. In the meantime, between the Nations Cup and the World Cup, the missing 33 sled boxes finally arrived in Altenberg. In fact, as a result of this uncalled-for delay, Sweeney competed without her full complement of top-level equipment. Her two attempts down the demanding Altenberg track were ranked eighth and fourth fastest.
Teammate Summer Britcher, a two-time Olympian, was tied for fifth at the break and finished 10th for the third straight singles race. Earlier this month, The Glen Rock, Pa. athlete checked the boxes for a Tier B qualification.
Park City, Utah sliders Ashley Farquharson and Brittney Arndt were 21st and 22nd, respectively. Farquharson secured Tier B status in Sochi.
The doubles team of Chris Mazdzer and Jayson Terdiman used the second leg of the race to elevate from 16th to 13th place. Mazdzer, the 2018 Olympic silver medalist, is racing both disciplines. He broke his right foot in late September when the team was in pre-season sliding in Sochi. As a result, he and Terdiman have less than 50 runs together this season on the doubles sled, and are showing gradual improvements weekly.
Dana Kellogg and Duncan Segger were 23rd, while Zack DiGregorio and Sean Hollander, in their first full season together, did not qualify via the Nations Cup.
The Beijing Winter Games begin in eight weeks; USA Luge will nominate its Olympic team in a month's time in Sigulda, Latvia after the seventh World Cup meet of the winter.
Meanwhile, Austria has made it clear. After winning both the doubles and women's races on Saturday, it's game on with all comers in February.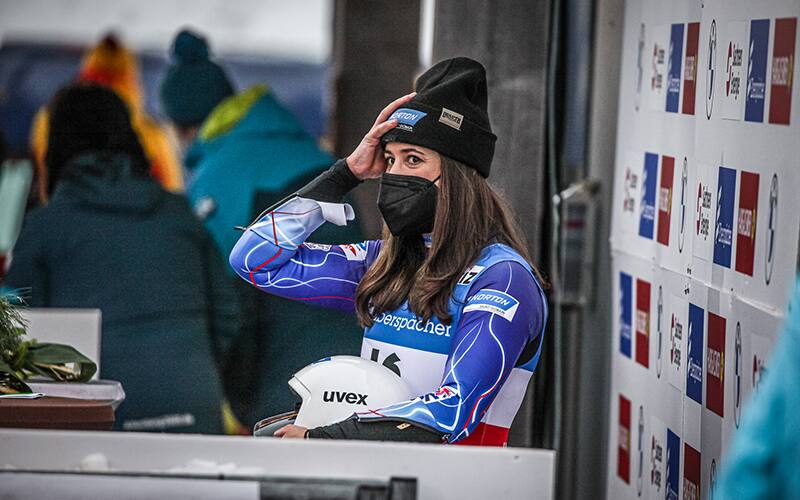 Above: Emily Sweeney realizes she's hit an A-Tier qualifying finish.
WOMEN'S SINGLES
For the second time in four weeks, Austrian Madeleine Egle has raced to a World Cup gold medal. In comfortable winter temperatures around 30 degrees, Egle distanced herself from a trio of Germans, taking the two-heat event by nearly 0.3 of a second. The 23-year-old registered the fastest times in both legs, totaling 1 minute, 45.208 seconds. World Cup overall leader Julia Taubitz was second, Anna Berreiter third and Natalie Geisenberger fourth.
Geisenberger, a four-time Olympic gold medalist and the most successful women's slider of all time, lit up the sports wires this week stating that her experience in Beijing last month was such that she is considering skipping the Olympics.
Sweeney's final run was noticeably better than her first, particularly driving through the 360-degree Kriesel (circle) that saw many loop their way through the big turn, essentially lengthening the track. She clocked a combined 1:46.041. Britcher totaled 1:46.320.
"To be honest, after being away for the last two World Cups, my goal today was to shoot for two solid runs, hoping for a top 10," reflected Sweeney. "Then try to build off that going into the next few races.
"After having a pretty decent first run, I had a few areas I knew I could improve on, I knew I had the speed in me to actually just go for it then. I was thinking about a top 10, and then to come in and have the speed I did in the first run, it really just allowed me to just go for it completely in the second run and I had a pretty fast time. I'm really proud of my start times."
The pull from the handles, together with execution of the ensuing start curve at slow speeds, can sometimes make or break the run just five seconds into it.
Through five events, Taubitz has 409 World Cup points to Berreiter's 345. Third place is occupied by Egle at 337. Britcher is eighth at 221, while Farquharson stands 11th with 182 points.
DOUBLES
Austrian Thomas Steu also broke his foot in Sochi, but that occurred two weeks ago and caused him and partner Lorenz Koeller to miss all three events on the 2014 Olympic course. The absences caused them to lose their A seed status, meaning they had to qualify on Friday. They did that with a convincing victory, and then went on to win on this track in the Saxony region for the fourth year in a row.
The defending World Cup overall champions punctuated their return by overcoming first heat leaders Toni Eggert and Sascha Benecken of Germany. The margin of victory was a scant 0.003 of a second.
"The adrenaline makes sure that the pain is bearable," said Steu, who used a crutch on race day. "On the sled, it (the pain) goes away."
A Latvian sled was third, but it was not brothers Andris and Juris Sics. The emerging Martins Bots and Roberts Plume grabbed their first career medal, winding up 0.2 from the Austrians. The Sics brothers were fifth, ending a streak of nine straight podium performances dating back to last season. They missed the podium by 0.02 of a second.
Germans Tobias Wendl and Tobias Arlt, winners of four Olympic titles, landed in fourth place, but have been known to use the Olympic season World Cup tour as their lab experiment with equipment.
Team Sics tops the standings at 395, Eggert/Benecken have 376, Russians Andrei Bogdanov/Iurii Prokhorov are next at 303.
In the first run, Mazdzer/Terdiman did not execute the start cleanly. Terdiman actually called it "horrendous", but otherwise remarked that "these were the best two runs of the season." Their second run time was 0.46 faster.
They are the only U.S. doubles team that has generated results for Olympic qualification. A pair of 13th place results thus far leaves them one top 10 from Tier C. They will get that chance next week in Igls, Austria. Before that, however, there is the business of anchoring Sunday afternoon's team relay. Sweeney will race the opening leg for USA Luge, with the Altenberg men's race Sunday morning to determine the second sled of the three.
Race action begins Sunday at 3:15 AM EST and can be seen live at Olympics.com.