USA Luge 4th in Altenberg Team Relay; Men's singles led by Mazdzer
Chris Mazdzer in Altenberg on December 12, 2021. Photo FIL / Mareks Galinovskis.
ALTENBERG, Germany – A quartet of American athletes finished fourth Sunday afternoon in the Altenberg team relay as the Eberspacher World Cup stop near the border of the Czech Republic came to an end.
Emily Sweeney, Jonny Gustafson, Chris Mazdzer and Jayson Terdiman came within 0.18 of a second from the podium on a sunny and seasonably cold day. It was the third team relay of the season. USA Luge, fourth in the overall World Cup team relay standings, opened the year with a silver medal on the new Olympic track near Beijing.
The men's singles race in the morning saw Mazdzer, the 2018 Olympic silver medalist, slide into 17th place, followed by Gustafson 19th and Tucker West 24th.
With three races remaining in the Olympic qualifying period, two sliders are on the cusp of satisfying Tier C results, with the opportunity to push their status even higher.
Tucker West, of Ridgefield, Conn., has already pocketed Tier C qualification, also with a chance to do better, as he eyes a third Olympic team.
Mazdzer, of Salt Lake City, needs a top 16 result to confirm his fourth Team USA berth.
A top 21 finish would get the job done for Gustafson, from Massena, N.Y., as he seeks his first Olympic team. Gustafson competed Sunday on a borrowed German sled as there wasn't enough time to prepare his ride which arrived from Beijing in the middle of the night.
The United States will nominate its 2022 Olympic team after the Sigulda, Latvia World Cup weekend, slated for Jan. 8-9. The U.S. Olympic and Paralympic Committee will officially announce all Olympic teams Jan. 22-25.
Meanwhile, Austria won three of the four weekend races in Altenberg and is gathering momentum for a successful Beijing Olympics.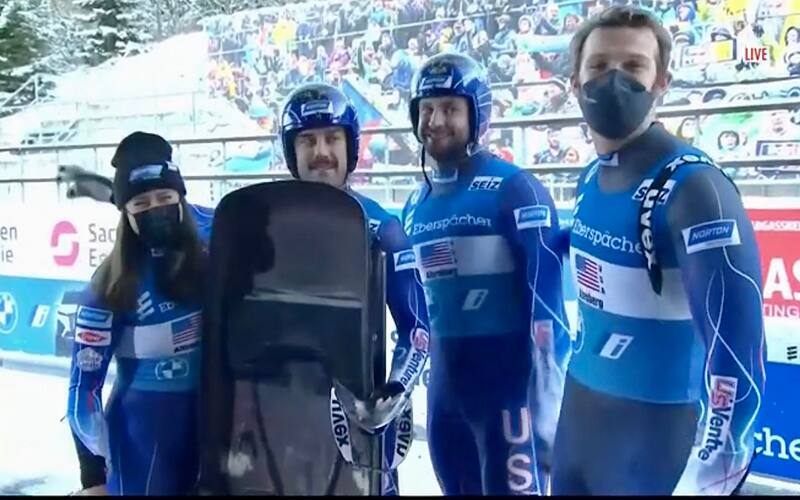 The USA Luge relay squad of Emily Sweeney, Jayson Terdiman, Chris Mazdzer and Jonny Gustafson.
TEAM RELAY
The Altenberg event started from the lowest of the three start positions. That departure is only used for doubles racing on this track in Saxony, so for women and men in the relay, the speeds and the pressures in the corners are not exactly what they are accustomed to experiencing. That could have explained the issue of Austria's Madeleine Egle, who captured the women's race on Saturday. Her run was just eighth ranked, putting her team well off the pace set by Germany, which went on to win this event.
Three consistent runs by Julia Taubitz, Max Langenhan and the doubles team of Toni Eggert and Sascha Benecken got the job done for the winners in 2 minutes, 23.954 seconds. That was 0.3 of a second faster than Italy, with Russia third, almost 0.5 off the pace.
USA Luge finished in 2:24.631. Sweeney, of Lake Placid, and Gustafson exited the track, each having fourth place individual runs. In addition, Gustafson recorded the fastest reaction time of the men's field.
The excitement and the vagaries of the team relay once again manifested themselves, this time victimizing Latvia. The nation was fighting for victory as Eliza Tiruma and Kristers Aparjods handed first place to the doubles team of Martins Bots and Roberts Plume. This up-and-coming sled lost a few fractions of a second but then crashed and never reached the touch pad.
After three of six team relays, Germany rules the World Cup standings with 231 points. Italy is second on 210; Austria third at 205; U.S. fourth holding 187 points. Team relays resume in January with competitions in Winterberg, Oberhof and St. Moritz.
MEN'S SINGLES
It doesn't get more exciting than having two athletes tie to the thousandth of a second and share a World Cup gold medal. That's what occurred Sunday morning when the hard-charging Langenhan, striving to qualify for his first German Olympic team, came out of sixth place in the second heat to catch first-run leader and two-time World Champion Wolfgang Kindl, of Austria.
"I think it's totally cool that two of us can stand on the top of the podium," said Kindl, now an eight-time World Cup winner, who has been on the uptick the past three races. "It would also have been a shame if someone was second with a thousandth of a second behind."
This against-the-odds result is the first of its kind in 10 years. A doubles race in Park City, Utah saw two Austrian doubles teams – brothers Andreas and Wolfgang Linger, and Peter Penz/Georg Fischler - share victory.
After winning for the second time this season, Langenhan added, "The fact that there was a thousandths decision is something I have never experienced before and is funny. It's cool for the sport when you finish tied to the thousandth after three kilometers of racing."
Despite second run errors, the two sliders deadlocked for the victory in a combined time of 1:47.997. World Cup leader Johannes Ludwig, also of Germany, had the second fastest time of the day but was relegated to third place in 1:48.030.
Three-time Olympic champion Felix Loch, also of Germany, was fourth, while last week's winner, Aparjods, placed fifth.
Italian Dominik Fischnaller, fourth at the Pyeongchang Olympics, was in position to medal until late in the second heat but fell back to seventh. Defending Olympic gold medalist David Gleirscher, of Austria, was 15th.
Ludwig's leading World Cup point total increased to 405, with Langenhan next at 336 and Loch third at 326. They are the frontrunners to represent the country at February's Winter Games.
The World Cup tour is now back to ground transportation after spending the last six weeks in the air. Teams will drive to Igls, Austria for next weekend's fifth stop in the nine-event series. Races on the 1964 and 1976 Olympic track will include the Sprint Cup and bring all nations to their much-needed holiday breaks.