Austria and Italy dominate World Cup racing on their home track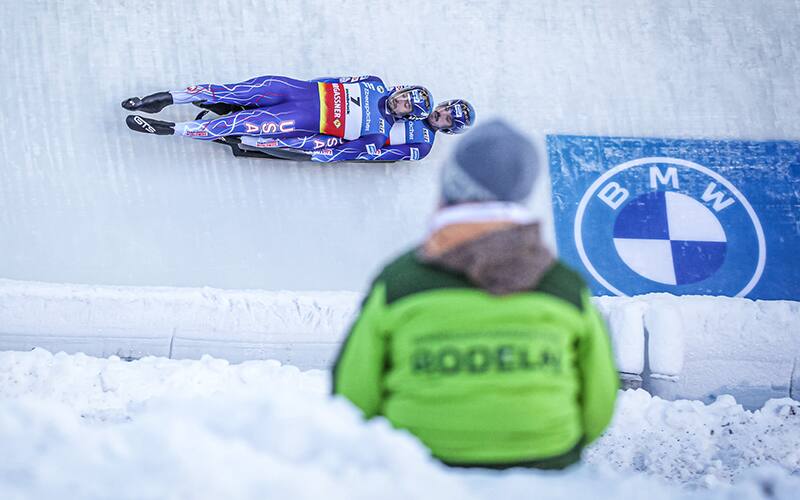 IGLS, Austria – The Eberspacher World Cup luge tour moved into the 1964 and 1976 Olympic site outside Innsbruck this weekend for the fifth event of nine races prior to Beijing. The day's highlight for USA Luge occurred when Jonny Gustafson, of Massena, N.Y., completed a Tier C Olympic qualification.
Igls marked the first competition under the new Olympic qualification pathway announced Friday by the International Luge Federation (FIL). The sport's governing body felt compelled to adjust 2022 Olympic team qualification due to the issues created by COVID isolation in November that reduced the number of training runs for some athletes, and sled and equipment delays after the Beijing World Cup that negatively affected numerous athletes over the next three weeks.
A total of 33 sled boxes remained at Beijing customs causing many athletes to race with borrowed and backup sleds and gear. Now, instead of counting the first seven World Cup meets toward every nation's Beijing qualification, the teams will be able to drop three results and count their best four.
While the redefining of the team process affects each country's ability to maximize its Olympic team at 10 members, it does not impact the United States' three tier system for singles and doubles nominations.
For instance, American Emily Sweeney, a member of the Army's World Class Athlete Program, won't see her team penalized for missing both Sochi races due to a mandate from the U.S. Department of Defense that kept her out of Russia.
Sweeney took a major step on the road to Beijing by securing a Tier A qualification with her fifth-place result last weekend in Altenberg. Gustafson, meanwhile, raced on a Russian sled for both weeks in Sochi and a German sled in Altenberg as he awaited the arrival of his equipment last weekend. Back on his own sled Saturday, Gustafson finished checking all the Tier C boxes.
The situation with the Beijing delay caused missing components in the USA Luge communications system, provided by Fast Radios, Inc. in Naples, Fla. Among those functions of the radios is the timely feedback from coaches positioned on the track to the athletes.
After the new legislation went down on Friday, men's singles and doubles races were contested in Igls the next day. Chris Mazdzer and Jayson Terdiman, with five Olympics between them, had the U.S. team's best result with a 15th place effort in doubles, right on the number to advance to Sunday's Sprint Cup.
Zack DiGregorio and Sean Hollander were 22nd as their first season together continues. Teammates Dana Kellogg/Duncan Segger did not qualify in Friday's Nations Cup.
Tucker West, a member of the 2014 and 2018 Olympic teams, was the top U.S. singles slider, in 17th place. Earlier this month, West grabbed a Tier C Olympic qualification preceding Gustafson, who raced to a 21st place finish.
Mazdzer, the 2018 Olympic silver medalist, took 20th and sits on the edge of Tier C status. Sixteenth place or better in either of the next two singles races will complete that process. He and Terdiman need a top 10 doubles finish in Winterberg or Sigulda to complete their Tier C.
USA Luge will announce its Olympic nominees on Jan. 11, subject to approval by the U.S. Olympic and Paralympic Committee. All Olympic teams will be officially announced from
Jan. 22-25.
MEN'S SINGLES
Germany's Johannes Ludwig won his third World Cup race of the season on a perfectly chilly and bright Tyrolean morning. Ludwig continues to establish himself as a person of interest for the dates of February 5-6 when the Beijing Olympic men's race will be contested.
The Pyeongchang Olympic bronze medalist has had the year of his life, now with three victories and a total of five podium results in six starts. He leads the World Cup tour with 505 points.
"Luge is just fun at the moment," said the 35-year-old after winning for the ninth time. "I'm in the shape of my life."
Ludwig was victorious with teammate Felix Loch watching from home in Bavaria. Loch, along with fellow German Dajana Eitberger, spent a few days after Altenberg with their respective families, and both tested positive. Neither made the trip to the Innsbruck area.
The way Ludwig has performed this winter, it didn't matter. On the short two-time Olympic track, Ludwig had the fastest starts and converted them into the best heats, including a track record 49.790 seconds to begin his day. In addition, he also set the start record here 10 years ago. That still stands.
The quiet German totaled 1 minute, 39.605 seconds, defeating a gaggle of sliders who were on their home track. Double World Champion Wolfgang Kindl, of Austria, was runner-up by almost 0.05 of a second as he emerges from dormancy.
"I did two super runs. I'm super happy," said the South Tyrolean. "From week to week, it's going better."
Italy's Dominik Fischnaller, finally on his own sled after the equipment chaos of the past four weeks, took third in 1:39.880. Until Cortina comes online, Italy also uses the track along Patscherkofel Mountain as their home ice.
With the crash of Max Langenhan, of Germany, the overall World Cup standings mirror Saturday's results. Kindl is in second place with 381 points, with Fischnaller at 349. Langenhan slipped to fourth place in the standings. He was threatening Fischnaller for third place well into the final run prior to his DNF.
The Gleirscher brothers, of Austria, tied for fourth place. Defending Olympic champion David Gleirscher and Nico recorded 1:40.058.
Russian World Champion and World Cup champion Roman Repilov placed seventh, with Latvia's Kristers Aparjods, a first-time winner two weeks ago in Sochi, taking eighth.

DOUBLES
Thomas Steu and Lorenz Koeller, of Austria, are ready to challenge Germany's daunting 1-2 punch for Olympic supremacy.
Just a few weeks after Steu broke his foot, the duo, which missed both Sochi doubles events and the Sochi sprint, have returned with consecutive victories in Altenberg and Igls, the ninth and 10th of their careers. Their most recent occurred in come-from-behind fashion, overtaking Latvia's Andris and Juris Sics in the final heat.
"It was cool that the catch-up worked so well," stated front man Steu. "We always manage to get things going towards the race."
The Sics brothers, both well into their 30s, have shown the ability this season to win medals on short and long tracks on a new sled. The track in Igls is particularly difficult, inasmuch as it short and easy to complete, but any mistakes cannot be overcome due to the brevity of the run.
In sics races…..make that six…races this year, they have two wins and five medals, and are looking to turn their three Olympic podiums into a fourth in less than eight weeks. They currently lead the World Cup rankings with 480 points, while Germans Toni Eggert and Sascha Benecken, have 406. Russia's Andrei Bogdanov and Iurii Prokhorov, seventh in the race, are third with 349.
"We scored important points," said Juris Sics. "Now we want to win the overall World Cup because we had never held the big ball in our hands before."
The Latvians had a slim advantage in the opening leg of 0.001 of a second, but ended up taking the silver, 0.02 from Steu/Koeller. The winners registered a two-heat time of 1:19.281. Third place went to Italians Emanuel Rieder and Simon Kainzwaldner who were 0.17 from the winners.
German sleds settled for fourth, 12th and 13th, with four-time Olympic champions Tobias Wendl and Tobias Arlt leading that effort. They have just one podium result to date which makes an observer think that perhaps some Olympic experimentation is taking place.
The time of Mazdzer/Terdiman was 0.6 behind Steu/Koeller.
Race action begins Sunday at 3:30 AM EST with women's singles, followed by the Sprint Cup for the top 15 racers in each of the weekend disciplines. Live streaming will be offered at Olympics.com.