Sweeney 6th in Igls as World Cup hits holiday break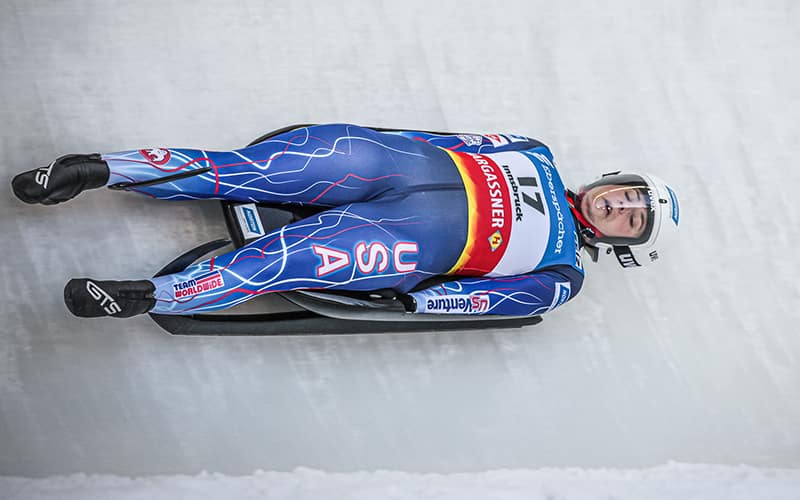 Above: Emily Sweeney competing in Igls, Austria on December 19, 2021. Photo: FIL / Mareks Galinovskis
IGLS, Austria – World Championship bronze medalist Emily Sweeney, sixth place in singles, paced USA Luge Sunday in the Tyrolean Alps as the Eberspacher World Cup tour reached its much-needed holiday break.
Starting in late November, the circuit has raced the past five weekends and traversed half the globe to China and Russia, and then back to Germany and Austria. In all, the tour will compete in nine of 10 weekends prior to the Beijing Olympic Winter Games, concluding Jan 22-23 in St. Moritz. The World Cup resumes New Year's weekend in Winterberg, Germany.
Sweeney's singles result came in the traditional two-heat event. She returned later to record a 15th place in the one-heat sprint dash where the timing begins about 8.6 seconds below the handles in Igls, creating a flying start into the beginning of the run.
Teammate Ashley Farquharson took 12th in singles and 10th in the sprint on a track that has treated her well dating back to her junior days.
Brittney Arndt, like Farquharson a resident of Park City, Utah, was 17th in the traditional singles event. This gave Arndt a portion of a Tier C qualification with two events remaining in the qualifying period.

Two-time Olympian Summer Britcher, of Glen Rock, Pa., began the singles race in fifth place, but was out of contention on the start ramp in the final leg as she pulled to the left side and dropped to 23rd place.
Sweeney, meanwhile, fell out of the medals in the second heat when the turn 9-10 combination led to some difficulties. She has completed a Tier A Olympic qualification, while Britcher and Farquharson have secured Tier B. The maximum Olympic quota in both singles competitions is three athletes per nation.
The doubles team of Chris Mazdzer, of Salt Lake City, and Jayson Terdiman, of Berwick, Pa., took 12th in sprint doubles.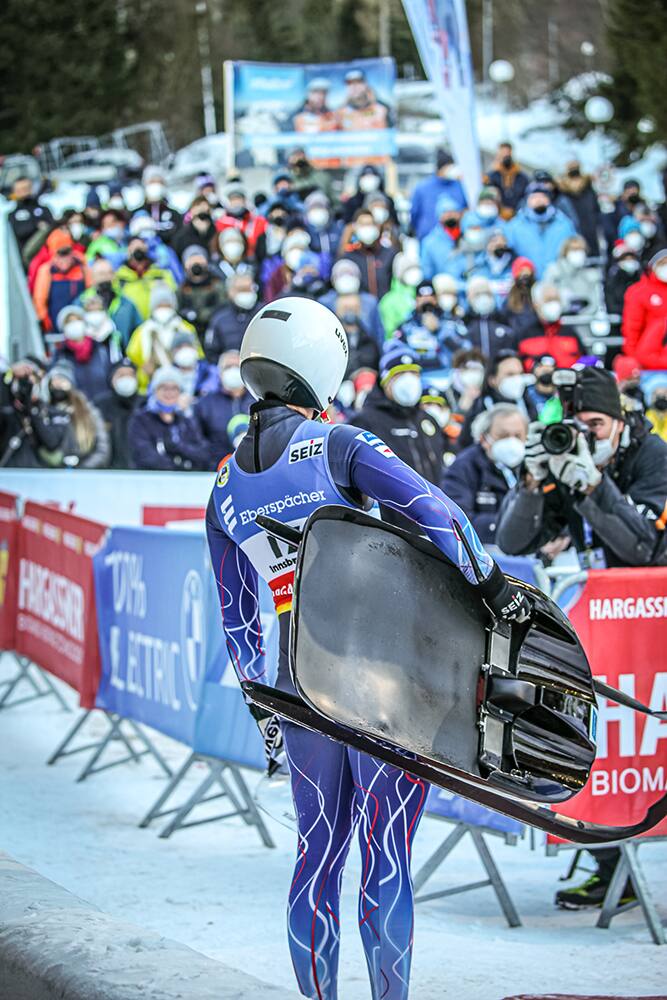 Emily Sweeney with the crowd in Igls, Austria. Photo: FIL / Mareks Galinovskis
WOMEN'S SINGLES
The day started very encouraging for the U.S. team with Sweeney third and Britcher fifth at the halfway point. Sweeney, a 2018 Olympian from Lake Placid, was in this position despite the odds.
"There was some speed today, but obviously it's disappointing to drop back from third in the regular, full on World Cup," she sighed. "I was really shocked to be in third after the first run because this week was pretty wild. It started with a crash in the first run of training. Broke my sled. The only reason I had a sled to slide on after that was because of Jayson (Terdiman) and (coach) Lubo (Mick), and it was just a wild time of throwing stuff together, so to have a third-place run after that, I'm proud of myself. I'm proud that was even within me at that point. But obviously, it's frustrating to move back out of medal position, so it's nice to have a break, and we'll come back next half."
Sweeney missed both Sochi weekends and is ranked 18th in the World Cup.
Her combined, two-heat time of 1 minute, 20.030 seconds on the short Igls track left her 0.48 of a second from victorious Julia Taubitz, of Germany. In cold, fast conditions, Taubitz set a track record in the final heat en route to her third win of the season. Like her teammate Johannes Ludwig, she leads the overall World Cup standings and has established herself as an Olympic favorite in February.
On her home ice, Madeleine Egle surrendered the first run advantage and finished second by only 0.012 of a second. The Austrian, however, returned later and turned the tables on Taubitz in the sprint race. Germans took third and fourth in singles as Natalie Geisenberger collected the bronze, followed by Anna Berreiter. Another German, 2018 Olympic silver medalist Dajana Eitberger, was absent after testing positive for COVID at home and watched the races remotely.
Farquharson's 12th place time was 1:20.204 on a track that saw her contend for a medal in her very first World Cup race. She is 12th in the season-long rankings. Arndt clocked 1:20.333, while Britcher recorded 1:20.710. She is ninth in the overall World Cup standings.
SPRINT CUP
USA Luge had three sleds in the mix with Farquharson 10th and Sweeney 15th, while the Mazdzer/Terdiman doubles team slid to 12th place. The twosome is also 12th overall. As the sprint is not an Olympic discipline, the event does not factor into USA Luge team nominations for Beijing.
Double World Champion Wolfgang Kindl continues his re-emergence as the top men's singles slider in Austria. After a silver medal Saturday in the two-heater, Kindl returned Sunday with a sprint victory over teammate Jonas Mueller, himself a World Sprint Champion. Kindl has medaled in four consecutive competitions.
"I've got real speed again at the moment," said Kindl. "I've lost it a bit in the last few years."
Third place was taken by Ludwig, the World Cup leader.
Among the women, the order of finish was Egle, Taubitz and Berreiter.
"Now it worked out with the victory at home," stated Egle. "I simply copied Wolfi."
Germany's Toni Eggert and Sascha Benecken rebounded from Saturday's 13th place performance to win the sprint race by 0.05 ahead of Latvian brothers Andris and Juris Sics. Team Sics has medaled in six of seven races this year and 11 of 12 dating back to last season.
Thomas Steu and Lorenz Koeller, of Austria, were third after winning the last two World Cup doubles races.
OVERALL WORLD CUP STANDINGS (with points)
Women:
Taubitz, 594

Egle, 522

Berreiter, 475
Men:
Ludwig, 575 points

Kindl, 481

D. Fischnaller, 381
Doubles:
Sics/Sics, 565

Eggert/Benecken, 506

Bogdanov/Prokhorov, 399