Doubles continue USA Luge Junior medal haul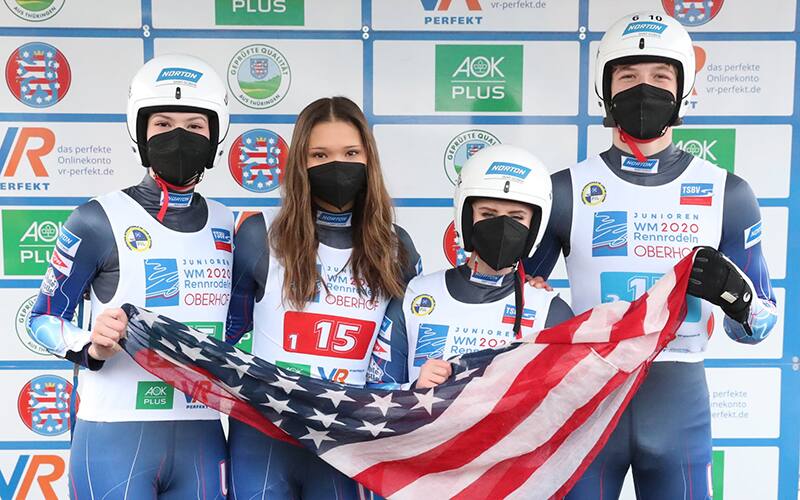 The USA Luge team competition entrants Maya Chan, Sophia Gordon, Reannyn Weiler and Marcus Mueller. Photo: Dietmar Reker
OBERHOF, Germany - The FIL Junior/Women's World Cup doubles World Cup concluded on Sunday, December 19, lead by medal-winning performances from the doubles teams of Maya Chan/Reannyn Weiler and Marcus Mueller/Ansel Haugsjaa. Two races were held over four days in the eastern German winter sports mecca.
Chan, Of Chicago, Ill. and Weiler Whitesboro, N.Y. won bronze medals in both events at the World Cup level and rank third in overall World Cup points with 306. They also raced concurrently in the Junior category, where they won a pair of silver medals and hold second in overall points with 386. Chevonne Forgan of Chelmsford, Mass. and Sophie Kirby of Ray Brook, N.Y. finished fourth and fifth, and sit fifth in points with 295.
The Women's Doubles World Cup is traveling with the Junior World Cup for the 2021-22 season. Next year, women's doubles will become a part of the World Cup tour in a push to add the discipline to the 2026 Olympic schedule.
In the Youth A men's doubles competition, Marcus Mueller of Brookfield. Wis. and Ansel Haugsjaa of Framingham, Mass. were fifth and third. They currently lead the overall points race with 425. Aidan Mueller of West Islip, N.Y. and Frank Ike of Lititz, Pa. placed fourth and sixth, ranked fourth in the standings with 250 points.
The Youth A doubles quartet also entered in the Men's Singles competition. Marcus Mueller had a pair of fifth place finishes and holds third in the overall standings with 350. Aidan Mueller (no relation) grabbed ninth and sixth places and is holding fifth place in points with 239. Haugsjaa posted 18th and eighth places finishes while occupying sixth in the standings with 225 points. Ike ranks 19th in the standings with 100 points after racing to sixth and 23rd place results. Ike did not compete in the first two events of the season in singles.
Sophia Gordon of Sussex, Wis. placed 10th and seventh, sitting in ninth with 192 Youth A Women's' World Cup points.
In the Junior Men's race, Hunter Harris posted ninth and seventh place finishes, with official total points not currently listed. The East Fairfield, Vt. athlete was the lone U.S. racer in the competition as Matt Greiner of Park City is recovering from injury and did not start.
Elena Morrison of Muskegon, Mich. was 13th and 15th in the Junior World Cup races, while Emma Erickson of Park City, Utah was 11th in the opening race and then disqualified in the second event. Official points totals for Junior Women are not posted at this time.
The team competition saw Gordon, Marcus Mueller, Chan and Weiler team up to finish seventh. The USA currently ranks fourth in team standings with 166 points.
After the New Year, the Junior/Women's Doubles/Youth World Cups will hold the sixth and final event of the season on the brand-new track in Bludenz, Austria on February 15-16. The season will conclude with Junior World Championship on January 28-29 in Winterberg, Germany, days before the 2022 Olympic Winter Games begin in Beijing, China.