Silver medal for USA Luge in team relay as Beijing dress rehearsal concludes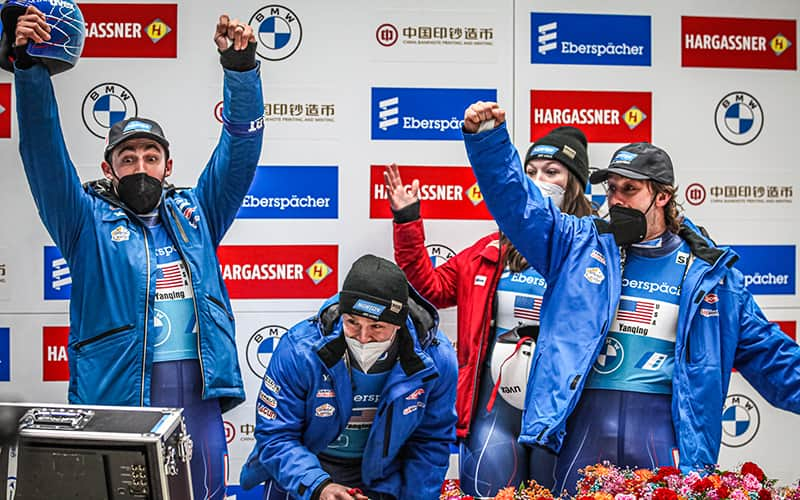 Above: Chris Mazdzer, Tucker West, Ashley Farquharson and Jayson Terdiman celebrate their silver medal in Yanqing, China on November 21, 2021
YANQING, China – After winning a silver medal in the season-opening World Cup team relay Sunday, it will be a happy American luge team that boards the charter flight Monday out of Beijing.
The event, that featured USA Luge athletes Ashley Farquharson and Tucker West in singles, and the doubles team of Chris Mazdzer and Jayson Terdiman, finished a nearly three-week stay at the 2022 Olympic site, marking the end of the pre-Olympic test races.
"I had a great relay today. It was my second relay ever and definitely a lot of fun," said Farquharson, of Park City, Utah, in picking up her first career World Cup medal. "That third run was the best of the day for me so it was very cool."
After hitting the touch pad at the end of the track, Farquharson turned the race over to West. The Ridgefield, Conn. slider has the quickest reaction time on the tour and displayed it at the Yanqing National Sliding Center.
"It was two weeks of learning (the course)," added West, a two-time Olympian. "We came here thinking something else about the track. We thought it would be kind of a gliding track but it turned out not to be, so it was a lot of learning at first, but in the team relay we worked together to figure out the lines down the track, and ultimately, our three sleds put down three great runs and it paid off for us."
Farquharson, of Park City, Utah, began the day with an eighth-place finish in the Eberspacher World Cup singles race and achieved a portion of Tier B Olympic qualification. Another top eight would complete the tier. The result also tied her best World Cup (two run) singles result in her young career.

TEAM RELAY
The topsy-turvy nature of this discipline was never more evident than on Sunday when four of the 14 teams did not finish, including weekly contender, Russia. That rate of attrition did not include Germany, but for all intents and purposes, it did.
The best nation, historically in the team relay, appeared to be headed toward yet another victory when Saturday's doubles winners, Toni Eggert and Sascha Benecken, gave up a significant lead and crashed late in the run. They barely had enough momentum to hit the touch pad and complete their race. In a flash, the Germans went from first to worst and solidified the Austrian victory, followed by the U.S. and Italy.
All three medal-winning countries had completed their efforts and were in the leaders' box helplessly awaiting the three German sleds and their inevitable gold medal, based on their accumulating margin. What followed, however, was shock and awe - shock at watching the uncharacteristic German demise, and awe at their own racing.
The winners clocked a time of 3 minutes, 06.953 seconds to finish 0.375 in front of the Americans. The Italian quartet was merely 0.003 behind the U.S. Drilling deeper, the doubles team of Thomas Steu and Lorenz Koeller won this team relay for Austria covering the problems encountered by singles teammates Madeleine Egle and 2018 Olympic champion David Gleirscher.
The U.S. effort was much-needed for Mazdzer and Terdiman, who have been stymied this fall by Mazdzer's broken foot which limited their pre-season sliding together on a brand-new sled. Mazdzer, the Pyeongchang Olympic silver medalist, did not qualify in World Cup singles, and together, he and Terdiman, a double Olympian, did not make it to the World Cup doubles through the Nations Cup qualifier.
In addition, Mazdzer, of Salt Lake City, as the only two-event athlete, was forced to choose between singles and doubles training during the International Training Weeks - in each session, he had to decide between the two disciplines instead of having a session for each. Then tack on the acclimation to a new track and new sled. The three-time Olympian and his sled mate converted an opportunity they were not expecting.
"Jayson and I held it together," stated Mazdzer. "We weren't expected to be there. Shout out to the younger guys (Dana Kellogg and Duncan Segger) for an extra training run and we put it down."
Technically, Kellogg and Segger rightfully qualified for the team relay start via Saturday's run times, but gave that opportunity to their teammates, who otherwise would have left Beijing with no competitive runs prior to February's Olympics.
"It was a great team effort today," chipped in Terdiman, of Berwick, Pa. "It was Ashley's first World Cup medal overall, so really stoked to be part of that. Tucker with the fastest reaction as always, and Chris and I, being the older athletes that we are, pulled a good reaction for our age, and we rode the rails down. It's always great to be a part of the team relay and happy to walk away from China with a silver medal."
The team relay, by far the best new race format the International Luge Federation has ever concocted, is exciting and interesting. Add the elements of a new, long and unique track, with uphill sections and non-existent pressure points in their numerous open curves, and there are the makings of tense and interesting Olympic races just 11 weeks from now.
WOMEN'S SINGLES
In addition to running the lead leg on her victorious relay team later in the day, Egle won her first World Cup career singles race to start the new campaign. It also marked Austria's first women's World Cup victory in 24 years; the previous was Andrea Tagwerker in November 1997.
Egle was backed up by teammate Lisa Schulte in third place. The latter athlete grabbed her first-ever podium result.
Germany's Julia Taubitz finished between the Austrian women – 0.1 of a second from the winner - in yet another race that was atypical from women's World Cup history. Taubitz's teammates Anna Berreiter was fourth, while 2018 Olympic silver medalist Dajana Eitberger took fifth.
This 1,583-meter track, long by everyone's standards, gave many sliders issues over the past few weeks. Sunday's night races may have presented additional concern created by temps in the 20s leading to firmer, faster ice.
Four-time Olympic champion Natalie Geisenberger, of Germany, was one of those victimized. Geisenberger was in contention in the first leg only to lose control after curve 13 and slid across the finish light. That the 51-time winner had the fourth best second heat was small consolation.
Two-time Olympian Summer Britcher, of Glen Rock, Pa., suffered a similar fate. She was in third place well into the opening leg but drifted back in the final curves. Britcher landed in 14th place, Emily Sweeney, of Lake Placid was 16th and Brittney Arndt, of Park City, who wacked the roof in curve 12, opted not to take her second run.
Three of the four American women on the fall World Cup tour will represent the United States in Beijing. The entire squad will be nominated after the seventh World Cup in Sigulda, Latvia, scheduled for the weekend of Jan. 8-9.
The circuit now heads directly to Sochi on a charter flight for two World Cup weekends on the 2014 Olympic course. These races replace Whistler and Lake Placid which were removed from the schedule in late summer.
The U.S. contingent in Sochi will not include Sweeney, and the doubles team of Kellogg and Segger. Sweeney and Kellogg are members of the U.S. Army National Guard's World Class Athlete Program. Due to a mandate from the U.S. Department of Defense, no American military personnel may travel to Russia. Hence, these three competitors will go to European tracks instead for the next two weeks.