History
References to sled racing first appeared in chronicles from Norway in 1480 and the Erz Mountain region in 1552. The first international luge race took place in February 1883 with 21 competitors representing six nations, including the United States. The four-kilometer (2.5 miles) race, from the Swiss resorts of St. Wolfgang to Klosters, and organized by hotels in Davos, was won by Georg Robertson, a student from Australia, and Peter Minch, a mailman from Klosters, who each raced to identical first place times of 9 minutes, 15 seconds!

At the turn of the century, luge was actually governed by the Federation Internationale de Bobsleigh et de Tobogganing (F.I.B.T.), which administered all the ice-track sports. In 1935, the F.I.B.T admitted luge athletes as a "Section de Luge." In 1955, the first world championships were held in Oslo, and in 1957, in Davos, delegates from 13 countries established their own international governing body with the formation of the Federation Internationale de Luge de Course (F.I.L.). Luge was inaugurated as an Olympic sport in 1964 at the IX Winter Olympic Games in Innsbruck, Austria.
The luge competition consists of four events: men's singles, women's singles, doubles and the team relay. Doubles teams can consist of two athletes of either gender, but currently no women are competing in doubles.
Having no formal luge program at the time of the 1964 Winter Games, the United States' first Olympic luge team consisted mainly of American soldiers who were stationed in Europe. Back in the U.S., luge attracted a small number of athletes who were relegated to training on the 1932 Olympic bobsled run in Lake Placid, N.Y. or on the short-lived Lolo Hot Springs track in Montana. With no formal national organization to support, develop and promote luge, American sliders remained in relative obscurity over the next 15 years.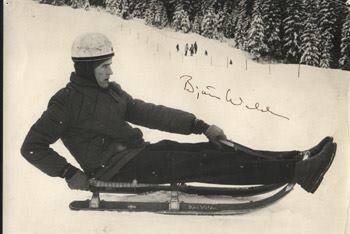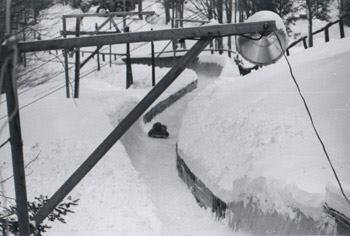 With the arrival of the XIII Olympic Winter Games in Lake Placid in 1980 came the construction of the nation's first refrigerated luge run in 1979. In the same time frame, USA Luge was formed as the sport's National Governing Body (NGB).
Since its inception, USA Luge has overseen the selection and preparation of the U.S. National and Olympic teams. In addition, a national network of luge clubs, as well as a comprehensive recruitment program, has also been developed, giving USA Luge improved depth at every level of participation.
These commitments have seen the American team grow from an international curiosity to a world power in the sport of luge. More recently, the U.S. team earned its highest finishes in Olympic history with silver and bronze medal results in both the XVIII Olympic Winter Games Nagano, Japan in 1998, and the XIX Salt Lake City, Utah Olympic Winter Games in 2002. During the XX Winter Olympiad in Torino, Italy in 2006, USA Luge posted its highest-ever women's singles finish, fourth, while also matching its best-ever men's singles finish, also fourth, from four years earlier.
In 2010, the XXI Olympic Winter Games in Vancouver saw high-speed races on the fastest track in Olympic history. With speeds approaching 90 miles per hour, the USA's top result was a sixth place doubles effort by Christian Niccum and Dan Joye.But four years later in Sochi, Russia, Erin Hamlin broke through on several fronts. Hamlin, the 2009 World Champion, scored an Olympic bronze medal in singles. This was the fifth Olympic medal for USA Luge and the first ever in singles. In addition, Hamlin became the first American woman to step onto the Olympic luge podium.Four years later, Chris Mazdzer added his name to USA Luge history by taking the sliver medal in PyongChang, South Korea, becoming the first American man to win an Olympic medal (silver).
There are now two artificially refrigerated tracks in the United States. The 1979 Lake Placid edition used during the 1980 Olympic Winter Games was demolished and replaced with a combined luge/bobsled/skeleton track that opened in January 2000. The second facility opened in 1997 in Park City, Utah and was used for the 2002 Olympic Winter Games. Additionally, a short unrefrigerated track exists in Muskegon, Mich., while a "natural" track course exists in Negaunee, Mich.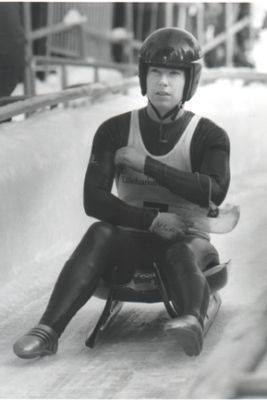 USA Luge first achieved Olympic success in 1998 at the XVIII Olympic Winter Games in Nagano, Japan with silver and bronze medals in the doubles' competition.
USA Luge matched its Olympic success from the '98 Games, winning silver and bronze in the doubles' event in 2002 at the XIX Olympic Winter Games in Salt Lake City, Utah.


USA Luge reached the Olympic singles podium in Sochi, Russia in 2014 when 2009 World Champion Erin Hamlin, the most successful singles racer in team history, scored a bronze medal. She was also the first American woman to ever win an Olympic luge medal.
USA Luge doubles teams have won four overall World Cup titles (1997, 1998, 1999 and 2003) and two overall Challenge Cup crowns (2002 and 2003).
USA Luge has earned almost 600 medals in elite level and junior international competition since 1994, making USA Luge the most successful Winter Olympic National Governing Body (NGB).
USA Luge made team history by sweeping all three medals in a December 1996 World Cup doubles event in Lillehammer, Norway, and repeated the feat in a December 2015 women's World Cup event.
USA Luge has captured 16 World Junior Championship titles.
USA Luge has captured two gold, four silver and seven bronze medals in Senior World Championship events.
USA Luge has captured 30 World Cup wins since 1994.
Luge is the only sliding sport measured to the thousandth of a second.
Speeds in luge can exceed 90 mph.
The United States has two full-length, certified, Olympic-style luge tracks (Park City, Utah and Lake Placid, N.Y.).
The average luge run has a vertical drop of 30 stories (300 feet).
USA Luge's Frank Masley, Cameron Myler, and Mark Grimmette have carried the U.S. flag into the Olympic Winter Games' (OWG) opening ceremonies (Masley in 1984 in Sarajevo, Yugoslavia; Myler in 1994 in Lillehammer, Norway; and Grimmette in 2010 in Vancouver, Canada). Grimmette was also one of eight athletes to carry the World Trade Center American Flag into the 2002 OWG opening ceremonies.