USA Luge appoints Lucille Beaulieu to Staff Accountant as Beverly Detwiler steps down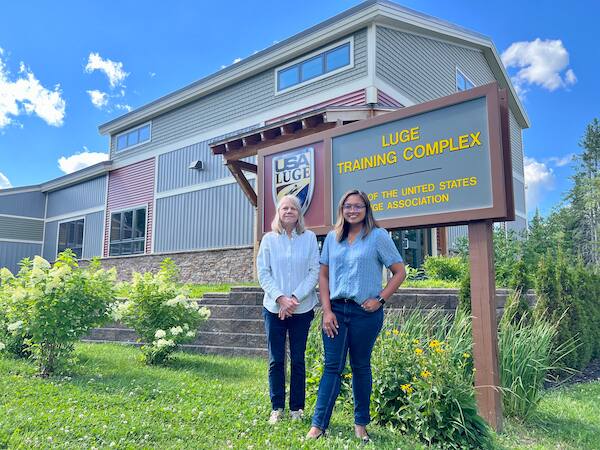 Beaulieu takes over for Beverly Detwiler following Detwiler's 40-year career with USA Luge
LAKE PLACID, N.Y. —USA Luge today announced the appointment of Lucille (Lucy) Beaulieu to Staff Accountant. In this role, she will oversee the organization's financial and information technology services. Beaulieu is taking over for Beverly Detwiler who is retiring from USA Luge following a nearly 40-year career serving as Staff Accountant and Manager of Administration over the years.
Detwiler began working for USA Luge in 1984, and in addition to her professional financial and operations role, she was also responsible for the education of all race officials, ensuring the officials were well trained and certified on the FIL rulebook. Over the years, she also coordinated with race officials for all national and international competitions, including the 2002 Olympic Winter Games in Salt Lake City.
"When I first started working for USA Luge, it would be hard to imagine the organization would be where it is today," said Detwiler. "Between my accounting, management and IT duties and my work with race officials, it's been a great career and I'll miss everybody!"
She looks forward to staying in Lake Placid with her husband during her retirement.
Beaulieu comes to USA Luge from the New York State Olympic Regional Development Authority (ORDA) where she served as Athletic Services Coordinator. Prior to working at ORDA, she worked for the United States Olympic and Paralympic Committee serving in several roles, including Program Specialist, Program Coordinator and Assistant Manager of Operations at the Olympic and Paralympic Training Center in Lake Placid.
"I am happy to become a part of the USA Luge family," said Beaulieu. "Through my other positions in the Olympic community, I've gotten to know and understand the needs of the athletes and staff, and I look forward to bringing my experience to help the team be their best."
Beaulieu grew up in the Philippines and graduated with a bachelor's degree in accounting from Silliman University in the Philippines. She became a Certified Public Accountant in 2005 and began her career at IBM where she served as a Financial Analyst and Senior Accounting Analyst.

She resides in Lake Placid with her husband and two children.
"We are extremely grateful for Beverly's many years of dedicated service to our organization and welcome Lucy to the USA Luge family," said Jim Leahy, CEO, USA Luge. "Lucy's knowledge and experience will serve our organization well given her relationships within ORDA and the United States Olympic and Paralympic Committee."
Recent changes in the racing schedule moves luge action to resume December 3-4 in Innsbruck, Austria, when the nine race Eberspacher World Cup season kicks off. The circuit will return to the United States for the first time since 2019 on December 16-17 in Park City, Utah. Until then, the majority of the team are training in Lake Placid, N.Y., working in the refrigerated luge start training facility and Olympic and Paralympic Training Center.