Sweeney takes World Cup silver, Arndt bronze in sprint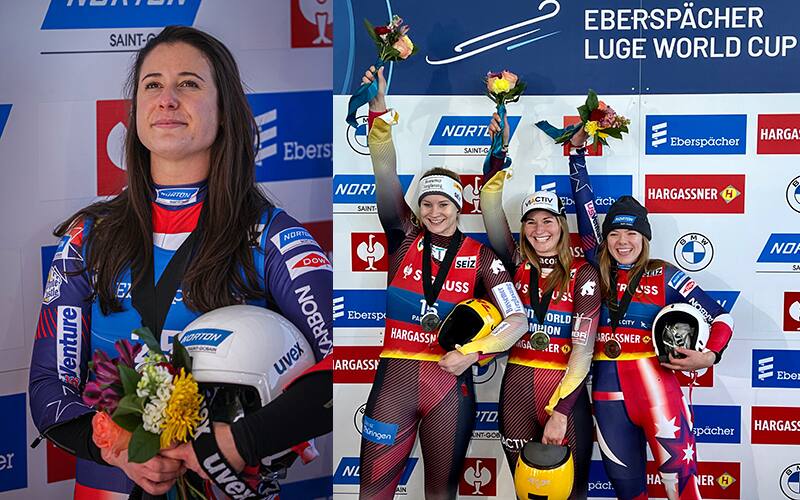 Gustafson and Farquharson secure best-ever career result in sprint
PARK CITY, Utah—USA Luge women tallied two medals on the final day of theEBERSPÄCHER FIL World Cup in Park City. Emily Sweeney finished second in the women's World Cup, while Brittney Arndt was third in the women's sprint. Both Jonny Gustafson and Ashley Farquharson secured personal best results of their careers, finishing fourth in the men's and women's sprint events, respectively.
Women's Singles
With clear and cold conditions, the second day of competition began with the women's race. Emily Sweeney earned her third silver medal of the season and the first podium finish of the event for USA Luge. Sweeney, of Lake Placid, N.Y., finished just behind German Dajana Eitberger, with Sweeney securing a time of one minute 26.611 seconds. Eitberger took the gold with a time of 1:26.471, and Germany's Julia Taubitz, who won silver last weekend in Whistler, secured bronze with a time of 1:26.619.
Prior to her bronze medal finish in the women's singles sprint race, Brittany Arndt posted a strong finish in women's singles in front of a hometown crowd. Arndt, of Park City, Utah, placed seventh in women's singles with a time of 1:27.117. Ashley Farquharson, also from Park City, placed ninth with a time of 1:27.166 while Summer Britcher, of Glen Rock, Pa., placed 12th, crossing the finish line in 1:27.245.
"It went really well. I had two clean runs and walked away with the silver so I'm happy," said Sweeney following the conclusion of a busy day of racing. "I wish I could have followed up in the sprint again, but I'm so stoked for Brittany that she got up on there and it's exciting to see her first podium."
Women's Singles Sprint
Following the women's singles race, Arndt immediately secured a new best-ever result and won the bronze medal in women's singles sprint with a time of 31.902. She shared the podium with Taubitz, who won gold with a time of 31.717 and Eitberger, who took silver with at time of 31.816.
"I'm happy and feeling all sorts of joy," said Arndt. "It's my first World Cup medal, and even though its Sprint Cup, I'll take it."
USA Luge teammate Farquharson came in fourth with a time of 31.950. Britcher was seventh, and Sweeney came in 10th.
Taubitz currently leads the overall World Cup point standings with 395, bumping Austria's Madeleine Egle into second place with 378 points. Sweeney continues to hold third with 327 points. Britcher sits in eighth with 205 points, Farquharson in ninth with 185 points, and Arndt moves from 16th to 10th with 170 points.
Men's Singles Sprint
Following a personal best result last week in Whistler, Jonny Gustafson did it again by placing fourth in the men's singles sprint race. Gustafson, of Massena, N.Y., crossed the finish line at 27.729 following his best run of the weekend.
"It feels awesome," said Gustafson. "I'm still a little disappointed with my World Cup finish but being able to end the first half of the season with fourth place just feels awesome. It's always good to slide in front of family and friends and it brings me joy that they can see me slide and perform well."
Italy's Dominik Fischnaller won gold with a time of 27.522, followed by Austria's David Gleirscher earning silver in 27.640. The bronze went to Felix Loch, of Germany, with a time of 27.682.
Fischnaller leads the overall World Cup standings in men's singles with 395 points. Wolfgang Kindl, of Germany, is in second with 338 points, and Gleirscher is in third with 296 points. Tucker West, of Ridgefield, Conn., leads the U.S. men's singles in eighth place with 221 points and Gustafson is in ninth with 210 points. As 2018 Olympic silver medalist Chris Mazdzer, of Salt Lake City, Utah, is only competing in the North American races this season, he finished his season and currently sits in 16h place with 114 points.
Men's Doubles Sprint
Germany took the top two spots on the podium, with Tobias Wendl and Tobias Arlt winning gold with a time of 31.862, and Toni Eggert and Sascha Benecken taking silver with a time of 31.872. Austria's Yannick Muller and Armin Frauscher earned the bronze with a time of 31.892.
Coming off their best result ever in the men's doubles race held the day before, the U.S. men's doubles team of Zack DiGregorio, of Medway, Mass., and Sean Hollander, of Lake Placid, N.Y., finished the sprint race in seventh place. Dana Kellogg, of Chesterfield, Mass., and Duncan Segger, of Lake Placid, placed eighth.
Toni Eggert and Sascha Benecken of Germany remain at the top of the World Cup overall standings following the sprint race with 400 points, breaking a tie with Thomas Gatt and Martin Schöpf from Austria, who are now in second with 375 points. In third are Wendl/Arlt with 344 points. DiGregorio/Hollander hold eighth with 229 points, and Kellogg/Segger moved into 13thwith 140 points.
Women's Doubles Sprint
Austria's Selena Egle and Lara Kipp won gold with a time of 32.195, followed by Andera Vötter and Marion Oberhofer taking silver with a time of 32.322. Germany's Jessica Degenhardt and Cheyenne Rosenthal earned the bronze with a time of 32.470.
Three American women's doubles teams competed in the women's doubles sprint race, with Britcher/Sweeney placing fourth. Maya Chan, of Chicago, Ill., and Reannyn Weiler, of Whitesboro, N.Y., placed fifth, while Chevonne Forgan, of Chelmsford, Mass., and Sophie Kirkby, of Ray Brook, N.Y., placed seventh.
USA Luge sleds placed fourth a total of six times over the eight-race event.
Vötter/Oberhofer remain the overall World Cup women's doubles leaders with 440 points. Egle/Kipp are in second with 435 points, and Degenhardt/Rosenthal are third with 346 points. Britcher/Sweeney remain in fourth place earning 295 points, Chan/Weiler in fifth with 252 points, and Forgan/Kirkby in sixth with 235 points.
World Cup action returns on January 7-8, 2023, from Sigulda, Latvia, following a holiday break. World Championships are slated to take place in Oberhof, Germany on January 27-29, 2023.To watch the races live and to view archived competitions, please visit the FIL's YouTube channel:https://www.youtube.com/@FILLuge_Channel. The entire World Cup and World Championship season can be accessed from this portal.
Full story to come!