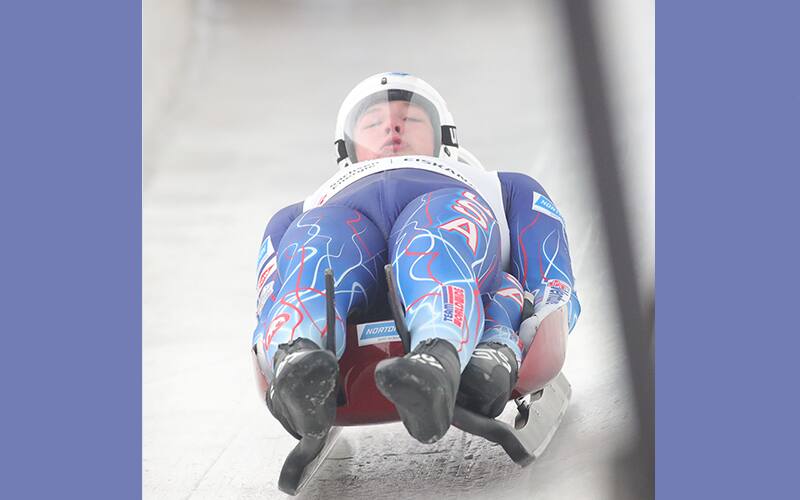 Mueller and Haugsjaa in Altenberg, Germany
ALTENBERG, Germany – The USA Luge duo of Marcus Mueller and Ansel Haugsjaa extended their Junior World Cup podium streak to four medals in as many races.
The Altenberg track, located approximately 25 miles south of Dresden, is a challenge to navigate. This is especially true for the less experienced Junior athletes, who range in age from 19-21.
After winning silver and a pair of bronze medals in the first three events of the season, Mueller (Brookfield, Wisc.) and Haugsjaa (Framingham, Mass.) were third with a time of one minute, 21.736 seconds in the men's doubles competition. Kaspars Rinks and Vitalijs Jegorovs of Latvia were first in 1:21.184. Moritz Jäger and Valentine Steudte were second in 1:21.279. Aidan Mueller (West Islip, N.Y.) and Frank Ike (Lititz, Pa.) finished seventh. M. Mueller/Haugsjaa are ranked third in overall Junior World Cup points, while A. Mueller/Ike rank ninth.
In the team competition, the duo of Mueller/Haugsjaa anchored teammates Emma Erickson (Park City, Utah) and Hunter Harris (East Fairfield, Vt.) to finish fourth. The top three nations were Germany, Latvia and Italy, respectively.
In the men's singles competition, Harris was the top U.S. athlete, placing sixth. Matt Greiner (Park City, Utah) was just behind his teammate in seventh, with Aidan Mueller ninth, Marcus Mueller 11th, Haugsjaa 16th and Ike 19th. The top three finishers were Rinks, Noah Kallan of Austria and Alex Gufler of Italy. In overall standings, Aidan Mueller is fourth, Greiner is fifth, Marcus Mueller 10th, Harris 11th, Ike is tied for 17th and Haugsjaa is 20th.
Germany won gold and silver in the women's race, with Antonia Pietschmann and Alina Braeutigam taking respective honors. Dorothea Schwarz of Austria won bronze. Emma Erickson (Park City, Utah) was the top ranked U.S. athlete, finishing 24th. Sophia Gordon (Sussex, Wisc.) did not finish her second run and Delaney Duncan (Park City, Utah) did not start the race. Erickson is ranked 14th in the overall standings, Gordon 19th and Duncan 35th.