Mazdzer tops Americans in Beijing with 8th place luge finish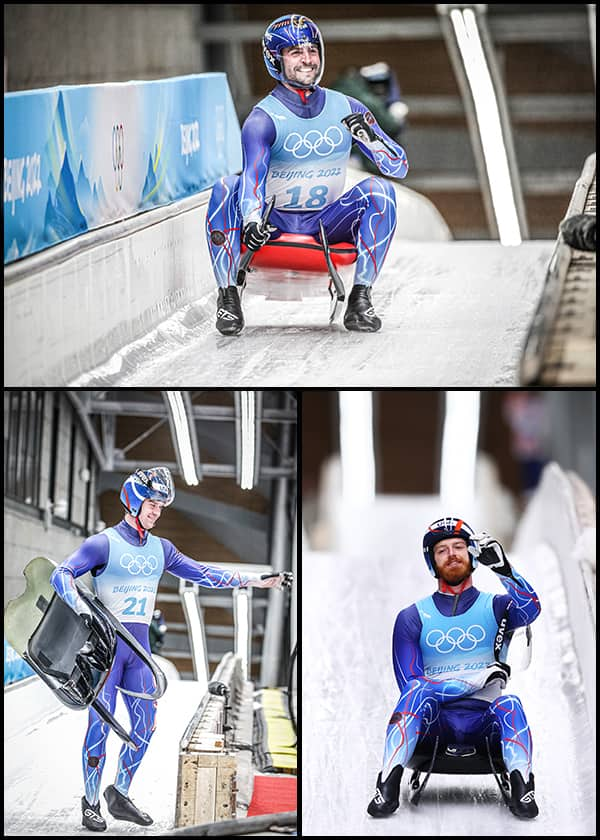 Photos: Top - Chris Mazdzer. Bottom left: Tucker West. Bottom Right: Jonny Gustafson. Getty Images/FIL/Mareks Galinovskis
YANQING, China – Chris Mazdzer turned in four race runs in the top 10 and finished in eighth place Sunday night in the Beijing Olympic men's race held at the Yanqing National Sliding Center. Mazdzer's teammates Tucker West took 13th and Jonny Gustafson was 19th.
"After this season, no one was counting on me to even be close to this," stated Mazdzer. "I knew I could be in this range, and I'm just happy to have performed well over four runs. Even though I had way less training runs (this season) than everybody else, it was totally fine. I made it happen."
His unpredictable year started with a broken foot in a Sochi training camp in September that greatly reduced his fall run count. Mazdzer's resiliency continued after a final training run crash two days earlier that nearly took him out of the race.
The 2018 Olympic silver medalist stood in ninth place overnight after two of four heats. Remarkably, he posted identical third and fourth run times of 57.779 seconds that lead to a total race time of 3 minutes, 51.377 seconds. His start times also showed consistent improvement over the four attempts as he closed out his Olympic singles career. Mazdzer will get the team relay start on Feb. 10 that will conclude his four Olympic berths dating back to 2010.
"It was great to just go for it and finish off with good runs. It's super emotional," said the Salt Lake City resident by way of Saranac Lake, N.Y. who admitted to tearing up during his warm-up period. "But I couldn't be happier."
West, on his third Olympic team, clocked a total time of 3:52.360 with start times that were among the best in the 35-slider field. The Ridgefield, Conn. athlete stood 11th entering the final evening, but two wall touches early in the third heat dropped him several spots.
"It's disappointing for sure," said West. "But there's still gratitude to be here, gratitude to represent the country for the third time in a row. It stings now. It probably comes off as a downer now, but I think later in life, I'll definitely look back on this with fond memories.
"Luge has taken me to all corners of the world. I've met a lot of great people. Seen a lot of great competitors and have grown as a person over the years. Whether this is my last games or not I haven't quite decided but I'll take a lot out of this. It won't be an Olympic medal this time, but there's still a lot to be gained."
Jonny Gustafson of Massena, N.Y. capped his Olympic debut with a four-heat combined time of 3:53.946. Starting in 13th place after his very first Olympic run, Gustafson may have burdened himself with great expectations.
"After the first run, I got my hopes up for sure, had speed. I wanted to do better," he replayed. "But that's what it is about this sport. It's hard. You have to be perfect, and just being able to be here competing with these world-class athletes, it's been an honor. It's incredible to be here."
Gustafson's performance capped a season that saw him qualify for the Olympic team using not only his sled, but equipment from Germany and Russia after sled boxes remained in China for over a month in the beginning of the season.
Johannes Ludwig, whose career was rejuvenated when he took team relay gold and singles bronze in Pyeonchang, capped the season of his career with an Olympic gold medal. At 35 years of age, he is the oldest men's Olympic singles champion in luge history. Last month, the German won the overall World Cup title on the strength of five victories. One of them was right here in November's pre-Olympic test.
On another clear, cold night with ice as Mazdzer would say, "like marble", Ludwig opened the third heat by lowering his own track record from 24 hours earlier. His time of 57.043 took a 0.039 lead over Austrian Wolfgang Kindl and stretched it to 0.11 heading into the finale.
Ludwig ended his two night's work with a four-heat time of 3:48.735. Kindl, a two-time World Champion who was close to quitting the sport, collected the silver medal in 3:48.895 for his first Olympic podium. Italy's Dominik Fischnaller, fourth place in 2018 after missing the podium by merely 0.002 of a second, was the bronze medalist, 0.9 of a second off the pace. He was joined in the immediate celebration by American Emily Sweeney, Fischnaller's partner, who hopes to do something similar in the women's race. Like Kindl, it was the Italian's first Olympic medal.
The action at Yanqing will continue with the first two heats of women's singles Feb. 7-8, doubles on Feb. 9 and the team relay Feb. 10. These night races in China are morning events in the U.S.
Live coverage of all competitions can be found at: https://www.nbcolympics.com/schedule/sport/luge. Also, Peacock offers live coverage of every run.