Farquharson, 18th, leads USA Luge after 2 runs of Beijing women's Olympic singles race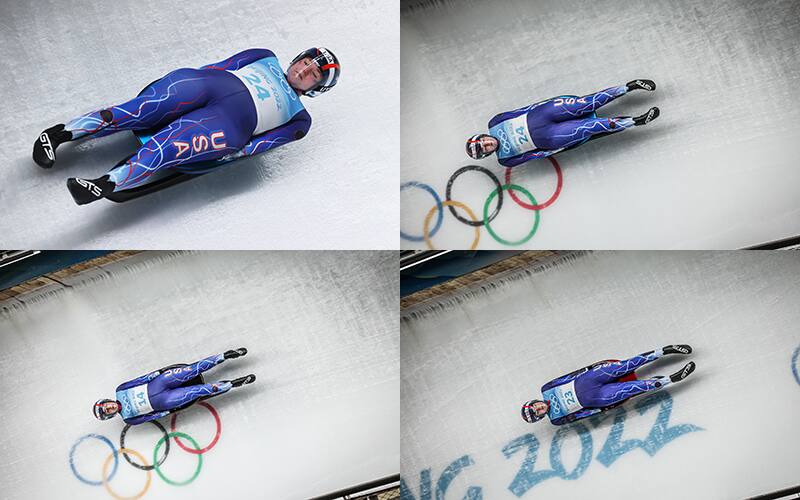 Above L and R: Ashley Farquharson (Getty Images and FIL/Mareks Galinovskis. Below L: Emily Sweeney. Below r: Summer Britcher.Photos: FIL/Mareks Galinovskis.
YANQING, China – On a volatile night at the Yanqing National Sliding Center, Ashley Farquharson led USA Luge's efforts as the Beijing women's Olympic race opened with the first two of four heats.
The Park City, Utah resident rebounded from an opening run that placed her 26th, but a much improved second run that saw her finish eighth elevated her to 18th place. Farquharson placed eighth at the World Cup opener here in November marking her best individual result of the season.
"The weirdest part about this is that it's four runs," said the first-time Olympian through one run. "After the first run (usually) it's like 'there's one more let's see what we can do'. But now there's three more and a lot can happen in three runs. I think it's just keeping that hope alive and really focusing on myself and what I can show in those next runs."
Teammates Summer Britcher is 26th and Emily Sweeney 28th at the midpoint of the race.
Britcher, a three-time Olympian, broke a finger last month and is sacrificing time at the start. The injury prevents her from executing a normal start. Instead of paddling with spiked gloves on her fingertips, she's been relegated to punching her way down the start ramp with spikes on her knuckles.
"I felt very confident," stated the Glen Rock, Pa. luge athlete. "I felt very solid. That wasn't nerves. I had a great final training run, and it's just the nature of the sport. I had an OK curve 13. I came back a little heavy on my right shoulder and caused a skid."
Sweeney, of Lake Placid, was 10th after one heat and was gradually advancing as her second run unfolded. But the last four curves, 13-16, victimized many and Sweeney, a two-time Olympian, was one of them. She got upended and slid across the finish line with sled in hand to keep her in the competition but is well off the pace.
"It's a tough spot," remarked Sweeney. "You have to come out right. If you're not correct coming out, the track dips away and then you're weightless a little bit and so if you're crooked a little bit in your sled, or if you're not in a great spot, it'll get you."
With numerous other sliders also having difficulty with the unpredictable nature of the Ice Dragon, some sliders were going to take advantage of a golden opportunity. They were German Anna Berreiter and Tatyana Ivanova of the Russian Olympic Committee.
Berreiter has come on the scene the past two years and registered the fourth and third best heats, respectively, on yet another cold night in Yanqing. She occupies second place.
Ivanova, meanwhile, a 16-time World Cup winner was fifth after one leg and moved up to third place before returning to the Athletes Village for the night.
Austrian Madeleine Egle, who was the World Cup overall runner-up this season, encountered major problems negotiating one of the uphill sections of this course. After setting the start record, Egle lost control and finished the first run 17th. She then staged a major rally in the ensuing leg. By posting the second fastest run, Egle improved to seventh. Normally, that's a hopeless situation for someone with podium aspirations, but on this track, all bets are off until the contenders pass through successfully four times.
The World Cup season-long winner, Julia Taubitz of Germany, was another not immune to the problems that this dragon presents. She claimed a track record first run, and was well on her way to holding that leading position in heat two. But Taubitz, in her first Olympic Games, couldn't complete the job in those final four corners and overturned dropping her to 14th place.
The survivor of this carnage was the athlete with the most experience in the Olympic environment. Natalie Geisenberger has been winning Olympic medals since 2010 and will try to shake off the memory of her 2021 Yanqing World Cup test event crash to slay the dragon.
Geisenberger has accumulated two gold medals and one bronze in singles events, and has added another two gold medals in team relays. The German understands the Olympics better than most. With runs ranked second and first, respectively, she posted a total time of 1 minute, 56.825 seconds on this long course.
Geisenberger holds a 0.2 of a second-advantage over her teammate, while Ivanova is 0.59 off the lead. Two more Austrians are next with Hannah Prock fourth and Lisa Schulte fifth.
The action at Yanqing will continue Tuesday night at 7:50 PM local time with the final two deciding runs. Doubles take place on Feb. 9 and the team relay Feb. 10. These night races at the Yanqing National Sliding Center are morning races in the U.S.
Live coverage of all competitions can be found at: https://www.nbcolympics.com/schedule/sport/luge. Also, Peacock offers live coverage of every run.