DiGregorio/Hollander 11th in first Olympic doubles appearance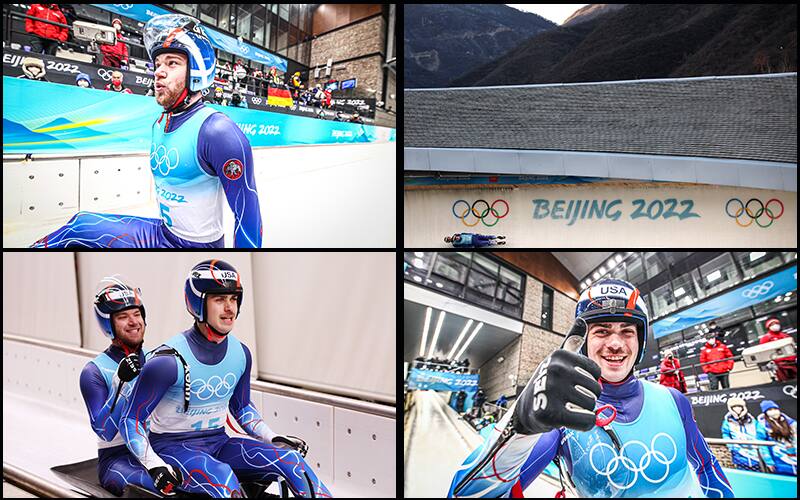 Zack DiGregorio and Sean Hollander after their 11th place finish at the 2022 Olympic Winter Games doubles luge competition. Photos:FIL/ Mareks Galinovskis/Getty Images
YANQING, China – On yet another cold night that produced track record ice at the Yanqing National Sliding Center, the USA Luge tandem of Zack DiGregorio and Sean Hollander finished 11th in their Olympic doubles debut.
The unexpected qualifiers for the Beijing Winter Games were the lone American entry in the 17-sled event. They recorded a two-heat time of 1 minute, 58.515 seconds on the lengthy and tricky course dubbed The Ice Dragon. Their heat times were individually ranked 12th and 10th, respectively. They were just one of four teams to slide faster in their second heat.
DiGregorio/Hollander opened their Olympic careers in 59.389 with a run that saw them touch several walls. The final leg, however, was a much cleaner heat and got them television and online face time in the leader's box.
"Our training hasn't been great, but that second run was a huge progression," said DiGregorio. "We're really looking forward to tomorrow and go back to that team side of things and it's just gonna be a blast and keep the smiles on our faces."
The past month has been a whirlwind for the duo. They were third on anyone's U.S. team depth chart in the pre-season, yet here we are. After all the sliding, and coaching and sled work, their moment had arrived.
"It was amazing," exclaimed DiGregorio. "So much of luge is a team thing, but tonight was about us and we were the only doubles team for the U.S. It was really just a moment for Sean and me where we just got to slide and have as much fun as we could."
And gain a helping of experience against teams that have gone to battle well over a decade. As the Associated Press reported, the Sics brothers from Latvia raced in a 2004 World Cup literally as the 20-year-old DiGregorio was turning three years of age.
A team that's been together 17 months racing against teams that have been doing this 17 years. And we're at the Olympics.
"We're just gonna build from here," added Hollander. "This is great momentum going forward. We finally have a sled we feel comfortable on and can go fast so we're just gonna take this energy that we have now and go into next season."
The sled of which Hollander speaks was gifted to the Americans by teammate Jayson Terdiman, who was supposed to be here with Mazdzer on that doubles sled. But when Mazdzer/Terdiman crashed in a race-off when it looked like they had the race won, the door opened for DiGregorio/Hollander and they took advantage.
Terdiman, twice an Olympian but now eliminated, quickly offered his sled to the youngsters, convincing them it had more speed than theirs. Eight days in Park City, Utah prior to the Beijing Games, with Terdiman, Head Coach Robert Fegg and singles racer Brittney Arndt, bore that out.
"From the beginning of this project, we all knew that it'll take every single run they can get to adjust to the new sled and to the track they haven't had many runs on," stated Fegg. "Zack and Sean were involved right from the beginning in the plan and they were aware that they have to take it run by run, through the Olympic race, and right up to the team relay. They stuck to the plan and improved every single run. It paid off today. Their 11th place finish is a great result. I'm certain they will have a bright future ahead if they continue to work as professionally as they have so far. And thanks to Jayson, for making all of this possible. His generosity to let the boys use his sled gave them the best chance to show this performance. This was great teamwork all the way."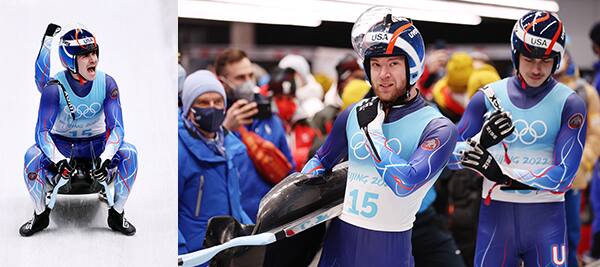 More photos of Zack DiGregorio and Sean Hollander after their 11th place finish at the 2022 Olympic Winter Games doubles luge competition. Photos:FIL/ Mareks Galinovskis/Getty Images
DiGregorio and Hollander are now in Beijing riding a game-changer that will be under them for the long haul. The Olympics was a stern litmus test.
"I'm so proud of the way Zack and Sean slid today," said Terdiman from Lake Placid. "Especially in the second run. One of only four teams to improve their run time from the first. I hope they take the momentum they built and fly tomorrow as our anchor leg in the team relay."
That event comes up Thursday night where they will be joined by Ashley Farquharson and 2018 Olympic silver medalist Chris Mazdzer. Both were on the ice here for USA Luge when they took a silver medal in November's World Cup team relay.
As expected, Germany came out and dominated an event where their top two sleds have piled up nearly 100 World Cup wins over the past decade.
The Latvian Sics brothers, Andris and Juris, opened the race with a track record run. That was short-lived as Germans Toni Eggert and Sascha Benecken, wearing bib number two, crushed it by 0.4 of a second. The fifth sled of the night, belonging to four-time Olympic champions Tobias Wendl and Tobias Arlt (two gold in doubles, two in the team relay), topped their teammates by 0.04 of a second.
Wendl/Arlt captured their fifth Olympic title in 1:56.554, nearly 0.1 of a second faster than Eggert/Benecken, who collected their second Olympic medal. In winning their discipline races going back to Sochi, Wendl/Arlt, amazingly, have never trailed. The bronze went to the Austrian sled of Thomas Steu and Lorenz Koeller, overcoming Steu's broken leg early in the season that forced them out of several World Cup races.
The Sics brothers finished fifth in what may have been their final race. Younger teammates Martins Bots and Roberts Plume were fourth.
The action at Yanqing will continue with the team relay on Thursday night at 9:30 PM, bringing the Olympic luge events to a close. Race time in the U.S. is 8:30 AM EST.
Live coverage of all competitions can be found at: https://www.nbcolympics.com/schedule/sport/luge. Also, Peacock offers live coverage of every run.