USA Luge concludes Beijing Olympics with 7th place in team relay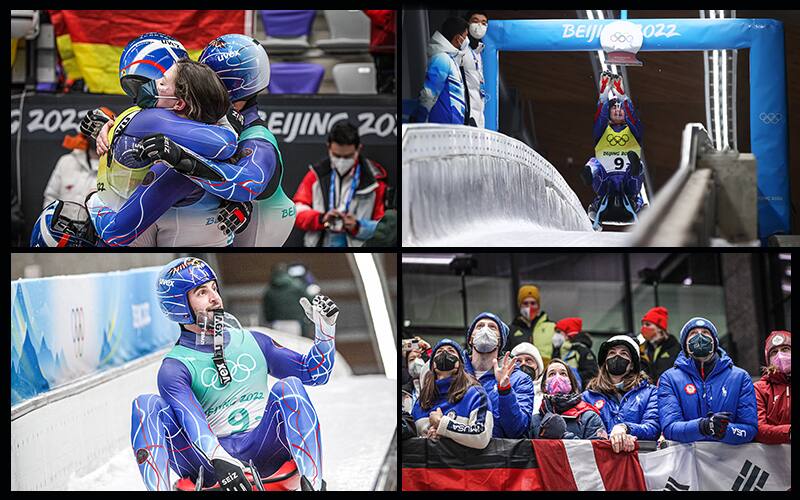 YANQING, China – On the final night of luge racing at the Yanqing National Sliding Center, the United States foursome of Ashley Farquharson and Chris Mazdzer in singles, along with the doubles team of Zack DiGregorio and Sean Hollander, capped their Beijing Olympic experiences with a seventh-place performance in the team relay.
For Mazdzer, it was his fourth and final trip to the Games, while his teammates qualified this year for the first time.
"I think that this being our first Olympics and how we performed this last week is amazing," said Farquharson, who also finished 12th in the singles race. "We can only go up from here and it really speaks to the future of all our careers."
DiGregorio and Hollander were 11th in the doubles race one night earlier, an improvement of six places from their World Cup best.
"It feels so great to be able to call yourself an Olympian," remarked Hollander. "You feel more confident on the sled, definitely."
"To cap that off, that was me and Sean's first relay as a team," added DiGregorio. "It's been our first Olympics. It's a lot of firsts, and it's great to get that under our belt at a young age. And now to just push that, look four years ahead and just keep this rolling, keep that confidence going."
Germany, the final team on the Ice Dragon, won its third straight Olympic title after the event entered the Olympic program in Sochi. The victory, in track record fashion, completed their gold medal sweep of these Games in 3 minutes, 03.406 seconds. It was in marked contrast to their DNF in the November World Cup.
Austria was a close second and took silver, trailing by just 0.08 of a second, with Latvia collecting the bronze medal. 0.9 of a second from the winners.
The winning quartet was comprised of Beijing gold medalists Johannes Ludwig and Natalie Geisenberger in singles, with Tobias Wendl and Tobias Arlt in doubles. It was a successful reprise for this crew as they also raced to the top in Pyeongchang.
Geisenberger and Ludwig brought their team to second place on another chilly evening, but Wendl/Arlt, known for staring down Olympic pressure, rallied with the best doubles time and a close victory. The greatest doubles team in Olympic history has never lost a race run of any kind at the Games.
Geisenberger and Wendl/Arlt have piled up six Olympic gold medals each dating back to 2014. Ludwig, meanwhile, now has two team relay gold medals to go with singles gold and bronze, all since 2018.
Austria's unit of Madeleine Egle, Wolfgang Kindl, and the doubles team of Thomas Steu and Lorenz Koeller were in first place until Germany eked them out. Kindl won the singles silver medal here, while Steu/Koeller won doubles bronze.
Latvia's team was comprised of Eliza Tiruma, Kristers Aparjods and Martins Bots/Robert Plume.
The American team that hit the Yanqing ice gave the organization a peek into its future. Mazdzer, at 33 years of age, was joined by the three Team USA rookies. Farquharson is the oldest of the three at 22.
For Mazdzer, the 2018 Olympic men's silver medalist who placed eighth in the Beijing singles competition, it was his Olympic farewell after four Games appearances. He was happy with the group's aggressive attitude.
"I said to these guys, 'no matter what happens, let's just go for it'," said Mazdzer. "That's all we can do. At Christmas time, no one would have picked us to be in the positions that we are currently in. And that gave us the advantage. Just go for it. Have fun and enjoy the experience and that's what we did and I think that was a success."
The final medal count saw Germany depart with four gold medals and two silver; Austria won two silver medals and a bronze; Italy, Latvia and the Russian Olympic Committee had one bronze each.
The Games continue through Feb. 20. Coverage of all competitions can be found at: https://www.nbcolympics.com/schedule/sport/luge. Also, Peacock offers live coverage of the remaining action.