Duluth Trading Company Running of the Balls Deadline Approaching - New Prizes Added!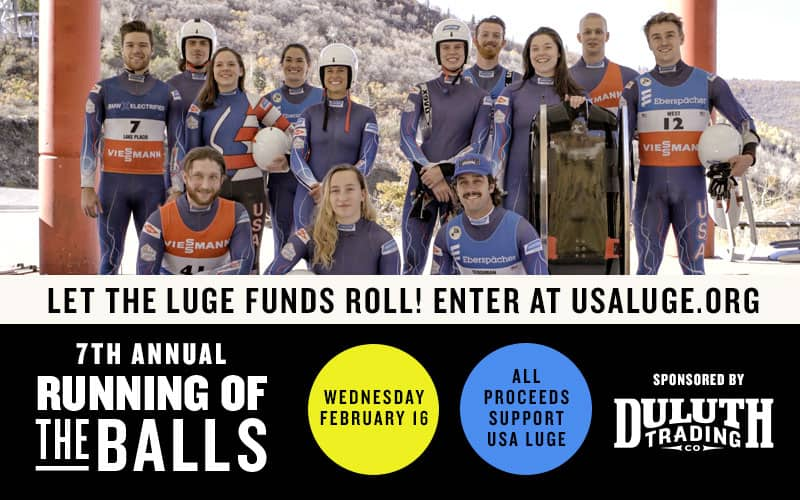 ENTER BELOW AND MAY THE BEST BALLS WIN!!!!!
LAKE PLACID, N.Y. – USA Luge has announced the final list of prizes for the seventh Duluth Trading Company USA Luge Running of the Balls (ROTB7) fundraiser, a fun and exciting initiative to help support the team's athletes and programs. Deadline for entry, Tuesday,
February 15 at noon, is rapidly approaching. A host of sponsors have also come on board to support ROTB7.
The event will air on the organization's website (

www.usaluge.org

) on February 16 at 6 PM EST. The 2022 "race" will be held against the backdrop of the Beijing Winter Games.
Duluth Trading Company is the Official Off-Sled Outfitter to USA Luge.
"This has become a really great fun event for the fans and for us at USA Luge," said Gordy Sheer, USA Luge Director of Marketing and Sponsorships. "Now we'll do it again for the seventh time, with the goal of raising over $45,000. With the Olympic Games in Beijing going on, this funding will begin our drive to the Games in 2026. Our teams will be training and competing non-stop over the next four years, so our financial need is ongoing. Money raised will help defray those costs."
Over 1,000 lacrosse balls will negotiate the nearly one-mile course down Mount Van Hoevenberg. The lacrosse balls were donated by Summit Lacrosse Ventures.
Fans will be able to participate in this unique event by entering as many balls as they'd like in this race that benefits USA Luge. Cash and prizes from Duluth Trading Company will be offered for the top 10 balls and the last place ball.
There will also be a race within the race as a collection of blue-colored lacrosse balls will roll down the Olympic Sports Complex sliding track simultaneously with the yellow and white. The two concurrent events have proven to be very popular. The yellow and white balls are offered at $10 each or three for $25. The blue colored balls can be purchased at $30 each. Winners of the blue ball race will win a trip to the next domestic World Cup event, including airfare, lodging and ground transportation. Fans will be able to participate in this unique event by entering as many balls as they'd like in this two-of-a-kind race that benefits the athletes. All sales will conclude on Tuesday, February 15 at 12 PM ET.
The top 10 balls, plus the last place ball will win prizes as follows:
1st Place: $1,000 plus the following Duluth Trading Company prizes: Fire Hose Dozer Backpack and Best Made Leather Laptop Sleeve
2nd Place: $500 plus Duluth Trading Company Fire Hose Dozer Backpack and CargoBold One Night Stand Garment Bag

3rd Place: $300 plus Duluth Trading Company Fire Hose Dozer Backpack, Duluth Trading 20-oz. Insulated TKWide Travel Mug and Tough Guy Knit Stocking Cap
4th Place: $200 plus Duluth Trading Company Cargobold Weekend Affair Duffle, Duluth Trading 20-oz. Insulated TKWide Travel Mug and Waffle Knit Beanie
5th Place: $100 plus Duluth Trading Company Cargobold Weekend Affair Duffle and Duluth Trading 20-oz. Insulated TKWide Travel Mug
6th Place: $100 plus Duluth Trading Company Oil Cloth Duffle, Tough Guy Knit Stocking Cap and Mini Multi Pen
7th Place: $100 plus Duluth Trading Company Oil Cloth Duffle, Tough Guy Knit Stocking Cap and Mini Multi Pen
8th Place: $100 plus Duluth Trading Company Oil Cloth Duffle, Tough Guy Knit Stocking Cap and Mini Multi Pen
9th Place: $100 plus Duluth Trading Company Canvas Riggers Bag and Duluth Trading 20-oz. Insulated TKWide Travel Mug
10th Place: $100 plus Duluth Trading Company Canvas Riggers Bag and Tough Guy Knit Stocking Cap
Last place: $100
USA Luge is also proud to announce the addition of a slew of supporters who have stepped up to be a part of the event and support USA Luge:
Presenting Sponsor: Cool Seal USA
Gold Sponsors: Casella Waste Management, Cobble Mountain Lodge
Silver Sponsors: Dermatone, Golden Arrow Hotel and Lodging in Lake Placid, High Peaks Resort Lake Placid, Lake Placid Family Dental, Long Run Wealth Advisors, Mountain Orthotic & Prosthetic Services, The UPS Store/Lake Placid, Vulcan GMS
Friends: Bear Essentials, Burnham Benefit Advisors, High Peaks Ford, Mountain Dental, Wildwood on the Lake