USA Luge bronze in team relay, Britcher 5th in singles and verifies her Olympic nomination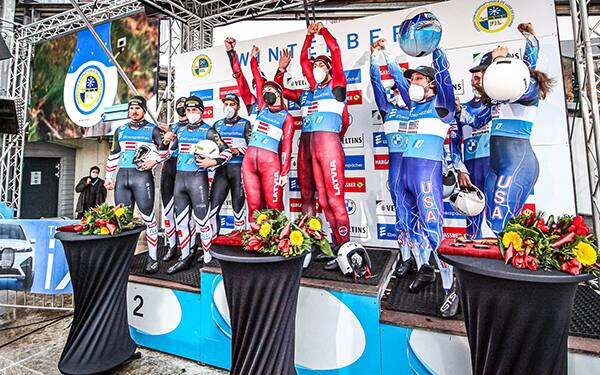 Above: The USA relay squad celebrates their bronze medal in Winterberg , Germany on Jan. 2, 2022. Photos: FIL/Mareks Galinovskis
WINTERBERG, Germany – USA Luge concluded a warm Winterberg weekend Sunday with a World Cup bronze medal in the team relay. It was preceded by a fifth-place result from Summer Britcher in singles that verified her nomination to the 2022 Olympic team.
Britcher pre-qualified for her third Games by finishing sixth at the 2021 World Championships. She verified that result with her Tier A performance in Winterberg.
The combination of Britcher, Tucker West and the doubles team of Chris Mazdzer and Jayson Terdiman picked up the team's second team relay medal of the season in four starts. The United States is currently ranked third in the Eberspacher World Cup discipline standings.
Britcher and West put the Americans in third place – West had the fastest reaction time – and turned the matter over to Mazdzer/Terdiman. The twosome carried Saturday's excellent second heat into Sunday's anchor leg, accelerating down the course in a run that nailed down the podium result.
"This was a good way to finish off Winterberg," said Mazdzer, the 2018 Olympic silver medalist. "We can go fast. It's there."
As solid as these results were, it was looking even better for the Americans in the morning women's singles race. In fact, the United States women were in position to leave Winterberg with three racers holding Tier A qualifications.
Emily Sweeney, who has had some career highlights in Winterberg including the 2019 World Championship bronze medal and a sprint victory, was eyeing the podium. Sweeney stood in second place late into the first heat but encountered difficulties in the final seven seconds of the run and slid back to 13th place. In the final leg, Sweeney was second again well down the Winterberg course when she crashed in the transition between curves 13 and 14 and did not finish. The 2018 Olympian secured Tier A Olympic qualifying with her fifth-place result last month.
Also, Brittney Arndt, seventh at the intermission, was in position for a Tier A Olympic qualification but had to settle for 12th place in warm, deteriorating conditions. Arndt left the track with half Tier B status heading into the final Olympic qualifying race next week in Sigulda.
Britcher, a 2014 and 2018 Olympian, avoided such issues and showed the ability to gain speed down the tricky layout which slowed throughout the runs thanks to temperatures in the mid-40s.
"It's interesting because this race was one where I was showing average potential for speed but I was able to have a little bit of consistency," said Britcher, who picked up a World Cup sprint silver medal last month. "With the changing weather conditions here and a little bit of luck on my side, I was able to have my best regular format World Cup result of the season."
Ashley Farquharson, who currently is in Tier B, was tied for 16th in the race. Farquharson, along with Arndt, are in the running for their first Olympic nomination entering the final selection weekend.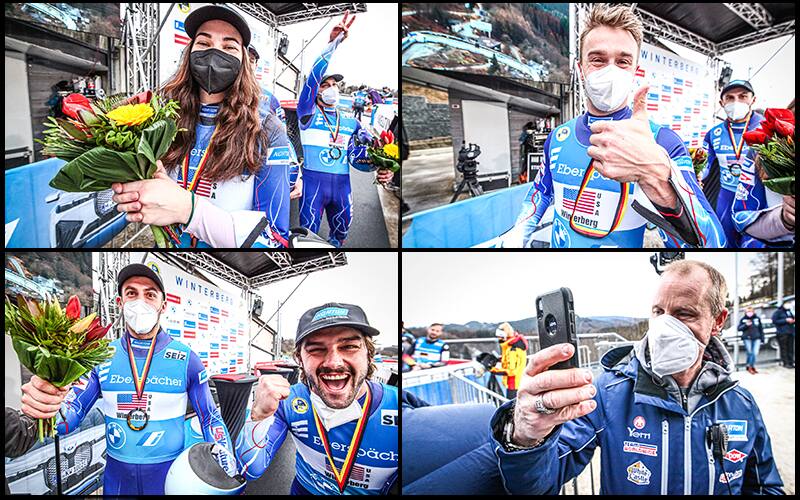 Above, clockwise: Summer Britcher, Tucker West, Chris Mazdzer/Jayson Terdiman and coach Bengt Walden. Photos: FIL/Mareks Galinovskis
TEAM RELAY
The American quartet started 10th in a 13-team relay field, put down steady runs on Winterberg's alpine slide to occupy third place, and then survived threats from Italy and Germany.
"We always race really well together," stated Britcher. "This is a great team. Happy to have a good result to end a tough week here in Winterberg with some bad conditions."
Andrea Voetter capsized taking the Italians out of the picture early, and then some of Germany's four weekend winners, didn't show the same form. Julia Taubitz put her team in the lead, but Johannes Ludwig and Tobias Wendl/Tobias Arlt couldn't match that effort. The sum total placed them fourth. Coupled with Austria's silver medal, the Germans are clinging to a one-point advantage in the team relay standings with two events remaining.
Latvia dominated the race, winning in a time of 2 minutes, 24.294 seconds, over one second off the track record. They were 0.35 of a second faster than Austria, with the U.S. 0.5 of a second behind the winners. It marked the fourth different winner in as many relays this season.
"It's always good to cap off the week with that kind of result," remarked West, who also cited sled issues. "We gave up a lot of time today on the men's side in the relay but we'll keep fighting to the Olympics."
Alongside Italy, Romania also did not finish the competition. They added to the excitement of this discipline when their doubles team swung and missed the touch pad leading to disqualification.
On the World Cup season, Germany's points lead over Austria has nearly disappeared, 291-290. USA Luge is within striking distance with 257, while Latvia's victory improved them to fourth place at 230.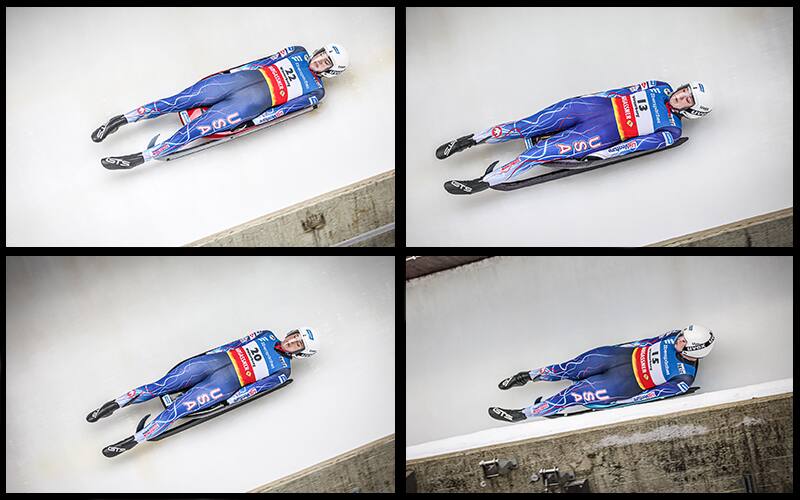 Above, clockwise: Summer Britcher, Brittney Arndt, Emily Sweeney and Ashley Farquharson. Photos: FIL/Mareks Galinovskis
WOMEN'S SINGLES
Julia Taubitz did not let slow ice and a late start number impact her performance. However, not everyone could make that claim. Her individual heats were fourth and second best. Put them together for a time of 1:53.167 and it was good enough for her fourth World Cup victory in eight starts. The German also has three silver medals to date.
She topped teammate and first heat leader Natalie Geisenberger, who will go to Beijing in a month's time to add to her Olympic medal haul of five, four of them gold. Geisenberger's final leg was fifth best and landed her in second place, 0.24 from Taubitz.
Austrian Madeleine Egle is enjoying a breakout season. The second-ranked World Cup athlete, however, lost gulps of time in the first run after difficulties at the start and stood 17th. Her fighting spirit, however, did not accept that and she capped the race with the fastest second leg and a World Cup bronze medal. Egle was just 0.01 from Geisenberger's silver medal time.
Anna Berreiter made it three from Germany in the top four as she, too, rallied like Egle and improved from 14th to fourth place.
Expect Taubitz, Geisenberger and Berreiter to take on the world at the Beijing Olympic Winter Games.
Britcher's time of 1:53.674 put her right behind Berreiter and 0.5 of a second from Taubitz. The U.S. slider's heats were ninth and sixth ranked. On the season, she is in seventh place overall, leading all Americans.
"In other races, I was showing more speed but haven't been able to put it together for two runs," commented Britcher. "This was not really a week where I was expecting to get this result but I'm very happy with it and to take that stress off my shoulders going into the next weekend and really just enjoy competing in Sigulda."
At the top of the rankings, it's Taubitz (694 points), Egle (592) and Berreiter (535). They have accounted for all eight gold medals in the 2021-2022 season. Geisenberger, the winningest World Cup woman of all time, is fourth-ranked and still awaiting her first gold medal.
IN CONCLUSION

Despite World Cup races later this month in Oberhof and St. Moritz to end the season, Sigulda will be the site of the final World Cup event for Olympic qualification. Also, those three events will determine seeding for the Beijing men, women and doubles races. Team relay seeding is established by the season-ending discipline standings to be determined after the St. Moritz event.
Sigulda will not only host a World Cup, but it will also be the scene of a potential U.S. doubles winner-take-the-Olympic-spot race-off. Since none of the three sleds have achieved a completed tier, it will come down to a race-in event with the best result taking what could be USA Luge's lone Olympic slot.
"Another roller coaster weekend for Chris and myself," reflected Terdiman, a double Olympian. "Yesterday's crash was very unfortunate, but we definitely had the speed and we're looking forward to carrying this momentum into Sigulda and see where that puts us at the end of the Olympic selection process."
The Sigulda schedule offers men's singles and doubles on Saturday, with women's singles and the Sprint Cup on Sunday.