Greiner, back from injury, scores Junior World Championship Bronze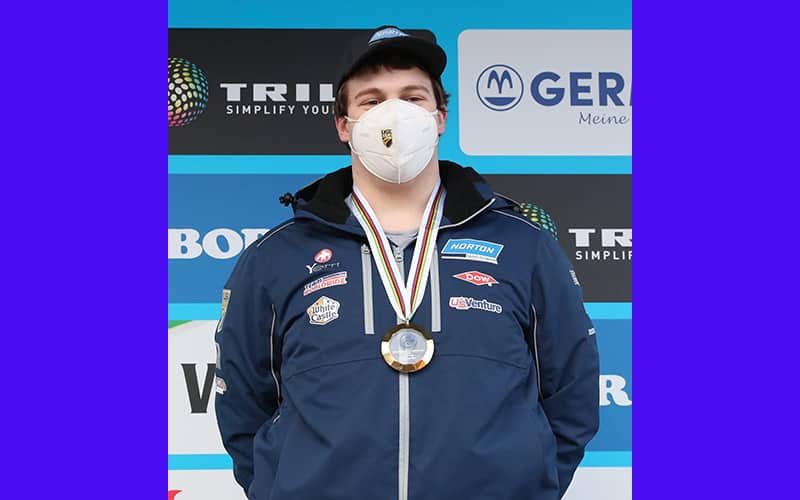 Matt Greiner with his Junior World Championship bronze medal on January 28, 2022.
WINTERBERG, Germany - On an unusually clear and cold day in the typically wet Hochsauerland district, Matt Greiner of the United States took advantage of theconditions and grabbed a bronze medal at the 2022 Junior World Luge Championships.

Greiner became the first American to stand on the Junior World Championship podium since Tucker West of Ridgefield, Conn. took silver in the 2015 race held in Lillehammer,Norway.

"I'm super proud of myself," said Greiner, of Park City, Utah. "I thought I raced really well today. This Winterberg track is one that kind of favors my style of sliding. And thisis a goal that I set from the very beginning of the season. At the end of the day, I'm always proud to see the American flag raised."

The track in Winterberg sees slower than normal in the top section, but the lower section drops away and sleds accelerate significantly, particularly today with colder, harder andfaster ice. The 18 year old is no stranger to high speeds, having learned to slide in Park City, where sleds touch 90 MPH.

"Yeah, it's really fast," said Greiner. "I think I went 131 KPH which is like 82 MPH. It's not something I'm new to, you know. It's close to the speed in Park City."

In the three Junior World Cup races he entered this season, Greiner made trips to the podium two times. He missed two events due to a leg injury prior to the New Year.

Greiner's time of 1 minute, 53.213 seconds was 0.477 seconds off Russian gold medalist Matvei Prestoronin and 0.008 away from silver medalist Florian Müller of Germany.

Ironically, fourth place went to Pavel Repilov of Russia, an Olympic team candidate this season. He is the younger brother of Roman Repilov, who won the 2015 Junior WorldChampionship event in which West took silver.

Marcus Mueller of Brookfield, Wis., ranked second in the 2021-22 Youth A men's overall World Cup, raced up a category against older, more seasoned competitors. Hefinished 12th with a time of 1:54.089. His teammate Hunter Harris of East Fairfield, Vt., who featured in the top 10 this season in Junior World Cup events, was 16th with atime of 1:55.293. West Islip, N.Y native Aidan Mueller, another podium regular in Youth A men's competitions this season, was 21st with a two-run combined time of 1:55.913.

Racing from Winterberg continues Saturday with the Junior Women's World Championship, followed by the Women's Doubles World Championship debut on Sunday.