USA Luge breaks through in new women's discipline at World Championships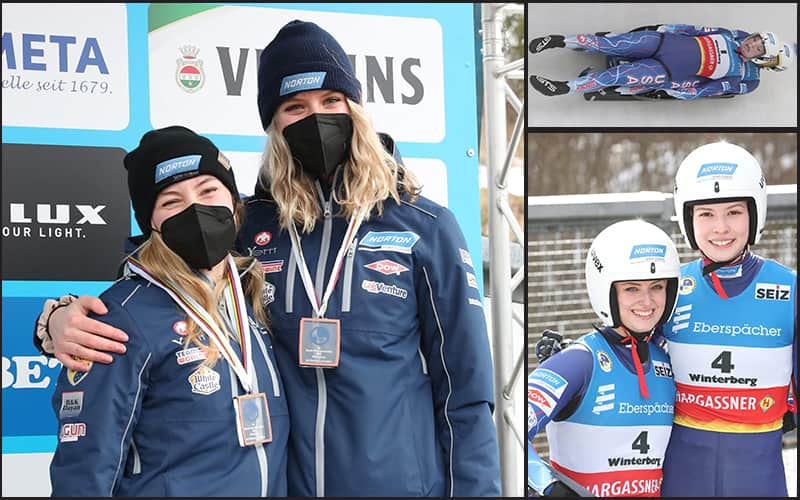 Above, Clockwise: Sophia Kirkby, Chevonne Forgan with medals, Forgan/Kirkby in action, Reannyn Weiler and Maya Chan. Photos: FIL/ Dietmar Reker/Sandro Halank
WINTERBERG, Germany - In a long-needed step towards gender equity, the sport of luge hosted the Women's Doubles World Championship for the first time, with the United States duo of Chevonne Forgan and Sophia Kirkby taking bronze.
"It was super exciting to be on the podium at the first-ever Women's Doubles World Championships today," said Chelmsford, Mass. native and front driver Forgan. "The weather today was actually the best it's been all week. We had some rain, some snow, but managed to get some really good fast ice for today."
"It was definitely great to be a part of this experience with other nations," added back driver Kirkby of Ray Brook, N.Y. "Overall, they (the runs) weren't that bad. We did have some difficulties in part of the track but we pulled some runs that made us into third place, so can't complain too much."
Germans Jessica Degenhardt and Cheyenne Rosenthal took gold, with teammates Luisa Romanenko and Pauline Patz taking silver from the field of 14 sleds. The United States duo of Maya Chan of Chicago, Ill. and Reannyn Weiler of Whitesboro, N.Y. were fourth, a mere .099 from the bronze medal. After the first of two heats, Chan/Weiler sat in third place but the two American sleds swapped places after the second run.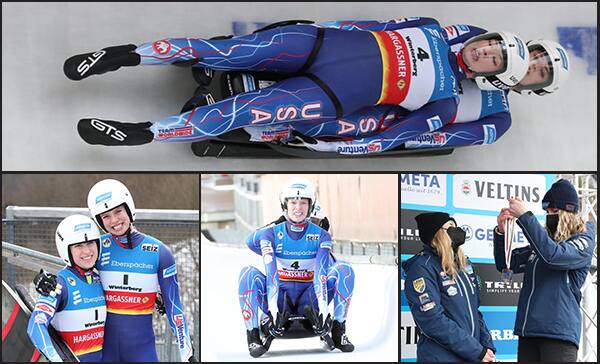 Top: Reannyn Weiler and Maya Chan in action. Bottom L to R: Sophie Kirkby and Chevonne Forgan, Chan/Weiler in the Winterberg outrun, Kirkby/Forgan with medals. Photos: FIL/ Dietmar Reker/Sandro Halank
Doubles is currently contested by men only at the Olympic Games and today's event marks a major step forward in the International Luge Federation's bid to add the discipline to the Olympic schedule for the Games in 2026.
All eyes now focus on the Winter Olympics in Beijing. A press conference with USA Luge athletes will take place tomorrow for all IOC accredited media. Official training at the Yanqing Sliding Center begins on February 1.