Marcus Mueller continues to headline season-ending USA Luge races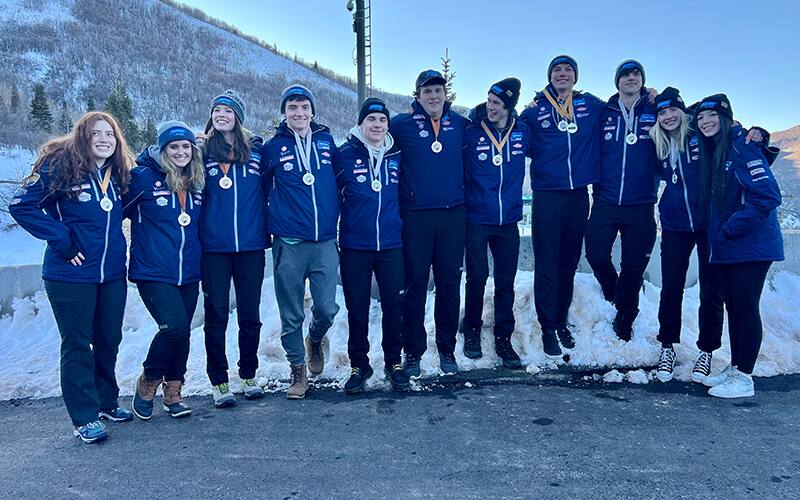 PARK CITY, Utah – Marcus Mueller has continued his march from youth right into junior national luge events by sweeping a pair of seeding races in singles and doubles on Saturday in Park City, Utah.
Mueller, of Brookfield, Wis., departed last Sunday with a collection of youth national gold medals. Saturday was no different as he won the singles junior national event by over 0.4 of a second. He also teamed with Ansel Haugsjaa, of Framingham, Mass. to capture top honors in doubles.
Elana Morrison, of Twin Lake, Mich., won her singles junior national seeding race by more than 0.5 of a second.
After the younger competitors took center stage last weekend on the 2002 Olympic track, a total of 29 luge athletes are tackling the Utah Olympic Park course this weekend for the Norton USA Luge Junior National Championships. Many of them competed in both youth and junior races.
After training this week in typical winter conditions, Saturday broke sunny and warmer with temps breaking 40 degrees. Mueller adapted well, posting two heats that totaled 1 minute, 35.915 seconds. The winner had the fastest split times of both heats, leading to the best individual runs of the seeding race.
Hunter Harris, of East Fairfield, Vt., finished second in the opening seeding race in a time of 1:36.347. He was second in both runs. Matt Greiner, the 2022 Junior World Championship bronze medal winner from Park City, was third in 1:36.536.
Mueller teamed with Haugsjaa, who was fifth in singles, to claim the doubles victory. They clocked 1:29.507. The runners-up on the open-turned, high-speed course were Aiden Mueller (no relation) from West Islip, N.Y. with Frank Ike, of Lititz, Pa. They were 0.15 of a second slower over the two legs. Maya Chan, of Chicago, and Reannyn Weiler, of Whitesboro, N.Y., placed third by 0.58 of a second. Chan and Weiler were fourth in the inaugural 2022 World Championship women's doubles competition, as well as fourth in the 2020 Youth Olympic Games and second overall in the recently completed junior women's World Cup season.
Morrison recorded the two best runs of the women's race and turned back the field in winning the junior opening seeding race. She registered a winning time of 1:29.043. The silver medalist was Emma Erickson on her home track. Her two attempts were timed in 1:29.574. Delaney Duncan, also of Park City, grabbed third place in 1:29.810.
Action will resume at 10 AM MT Sunday. Singles racing will include the second seeding race, while the total of all four runs over the two days will determine the Norton National Champion. In doubles, only the second seeding race will also count toward the national championship.
Live streaming will be offered on the UOP's YouTube channel. Please log on to: https://www.youtube.com/user/UtahOlympicPark/videos and click on the red live banner.