Norton USA Luge junior national titles won as race season ends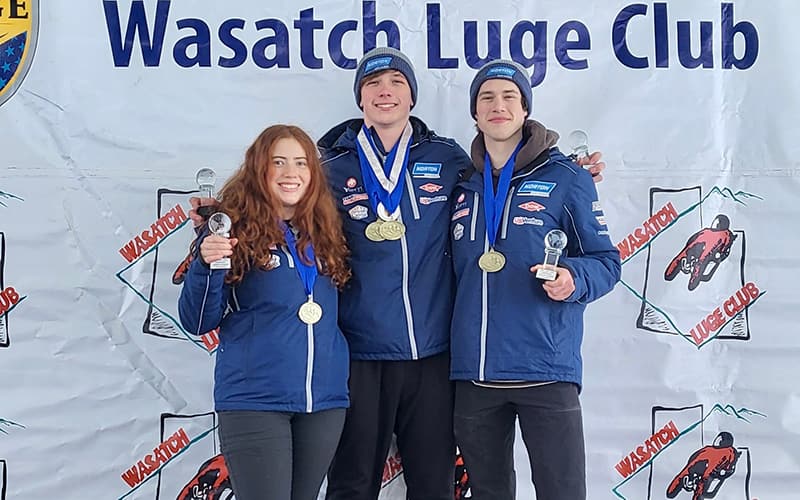 PARK CITY, Utah – It was literally a march to the top this month for USA Luge's Marcus Mueller.
He was one of 29 athletes racing Sunday in comfortable low 30s temps in the Wasatch Mountains. At stake were 2022 Norton championships and status for next year.
After dominating last weekend's Norton Youth National Championships in Park City with singles and doubles crowns in Youth A, the Brookfield, Wis. athlete stepped up to the junior level this weekend on the same 2002 Olympic track and announced himself to the junior ranks with another pair of national titles.
Mueller, second in the Youth A World Cup rankings this past season, has now aged up to the next rung in the ladder that culminates with potential national and Olympic team status in future years.
After winning Saturday's first seeding race and leading the national championship chase overnight, Mueller was challenged Sunday by Hunter Harris and Matt Greiner. Harris, of East Fairfield, Vt., was runner-up on day one, while Greiner, the 2022 World Junior Championship bronze medal winner, sat in third place on his home track.
The deciding runs, however, saw a radical change among the top three as Harris won Sunday's two-heat seeding race, Greiner was second and Mueller slipped to third. But in totaling all four legs over the weekend, Mueller had a combined time of 3 minutes, 20.214 seconds. He topped Harris by 0.22 of a second, with Greiner third, 0.9 off the pace. However, Harris emerged with the most seeding points in the field.
Mueller once again teamed with Ansel Haugsjaa, of Framingham, Mass. to win both seeding events in doubles and the Norton national championship, giving Mueller four over the two weekends.
While singles incorporate all four runs to determine the Norton winner, doubles have two seeding events but only the final two trips decide the national champion.
Aiden Mueller of West Islip, N.Y., no relation to Marcus Mueller, partnered with Frank Ike, of Lititz, Pa. for two second place seeding results and second place in the nationals race by 0.46 of a second. Maya Chan, of Chicago, and Reannyn Weiler, of Whitesboro, N.Y., were third again on the weekend and third in the national race.
Chan and Weiler were fourth in the inaugural 2022 World Championship women's doubles competition, as well as fourth in the 2020 Youth Olympic Games and second overall in the recently completed junior women's World Cup season.
Elana Morrison completed a sweep of the two seeding races and took the Norton U.S. championship as a result. The Twin Lake, Mich. racer won all four runs for the seeding race gold medals.
Morrison's four trips resulted in a combined time of 3:00.083. It was good enough for a one second victory over Emma Erickson, of Park City. Erickson was second both days. Fellow Parkite Delaney Duncan was the national championship bronze medalist and placed third each day. Duncan finished 1.4 seconds from Morrison over the four heats.
The Norton Junior National Championships marked the end of the competition season for USA Luge. It was a long campaign that started with national team selection races in October; World Cups from November to January to determine the Beijing Olympic team; then the Games themselves in February held under severe restrictions; a Youth and Junior World Cup season with seven events one year after COVID rubbed out the 2020-2021 schedule; and finally, these youth and junior events in Utah to bring it to an end.
What's next will be the much-anticipated team announcements in springtime that set the stage for World Cup, Junior World Cup and Youth World Cup as well as World and Junior World Championships in 2022-2023.