Britcher, Sweeney to race in Luge Women's Doubles
Successful luge singles athletes will combine talent, experience in luge doubles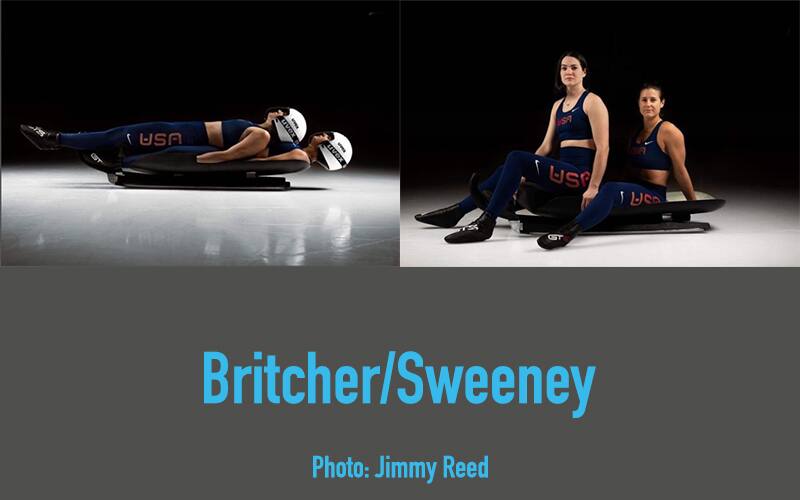 LAKE PLACID, N.Y. –During a virtual press conference earlier today, USA Luge singles athletes Summer Britcher and Emily Sweeney announced they have decided to join forces in luge doubles.
The pair began training together in July 2022 and during the press conference said they are working hard toward the upcoming competitive season.
Britcher, from Glen Rock, Pa., is a three-time Olympian and has five World Cup career victories, the most in U.S. luge singles history. Sweeney, of Lake Placid, is a two-time Olympian and 2019 World Championship bronze medalist.
While the duo is still in the learning process of sliding doubles, they are enjoying the experience and believe in their potential as a team.
"It's been a lot of fun teaming up with Summer in a completely new way," said Sweeney. "We've been teammates for years but being on the same sled solidifies our teammate relationship even more. Training together brings a whole new level of motivation and encouragement, and while it feels completely new at times, I've already seen our experience from singles transfer over to doubles, which is really encouraging."
"Training and learning doubles with Emily has been so exciting," added Britcher. "At this point in my singles career, I may not see improvements in my sliding week to week let alone run to run, but in doubles, we are beginners and it's been cool to learn, improve, and work with a teammate, which is something I have missed during my singles luge career."
Although racing as singles athletes is their primary responsibility this season, both athletes are taking every advantage of the opportunity and combining their experience toward success.
"Being so established in singles, we are able to look at both of our careers, start to now," added Britcher. "From the highs and lows, what worked and what didn't, and to be strategic about how we train and approach every obstacle."
While Britcher and Sweeney are fully funded as singles athletes for USA Luge, their pathway to doubles has presented challenges, especially as it relates to financing their doubles team.
"We are new to the discipline and since we are not traditional athletes, our pathway to funding and equipment looks a little different," Britcher said. "We've been responsible for acquiring and funding our own equipment, but we are all in and ready to do what it takes to see what we're capable of this year."
The duo plan to make their competitive debut at the World Cup in Igls, Austria in December.
World Cup action will resume December 3-4 in Igls, Austria, when the nine-race season kicks off. The circuit will return to the U.S. for the first time since 2019 for the EBERSPÄCHER World Cupon December 16-17 in Park City, Utah. World Championships are slated to take place in Oberhof, Germany on January 27-29, 2023.