Team USA secures four top ten finishes in Altenberg
Germany dominant in Altenberg doubles and women's races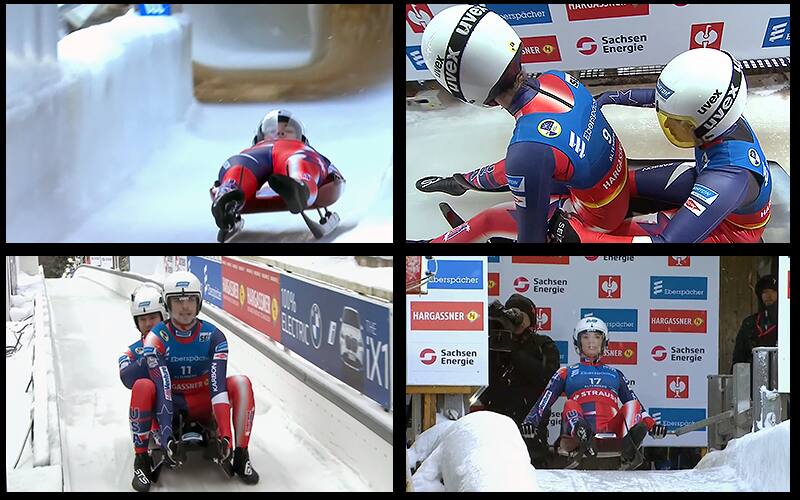 Clockwise L to R: Summer Britcher, Chevonne Forgan/Sophie Kirkby, Zack DiGregorio/Sean Hollander and Summer Britcher.
ALTENBERG, Germany –World Cup action was back this weekend in Altenberg, with Germany taking the top three spots in women's singles and the top two spots in men's doubles. Italy prevented a gold medal sweep by winning the women's doubles race.
Team USA secured four top ten finishes. Chevonne Forgan and Sophie Kirkby were the top U.S. sled, sixth in women's doubles. Summer Britcher was eighth in women's singles while Zack Digregorio and Sean Hollander were ninth in men's doubles.
Women's Singles
Julia Taubitz led the German women's podium sweep, crossing the finish line with a time of one minute 45.727 seconds. Teammate Anna Berreiter won silver with a time of 1:46.034 and Dajana Eitberger placed third in 1:46.057.
Three-time Olympian Britcher (Glen Rock, Pa.) led the American women in eighth place with a time of 1:46.643. 2019 World Championship bronze medalist Emily Sweeney (Suffield, Conn.), who spent the last few weeks recovering from a neck injury, placed 12th with a time of 1:46.948. 2022 Olympian Ashley Farquharson (Park City, Utah) finished 14th in 1:47.290, while Brittany Arndt (Park City, Utah) did not compete as she is recovering from an injury.
"I'm fairly happy with my runs today," said Britcher, a five-time World Cup winner. "I had some small issues up top in the second run, but overall I'm happy. I'm really excited to get back on the track tomorrow and give it everything in the relay!"
USA Luge uses the fastest run in the women's singles, men's singles and men's doubles races to determine who will compete in the team relay. Using this standard, Britcher will represent the United States in tomorrow's event. It is expected that women's doubles will be added to the team relay before the 2026 Olympic Winter Games in Milan-Cortina, though no date has been announced.
Taubitz bumped Eitberger out of the top spot in the World Cup overall standings with 607 points. Eitberger is now in second with 582, and Berreiter is in third with 509. Sweeney is in fifth place with 399 points, Britcher and Farquharson are tied for tenth with 279, and Arndt in 15th with 222.
Women's Doubles
Italy's Andrea Vötter and Marion Oberhofer collected their fourth gold medal of the season with a time of 1:25.650. Recently crowned World Champions Jessica Degenhardt and Cheyenne Rosenthal of Germany placed second with a time of 1:25.701, Austria's Selina Egle and Lara Kipp took bronze in 1:25.927.
The American team of Chevonne Forgan (Chelmsford, Mass.) and Sophie Kirkby (Ray Brook, N.Y.) placed sixth with a time of 1:27.495. Maya Chan (Chicago, Illinois) and Reannyn Weiler (Whitesboro, N.Y.) placed eighth with a time of 1:27.732. Both teams had trouble in their second heat. Britcher and Sweeney are not competing in Altenberg.
Vötter/Oberhofer are the overall World Cup leaders with 700 points. Egle/Kipp are in second with 615 and Degenhardt/Rosenthal are in third with 571. Forgan/Kirkby are in fourth with 425 points, Chan/Weiler are in seventh with 336, and Sweeney/Britcher are in eighth with 295.
Men's Doubles
German World Champions Toni Eggert and Sascha Benecken won their third World Cup race of the season with a time of 1:24.158. Their teammates, six-time Olympic gold medalists Tobias Wendl and Tobias Arlt, took second in 1:24.224 while Latvia's Martins Bots and Roberts Plume placed third clocking a time of 1:24.376.
The American duo and 2022 Olympians Zack DiGregorio (Medway, Mass.) and Sean Hollander (Lake Placid, N.Y.) placed ninth with a time of 1:24.908.
Dana Kellogg and Duncan Segger were back racing today after failing to qualify for the World Championships last weekend. Kellogg (Chesterfield, Mass.) and Segger (Lake Placid) experienced issues in both heats exiting the 270-degree kreisel corner, placing 13th with a time of 1:26.297.
"Today was a tough one for us, we are happy to be in the top 10 again but we were hoping for more," said DiGregorio. "With the week of weather we had, it was hard to predict what the race would look like and after being in seventh on the first run we really wanted to go for it on the second run."
"Going for it cost us a few small mistakes and some spots as well," Hollander added. "But, like everything, sometimes you need to move a step back before moving forward, so now we are looking forward to the relay, joining Summer and one of our men's singles athletes to hopefully put on a good showing."
Eggert/Benecken of Germany remain at the top of the World Cup overall standings with 615 points. Wendl/Arlt are second with 614, and the Latvia duo of Martins Bots and Roberts Plume are third with 525. DiGregorio/Hollander hold eighth with 352 points, and Kellogg/Segger are 15th with 194.
World Cup action continues in Altenberg tomorrow, February 4, with the men's and relay competitions. To watch all races live and to view archived competitions, please visit the FIL's YouTube channel: https://www.youtube.com/@FILLuge_Channel. The entire World Cup and World Championship season can be accessed from this portal.