Team USA places fifth in team relay in Altenberg, West seventh in men's race
Germany wins men's singles; Austria gold in team relay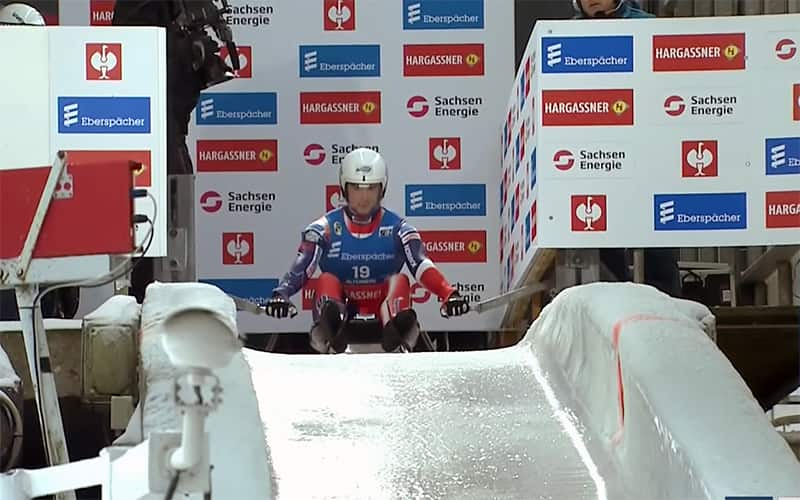 Tucker West at the start of the track in Altenberg, Germany on February 5th, 2023.
ALTENBERG, Germany –World Cup racing continued today in Altenberg with men's singles and the team relay.
The U.S. relay squad of Summer Britcher, Tucker West, and the duo of Zack DiGregorio and Sean Hollander placed fifth with a time of two minutes 24:018 seconds.
Earlier in the day, Germany's Max Langenhan defended his 2022 World Cup victory in Altenberg taking gold with a time of 1:47.574 in men's singles. West was the top U.S. finisher in seventh.
Team Relay
Team Austria's Madeleine Egle, Wolfgang Kindl, and Yannick Mueller and Armin Frauscher, stood at the top of the podium after hitting the paddle and stopping the clock in 2:23.742. World Champions Sascha Benecken and Toni Eggert joined Julia Taubitz and Langenhan taking silver for Germany with a time of 2:23.840. Team Latvia's Elina Vitola, Kristers Aparjods, and Martins Bots and Roberts Plume took bronze in 2:23.881.
Team USA placed fifth, just .137 off the podium and .276 away from the gold medal in a remarkably close race. Britcher (Glen Rock, Pa.), West (Ridgefield, Conn.) and DiGregorio (Medway, Mass.)/Hollander (Lake Placid, N.Y.) all placed in the top ten in their respective disciplines this weekend.
Germany and Latvia are tied for first place in the overall World Cup relay standings, with 355 points. Italy is third with 250, and Team USA is in fourth place with 180.
Men's Singles
Following a tie for the gold medal in Altenberg last year between Austria's Wolfgang Kindl and Langenhan, the German stood at the top of the podium alone this weekend with a time of 1:47.574. World Cup leading Italian Dominik Fischnaller took silver with a time of 1:47.812, and two-time Olympic champion Felix Loch of Germany placed third in 1:47.906. Kindl was fourth in 1:47.943.
After posting the first and second fastest start times, respectively, West placed seventh with a time of 1:48.515, while his teammate Jonny Gustafson (Messina, N.Y.) was 14th in 1:49.173.
"Overall, I'm happy with my result in the singles race," said West. "The track conditions were much faster today compared to our training, so I didn't quite know what to expect. In the end, I had two decent runs and landed in seventh place. Obviously, I wish I could be fighting for the medals but it's clear that there is still a gap that we need to close."
Fischnaller holds first place in the World Cup overall standings with 605 points. Loch is second with 496, and Kindl is third with 453. U.S. athletes are led by West in seventh with 342 points and Gustafson in 12th with 257. 2018 Olympic silver medalist Chris Mazdzer only competed in North America and finished his season with 114 points.
The weekend of competitions served as a preview for the 2024 World Championship, which will be held in Altenberg. The track is expected to undergo an upgrade, focused on covering more of the ice from the elements and improving the women's start house in advance of the championships.
World Cup action continues in Winterberg, Germany, February 11-12. To watch all races live and to view archived competitions, please visit the FIL's YouTube channel: https://www.youtube.com/@FILLuge_Channel. The entire World Cup and World Championship season can be accessed from this portal.