Forgan and Kirkby win silver in Sigulda, achieve best ever result
Farquharson, DiGregorio/Hollander place in top ten in respective disciplines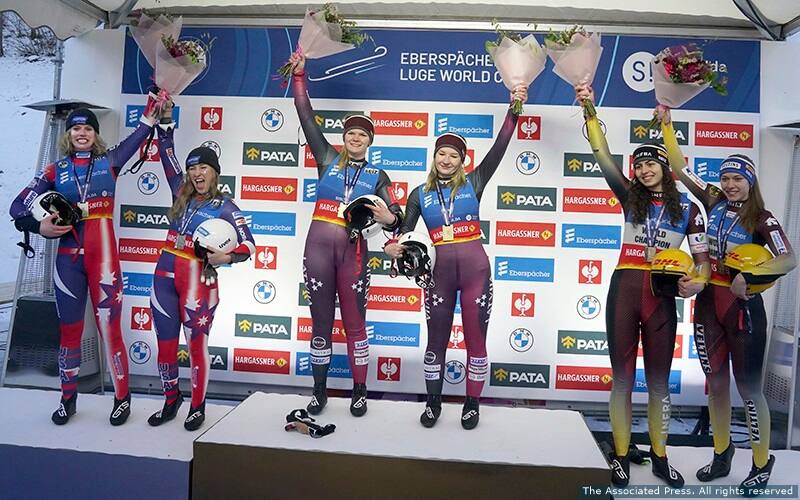 From left, second placed Chevonne Chelsea Forgan and Sophia Kirkby of United States, first placed Anda Upite and Sanija Ozolina of Latvia, and third placed Jessica Degenhardt and Cheyenne Rosenthal of Germany celebrate during the award ceremony of the Luge World Cup women's double race in Sigulda, Latvia, Saturday, Jan. 7, 2023. (AP Photo/Roman Koksarov)
SIGULDA, Latvia—Following a two-week holiday break, USA Luge was back in action today at the FIL Luge World Cup in Sigulda. The women and doubles competitions took place, with United States athletes Chevonne Forgan and Sophie Kirkby leading Team USA with a silver medal.
Women's Doubles
Chevonne Forgan and Sophie Kirkby secured a best ever result, winning the silver medal with a time of one minute, 25.138 seconds. Kirkby (Ray Brook, N.Y.) and Forgan (Chelmsford, Mass.) executed steady runs on the difficult track with frigid temperatures and rock hard ice conditions.
"I am so excited to have our best ever finish here in Sigulda," said Kirkby. "We put down some clean, fast runs and I'm so happy with our result. It means so much to get the silver here since we have both had lots of trouble on this track in the past."
"Our runs today were really good," added Forgan. "I was very happy with them. We have been having really clean runs during training and we were able to put two clean runs together for race day."
Latvia's Anda Upite and Sanija Ozolina secured the gold medal with a time of 1:24.926. Placing third were Germany's Jessica Degenhardt and Cheyenne Rosenthal with a time of 1:25.261.
The American team of Maya Chan (Chicago, Ill.) and Reannyn Weiler (Whitesboro, N.Y) did not compete. They are recovering from a crash earlier this week, but plan to race in next weekend's World Cup event, also taking place in Sigulda. Summer Britcher (Glen Rock, Pa.) and Emily Sweeney (Lake Placid, N.Y) were not scheduled to compete in today's race. The duo have chosen to participate in select events this season.
Andrea Vötter and Marion Oberhofer of Italy remain the overall World Cup leaders with 500 points. Austria's Selina Egle and Lara Kipp are second with 485 points, and Degenhardt/Rosenthal remain in third with 416 points. Following today's silver medal, Forgan/Kirkby are fourth with 320 points. Britcher/Sweeney are in fifth place with 295 points and Chan/Weiler sit in seventh with 252 points.
Women's Singles
2022 Olympian Ashley Farquharson led the USA Luge women today, placing 10th with a time of 1:23.872. Farquharson (Park City, Utah) fought hard for the result.
"I was happy with my race," said Farquharson. "There is definitely still time left in the runs, but I felt like I made some good steps. I've never felt very comfortable in Sigulda, so to see some progress today is a big confidence booster that I can carry with me into next week."
Following her gold medal in Park City before the holiday break, Germany's Dajana Eitberger celebrated her birthday by remaining at the top of the podium in Sigulda. She secured a track record of 41.488 and won the gold medal with a time of 1:22.999. Eitberger, the 2018 Olympic silver medalist who served as guest commentator during the live broadcast of the women's doubles race, announced that she is planning to only focus on doubles next season. The silver medal was won by Latvia's Elina Vitola, with a time of 1:23.093. Julia Taubitz of Germany, the current World Cup Leader, secured bronze with a time of 1:23.143.
Sweeney, a two-time Olympian with three World Cup silver medals this season, held fourth place following the first run, but hit the right wall out of curve 14 in her second heat. She dropped back into 17th place with a time of 1:24.432. Five-time World Cup winner and three-time Olympian Britcher and Verena Hofer of Italy tied for 12th place with a time of 1:24.188. Coming off a bronze medal finish in the women's singles sprint race in Park City, Brittany Arndt (Park City, Utah) landed in 14th, crossing the finish line in 1:24.194.
Taubitz remains the overall World Cup leader with 465 points. Eitberger moves into second place with 427 points, bumping Austria's Madeleine Egle into third place with 393 points. Sweeney sits in fourth with 351 points, Britcher holds ninth place with 237 points, Farquharson 10th with 221 points, and Arndt 12th with 198 points.
Men's Doubles
The race belonged to Latvia's Martins Bots and Roberts Plume who won gold with a time of 1:22.642 and secured a track record of 41.281 in front of their home crowd. The silver medal went to Germany's Tobias Wendl and Tobias Arlt with a time of 1:22.798, followed by Italy's Emanuel Rieder and Simon Kainzwaldner with a time of 1:23.024.
The American duo of Zack DiGregorio (Medway, Mass.) and Sean Hollander (Lake Placid) placed eighth. The 2022 Olympians finished with a time of 1:23.699.
The frigid temperatures in Sigulda resulted in hard ice all day. Under such conditions, it becomes very difficult to control the sled, resulting in bumps and bruises for several athletes. USA Luge athletes Dana Kellogg and Duncan Segger were among those impacted by today's weather. Kellogg (Chesterfield, Mass.) and Segger (Lake Placid) crashed at the exit of curve 14 on their second run, resulting in damage to their sled. The duo walked away from the incident but did not finish the race.
Toni Eggert and Sascha Benecken of Germany remain at the top of the World Cup overall standings with 460 points. Wendl and Arlt move into second with 429 points. The Austrian team of Thomas Gatt and Martin Schöpf are third with 400 points. DiGregorio/Hollander hold eighth with 271 points, and Kellogg/Segger are16th with 140 points.
World Cup action continues in Sigulda tomorrow, January 8th, with the men's and relay competitions. To watch all races live and to view archived competitions, please visit the FIL's YouTube channel:https://www.youtube.com/@FILLuge_Channel. The entire World Cup and World Championship season can be accessed from this portal.