USA led by Forgan/Kirby, DiGregorio/Hollander and West in Latvian World Cup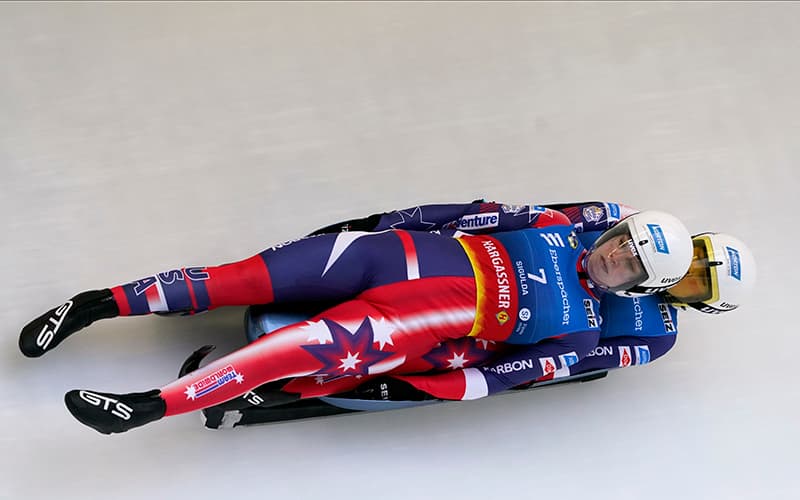 Chevonne Forgan and Sophia Kirkby of United States speed down the track during their women's doubles race first run of the Luge World Cup in Sigulda, Latvia, Saturday, Jan. 14, 2023. (AP Photo/Roman Koksarov)
SIGULDA, LATVIA—The FIL Luge World Cup continued in Sigulda this weekend under warm and rainy conditions. The race, which also served as the European Championships, saw Team USA led by Chevonne Forgan and Sophie Kirkby, who placed fifth in women's doubles. Zack Digregorio and Sean Hollander placed eighth in the men's doubles competition, while Tucker West was ninth in the men's division.
This is the second consecutive weekend of racing in Sigulda, after Lillehammer, Norway dropped out of hosting a World Cup event. In stark contrast to last weekend's cold, record setting ice, warm temperatures and high humidity created rapidly deteriorating track conditions all day.
Women's Doubles
The Italian duo Andrea Vötter and Marion Oberhofer set the two fastest times of the race andtook the gold medal with a time of 1:26.281. Following their gold medal last weekend, Latvia's Anda Upite and Sanija Ozolina won silver with a time of 1:26.782. The bronze went to Jessica Degenhardt and Cheyenne Rosenthal of Germany, with a time of 1:26.839.
Last weekend's silver medalists, Forgan (Chelmsford, Mass.) and Kirby (Ray Brook, N.Y.), posted the fastest start times of the day butlanded in fifth place with a time of 1:26.899. Maya Chan and Reannyn Weiler experienced a hard crash exiting curve 13 into 14 during the first heat but recovered and finished the race. Chan (Chicago, Ill.) and Weiler, (Whitesboro, N.Y.) wereeighth with a time of 1:47.418.
Summer Britcher (Glen Rock, Pa.) and Emily Sweeney (Lake Placid, N.Y) were not scheduled to compete in today's race. The duo has chosen to participate in select events this season, including the Oberhof, Germany World Championships in two weeks.
"We are really happy with our first place start times today," said Forgan. "We had a few small mistakes throughout both runs that definitely caused us to drop back a few spots. We are still learning and just happy to be racing!"
With the World Championships coming, Kirkby added: "This race just shows what a close race can look like. As for Oberhof, I'm excited for that race and who will be joining us from the junior circuit. They have officially lowered the start height from ladies start to curve 5-6 rather than ladies start which is the typicalstart height. We shall see what this race has in store!"
Vötter/Oberhofer are the overall World Cup leaders with 600 points. Austria's Selina Egle and Lara Kipp are in second with 545 points, and Degenhardt/Rosenthal are in third with 486 points. Forgan/Kirkby are in fourth with 375 points, Sweeney/Britcher are in seventh with 295 points, and Chan/Weiler are in eighth with 294 points.
Men's Doubles
Just three-hundredths of a second separated the top three sleds going into the second heat, but Tobias Wendl and Tobias Arlt of Germany came out on top winning the gold medal with a time of 1:24.022. Track record holders Martin Bots and Roberts Plume of Latvia took silver with a time of 1:24.084. Teammates Eduards Sevics-Mikelsevics and Lukass Krasts secured their first podium finish, taking the bronze with a time of 1.24:111.
Coming off their first podium in the team relay event last weekend, the American team of Zack DiGregorio (Medway, Mass.) and Sean Hollander (Lake Placid, N.Y.) finished in eighth place with a time of 1:24.415. Dana Kellogg (Chesterfield, Mass.) and Duncan Segger (Lake Placid) wrapped up a difficult two weeks in Sigulda byplacing 17th with a time of 1:27.496.
Wendl and Artl are back in first place in the World Cup overall standings with 529 points. Toni Eggert and Sascha Benecken of Germany are second with 515, and Austria's Thomas Gatt and Martin Schöpf are third with 460. DiGregorio/Hollander hold eighth with 313 points, and Kellogg/Segger are 15th with 164.
Men's Singles
With warm and humid weather, the first heat of the men's race saw a jumbled leaderboard. However, the second heat, which sees racers start in reverse order of finish from the first heat, brought many familiar names back to the top of the timesheet. Germany's Max Langenhan came back from 12th place after the first heat to secure the gold medal with a time of 1:37.588. Langenhan's teammate, Felix Loch, earned silver with a time of 1:37.646, and last week's winner, Latvia's Kristers Aparjods, took the bronze with a time of 1:37.673.
Three-time Olympian Tucker West (Ridgefield, Conn.) posted a ninth-place finish time of 1:38.166. Sigulda continued to prove challenging for 2022 Olympian and Massena, N.Y native Jonny Gustafson, who placed 22nd with a time of 1:39.132.
"The race this weekend was a pretty big contrast to last weekend's race," said West. "Last week, we saw very cold temperatures, hard ice, and a fast track. This week was the opposite. We saw warm humid conditions, soft ice, and a slowing track, and I'm happy with my runs today. I was a bit back after the first run, possibly due to my late bib number and a slowing track, but that just gave me a better track for the second run. Overall, I think I put together two good race runs, which is all you can really ask for in a race like today. Over the next few weeks, we'll take a closer look at my sliding and my sled setup to see where we can find a little extra time to close that gap between me and some of the top sliders."
Italy's Dominik Fischnaller is currently in first place in World Cup overall standings with 520 points. In second is Loch with 426, and Aparjods in third with 396. U.S. athletes are led by West in seventh with 296 points and Gustafson in 12th with 229. 2018 Olympic silver medalist Chris Mazdzer only competed in North America and finished his season with 114 points.
The World Championships are up next in Oberhof, Germany January 27-29, 2023. To watch the races live and to view archived competitions, please visit the FIL's YouTube channel: https://www.youtube.com/@FILLuge_Channel. The entire World Cup and World Championship season can be accessed from this portal. CNBC will also cover the World Championships on Saturday, January 28, 2023, at 2:00 PM EST.