Latvians cap successful double World Cup weekends in Sigulda with team relay gold​
Farquharson top U.S. woman in 13th, U.S. fails to finish team relay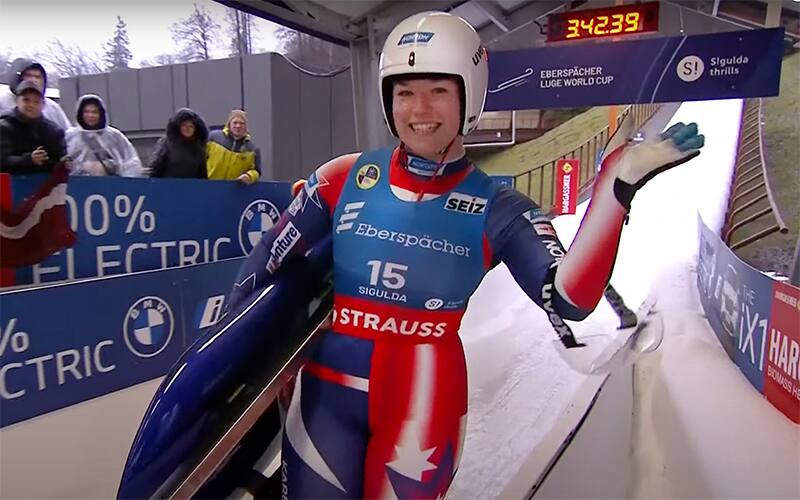 Ashley Farquharson in the outrun in Sigulda, Latvia following her second run on January 15th, 2023.
SIGULDA, LATVIA—Under the specter of deteriorating track conditions caused by warm temperatures, high humidity and rain, the final day of the FIL Luge World Cup in Sigulda proved a challenging one for Team USA and many of the best athletes from around the world.The home team were able to walk away from two consecutive weekends of racing with 11 medals on their track in the Gauja valley, second only to Germany's total of 13. The Latviantally includes both team relay gold medals.
In the women's singles competition, Ashley Farquharson was the top U.S. finisher, placing in 13th. By virtue of being the fastest female USA Luge athlete, she qualified for the team relay. Unfortunately, a failed attempt to reach the paddle by Farquharson in the fast and difficult outrun disqualified Team USA from the race.
This weekend's World Cup race, the fifth of nine events, also served as the 2023 European Championships.
Women's Singles
With 94% humidity and rain at the beginning of the women's race, conditions did not bode well for the athletes who raced laterin the start roster. 2022 Olympic silver medalist Anna Berreiter of Germany saw her first podium of this World Cup season, winning with a time of one minute, 24.600 seconds. Teammate Dajana Eitberger, the current track record holder and 2018 Olympic silver medalist, placed second with a time of 1:24.631. Taking bronze was Latvia's Elina Vitola with a time of 1:24.637.
Two clean runs placed2022 Olympian hFarquharson (Park City, Utah) in 13th with a time of 1:25.120. Brittany Arndt (Park City, Utah) placed 17th with a time of 1:25.315. Emily Sweeney (Lake Placid, N.Y.) had problems in both runs and finished the race in 25th with a time of 1:26.286. Three-time Olympian Summer Britcher (Glen Rock, Pa.) crashed and lost her sled during the first heat in curve 13 and did not finish. She walked away from the incident.
Eitberger remains at the top of the World Cup overall standings with 512 points. Julia Taubitz of Germany is second with 507, and Madeleine Egle is in third with 425. Sweeney is in fifth place with 367 points, Farquharson in ninth with 251, Britcher in 11th with 237, and Arndt in 12th with 222.
Team Relay
While the track conditions were the topic of the women's race, the paddle proved most challenging in the team relay. Team USA failed to finish due to Farquharson's missed paddle hit, leaving Tucker West (Ridgefield, Conn.), Zack DiGregorio (Medway, Mass.) and Sean Hollander (Lake Placid, N.Y.) at the top of the hill with no place to go. The team from Poland suffered the same fate. Team Austria's Thomas Gatt and Martin Schöpf crashed at the end of curve 14 and did not finish the race.
Team relay track record holdersLatvia, comprised of Elina Vitola, Kristers Aparjods and the doubles team of Martins Bots and Roberts Plume, won the gold medal with a time of 2:13.143. Germans Anna Berreiter, Max Langenhan, Tobias Wendl and Tobias Arlt took silver with a time of 2:13.510, and Italians Sandra Robatscher, Dominik Fischnaller, Emanuel Rieder and Simon Kainzwaldner placed third with a time of 2:13.917.
Following last week's tie for first place in the World Cup overall standings, Latvia takes the lead with 285 points. Germany is in second with 270 and Italy is third with 190. Team USA is fourth with 125 points.
In late breaking USA Luge news from the Junior World Championships in Bludenz, Austria, Marcus Mueller (Brookfield, Wisc.) and Ansel Haugsjaa (Framingham, Mass.) have won a bronze medal. USA Luge will publish more information tomorrow.
The World Championships are up next in Oberhof, Germany January 27-29, 2023. To watch the races live and to view archived competitions, please visit the FIL's YouTube channel: https://www.youtube.com/@FILLuge_Channel. The entire World Cup and World Championship season can be accessed from this portal. CNBC will also cover the World Championships on Saturday, January 28, 2023, at 2:00 PM EST.