Muller and Haugsjaa bronze at Junior Worlds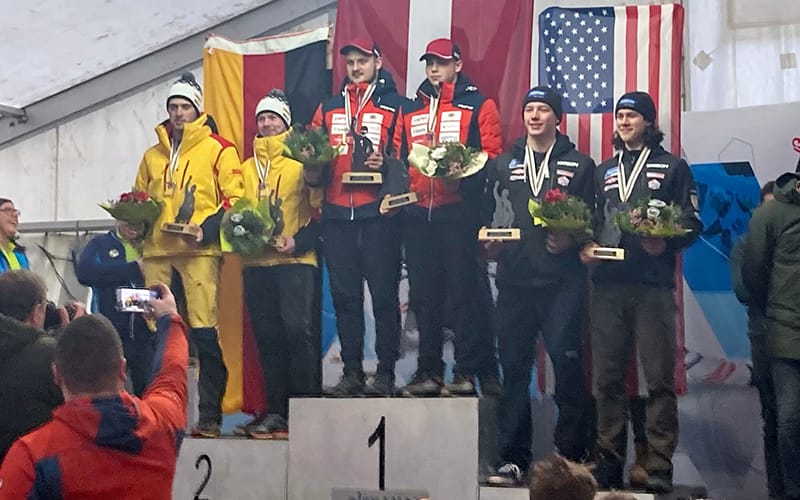 Marcus Muller and Ansel Haugsjaa on the Junior World Championship podium
bronze
BLUDENZ, AUSTRIA – At the 38th FIL Junior World Championships, the American duo of Marcus Mueller and Ansel Haugsjaa took bronze behind teams from Latvia and Germany, respectively.
Mueller (Brookfield, Wisc.) and Haugsjaa (Framingham, Mass.) made the jump from the youth ranks to the Junior level competition this year. With podium appearances in each of the four Junior World Cup events of the season, the doubles team raced to their potential.
"It feels great," said Mueller. "We had some pretty good training runs, and we had a really good race runs as well. Both runs were pretty consistent, and the results showed that."
The Bludenz course is the first to utilize modular construction methods to help control costs. Despite its relatively short length at 2,300 feet and top speeds below 60 mph, the track is still a challenge to negotiate.
"The training was good," said Haugsjaa. "It was definitely a bit inconsistent. The track is tough and there's a hard section of the track that I don't even know if we had two clean runs in a row leading up to the race."
On race day, they managed to pull together two clean runs, posting a time of one minute, 07.076 seconds. Race winners Kaspars Rinks and Vitalijs Jegorovs of Latvia posted a two-run combined time of 1:06.448, while Germany's Moritz Jäger and Valentin Steudte finished second in 1:06.656.
Aidan Mueller (West Islip, N.Y.) and Frank Ike (Lititz, Pa.) finished 13th.
Aidan Mueller was also the top U.S. finisher in the Junior men's competition, placing 11th. Hunter Harris (East Fairfield, Vt.) was 25th, Haugsjaa was 39th, and Marcus Mueller was disqualified. The top three finishers were Rinks of Latvia, Marco Leger and Hannes Roeder, both from Germany. 2022 Junior World Championship bronze medalist Matt Greiner (Park City, Utah) was not racing due to injury.
In the women's division, Sophia Gordon (Sussex, Wisc.) was the top ranked USA Luge athlete in 14th. Elena Morrison (Muskegon, Mich.) was 18th and Emma Erickson (Park City, Utah) did not finish.
A welcome victory came from Ukrainian Yulianna Tunytska. Austrian Barbara Allmaier was second and Italy's Alexandra Oberstolz was third.
Junior World Cup racing resumes in Bludenz with two more races over four days, beginning on Jan. 18 and ending on Jan. 21.