Mueller and Haugsjaa finish Junior World Cup season ranked third​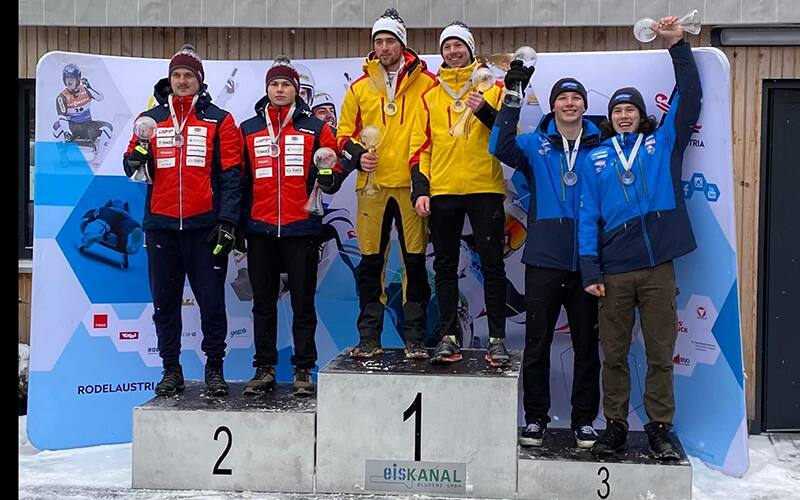 Marcus Mueller and Ansel Haugsjaa third on the overall Junior World Cup podium
BLUDENZ, Austria - After standing on the Junior World Cup podium six times in six events, the duo of Marcus Mueller and Ansel Haugsjaa closed the 2022-23 season ranked third in men's doubles. This was the team's first year of eligibility to compete in the Junior class.
The season closed for Juniors (to age 21) with a pair of races in this small alpine village, which also hosted the Junior World Championships on January 14-15. The high mark for Team USA was Mueller (Brookfield, Wisc.) and Haugsjaa (Framingham, Mass.) winning one silver and five bronze medals throughout the season, in addition to their World Championship bronze medal.
Germany's Moritz Jäger and Valentin Steudte took the season title with 570 points. Kaspars Rinks and Vitalijs Jegorovs of Latvia were second with 480, with Mueller/Haugsjaa earning 435.
Aidan Mueller (West Islip, N.Y.) and Frank Ike (Lititz, Pa.) finished seventh and sixth, respectively in the two races, earning 192 World Cup points, good enough for seventh place overall. It was also their first year in the Junior ranks. It was a promising start, especially since the duo did not compete in every race this season.
Before making the jump to the Junior ranks, Mueller and Haugsjaa won last year's Youth A World Cup title in a convincing manner, with three victories and a bronze medal. Aidan Mueller and Ike placed fourth in last year's Youth A title race with a trio of bronze medals.
Aidan Mueller, the only male or female entry in singles in the final two races, placed eighth and fifth, respectively. Bolstered by a silver medal at the second race of the year in Lillehammer and a pair of fifth place finishes, he concluded the season ranked fourth with 299 points, a single point from third place finisher Noah Kallan of Austria. Marco Leger of Germany and Rinks were first and second, with 510 and 491 points, respectively.
Following the conclusion of last week's Junior World Championships, Team USA chose to keep Marcus Mueller, Haugsjaa, Aidan Mueller and Ike in Bludenz based on their placement in the overall World Cup rankings. The rest of the team chose to train in nearby Innsbruck, taking advantage of the faster and longer traditional length track. The Bludenz course features a relatively short length at 2,300 feet and top speeds below 60 mph.
"The plan was for most everyone to skip the fifth and sixth World Cups in Bludenz," said Pat Anderson, USA Luge Junior National Team head coach. "Three races on a slower, youth-oriented course is too much for our team."
2022 Junior World Championship bronze medalist Matt Greiner (Park City, Utah) had his season cut short due to injury and ranked tenth with 186 Junior World Cup points. Marcus Mueller was 13th with 142, Hunter Harris (East Fairfield, Vt.) was 14th with 139, Ike 21st with 80, and Haugsjaa 23rd with 75.
The U.S. women were led by Emma Erickson (Park City, Utah), who ranked 17th in the standings with 104 points. Sophia Gordon (Sussex, Wisc.) finished her season in 23rd place with 89 points, while Delaney Duncan was 42nd with 14 points.
After a few weeks break, the Junior National Team will resume sliding with two weeks of training in Park City, Utah. The season will conclude for young athletes with the Norton Youth National Championships on March 4-5 and the Norton Junior National Championships on March 11-12.