World Championships begin with Sprint races in Oberhof
Germany takes gold in all disciplines; USA secures four top ten spots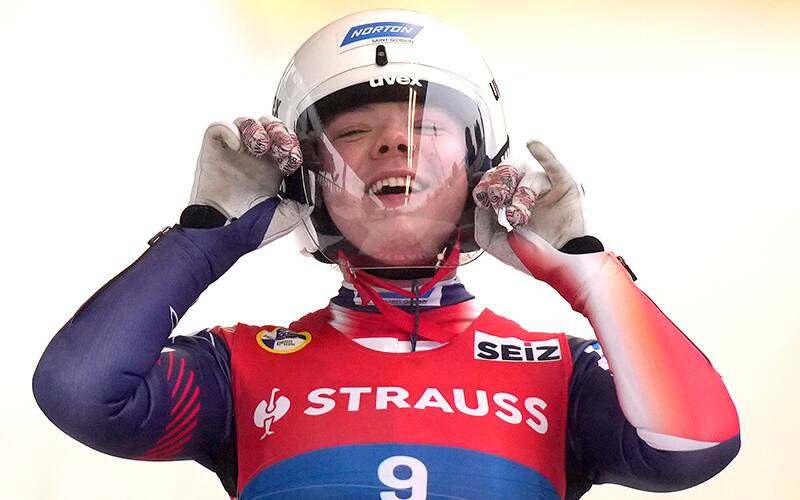 Brittney Arndt of the United States celebrates during the sprint women's race at the Luge World Championships in Oberhof, Germany, Friday, Jan. 27, 2023. (AP Photo/Matthias Schrader)
OBERHOF, Germany–The 51st FIL Luge World Championships kicked off in Oberhof today with the sprint competition. Germany took home eight medals, including all available golds.
The U.S. effort was led by Chevonne Forgan and Sophie Kirkby, placing sixth in women's doubles. Brittany Arndt of Park City, Utah was the top American in women's singles, placing eighth, her personal best at the World Championships.
The sprint race featured the top 15 athletes in each discipline based on their finish in the qualification races which took place earlier in the day. Start times for the single-heat races begin at a lower point on the track than traditional races, placing an emphasis on driving skill over speed at the start.
Women's Doubles
Jessica Degenhardt and Cheyenne Rosenthal of Germany defended their title as the first women's doubles world champions, taking the gold with a time of 31.205. Austria's Selina Egle and Lara Kipp earned silver with a time of 31.221, and Italy's Andrea Vötter and Marion Oberhofer placed third with a time of 31.228.
Forgan and Kirkby, the 2022 World Championship bronze medalists, placed sixth with a time of 31.522. Maya Chan (Chicago, Illinois) and Reannyn Weiler (Whitesboro, N.Y.) placed ninth with a time of 31.631. Chan and Weiler showed speed until the duo made a slight error out of curve 13, costing them time. Summer Britcher (Glen Rock, Pa.) and Emily Sweeney (Lake Placid, N.Y) are not competing in Oberhof, Germany, as Sweeney is dealing with recurring neck issues.
Women's Singles
Germany swept the podium with Dajana Eitberger winning gold in a time of 26.204. Eitberger is enjoying her final season as a singles racer, having recently announced that she will focus on doubles exclusively next year. Teammate Julia Taubitz, who was the favorite to win in Oberhof, placed second with a time of 26.205. Anna Berreiter completed the German sweep with a time of 26.232.
After winning her first World Cup medal in December,a bronze in the Park City sprint, Arndt placed eighth with a time of 26.379. Ashley Farquharson (Park City, Utah) placed 11th with a time of 26.471, and Summer Britcher (Glen Rock, Pa.) finished in 15th at 26.767. Sweeney did not compete.
"I really struggled the last two weeks with pain in my spine and neck, so I'm really happy to be racing and performing how I know I can," said Arndt. "Top ten in a World Championship race is more than I was expecting so I'm really stoked and excited to bring that energy into tomorrow."
Men's Doubles
Germany's Toni Eggert and Sascha Benecken continue to be the most successful duo this season, securing the gold medal and a track record today, crossing the finish line at 26.238 seconds on their home track. Teammates and six-time Olympic gold medalists Tobias Wendl and Tobias Arlt earned silver with a time of 26.284. Austria's Yannick Mueller and Armin Frauscher took bronze with a time of 26.317.
Americans Zack DiGregorio and Sean Hollander are the only USA Luge men's doublessled competing in the World Championships this weekend, as the duo of Dana Kellogg (Chesterfield, Mass.), and Duncan Segger (Lake Placid, N.Y.) did not qualify. DiGregorio (Medway, Mass.) and Hollander (Lake Placid, N.Y.) placed 10th with a time of 26.646.
Men's Singles
Three-time Olympic champion Felix Loch from Germany won gold with a time 33.544, making him the first male athlete to win multiple sprint World Championship titles since the event's debut in 2016.Should he win Sunday's event, he will break his tie for the most traditional World Championship titles with Italian great Armin Zoeggeler.
Austria's Jonas Mueller earned silver with a time of 33.617, and current European Champion Max Langenhan won bronze with a time of 33.666.
Tucker West was the only American men's singles sled to race in the sprint as Jonny Gustafson, (Messina, N.Y.) did not qualify. West (Ridgefield, Conn.) placed 12th with a time of 33.958. Both West and Gustafson will race on Sunday.
Throughout the weekend, 143 athletes will be competing for nine World Championship titles on the LOTTO Thüringen luge track. Oberhof will also host the biathlon World Championships next month.
The World Championships continue in Oberhof this weekend, with women and doubles tomorrow, followed by men and relay on Sunday. To watch the races live and to view archived competitions, please visit the FIL's YouTube channel: https://www.youtube.com/@FILLuge_Channel. The entire World Cup and World Championship season can be accessed from this portal. CNBC will also cover the World Championships on Saturday, January 28, 2023, at 2:00 PM EST.