DiGregorio/Hollander take gold in U23 World Championships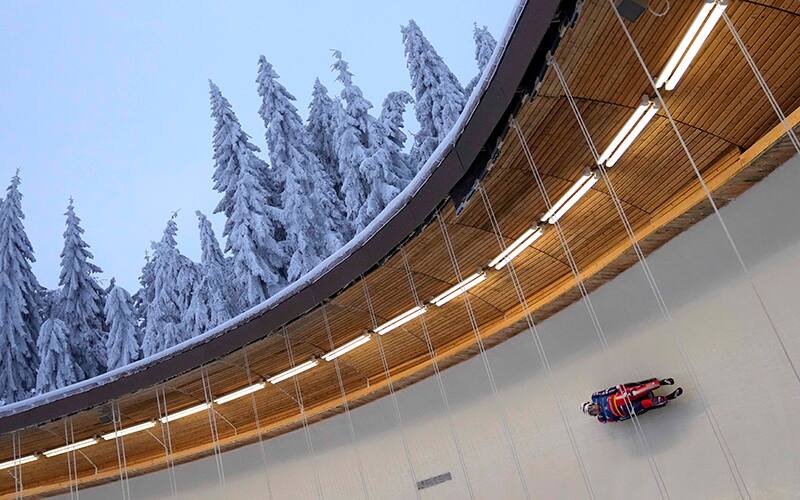 Zack Di Gregorio and Sean Hollaender of the United States speed down the track during the men's doubles race at the Luge World Championships in Oberhof, Germany, Saturday, Jan. 28, 2023. (AP Photo/Matthias Schrader)
OBERHOF, Germany –The 51st FIL Luge World Championships continued in Oberhof today with the men's doubles, women's doubles and women's singles races.
The American duo of Zack DiGregorio and Sean Hollander secured the gold medal in the U23 World Championships with a time of one minute 24:132 seconds. The U23 competition serves as a race within the general class World Championship, where they finished seventh.
Germany won all three gold medals available, including a sweep in the women's race led by Anna Berreiter. After two days of World Championship racing, Germany leads the medal count with 16 of the 28 available medals.
Men's Doubles
The podium was a mirror image of yesterday's sprint races, with Germany taking the top two spots and Austria placing third. Germany's Toni Eggert and Sascha Benecken are the World Champions with a time of 1:23.517, followed by 2022 Olympic champions Tobias Wendl and Tobias Arlt who took silver with a time of 1:23.688. Austria's Yannick Mueller and Armin Frauscher placed third with a time of 1:23.709.
With Eggert and Benecken's fifth consecutive World Championship gold medal, they became the first team in history to win five titles. If sprint titles are included, the duo now have seven World Championship golds.
DiGregorio (Medway, Mass.) and Hollander (Lake Placid, N.Y.) raced in their first World Championship since becoming a team a year and a half ago.
"We're super excited to win U23 today at the World Championships, and we were very happy to land in seventh place," said DiGregorio. Hollander added, "It was an extra bonus when we found out we won U23, but we wouldn't be here without the people around us who support us and we are hungry to get to the top of the podium out of the entire field."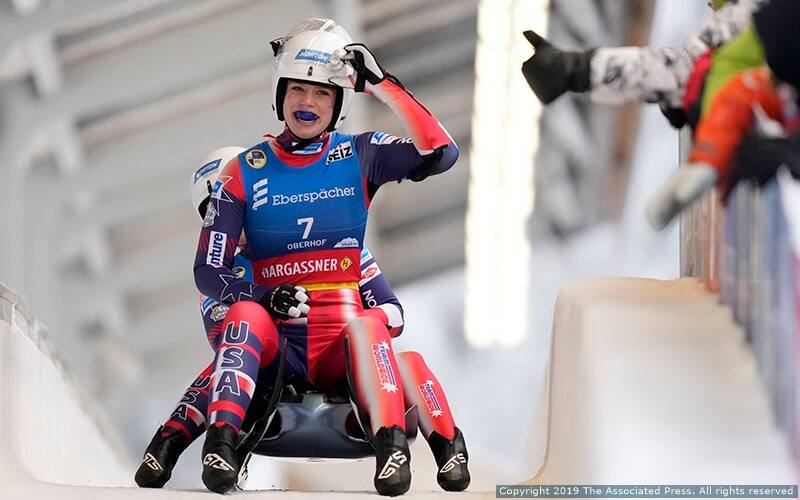 Chevonne Forgan and Sophia Kirkby of the United States celebrate during the women's doubles race at the Luge World Championships in Oberhof, Germany, Saturday, Jan. 28, 2023. (AP Photo/Matthias Schrader)
Women's Doubles
Jessica Degenhardt and Cheyenne Rosenthal of Germany took home the gold with a time of 1:17.619. Degenhardt and Rosenthal also won the U23 World Championship race. Austria's Selina Egle and Lara Kipp earned silver with a time of 1:17.745. Italy's Andrea Vötter and Marion Oberhofer took bronze with a time of 1:17.806.
The American team of Chevonne Forgan (Chelmsford, Mass.) and Sophie Kirkby (Ray Brook, N.Y.) placed sixth with a time of 1:18.472. Maya Chan (Chicago, Illinois) and Reannyn Weiler (Whitesboro, N.Y.) placed ninth with a time of 1:18.796. Summer Britcher (Glen Rock, Pa.) and Emily Sweeney (Lake Placid, N.Y) had planned to compete in Oberhof, Germany, but Sweeney has been sidelined with a neck injury.
"We are very happy to have put down two clean and consistent runs, and we are confident that the speed will come," said Forgan. Kirkby added, "It was a great feeling having put down two solid runs for our World Championship race here in Oberhof, Germany."
Women's Singles
Germany duplicated yesterday's sprint podium sweep, this time led by Anna Berreiter. The current Oberhof start record holder, Berreiter, won gold with a time of 1:23.991. Teammate Julia Taubitz placed second with a time of 1:24.049. Dajana Eitberger, yesterday's winner, took bronze with a time of 1:24.107. Merle Fraebel of Germany took gold in the U23 race, winning with a time of 1:24.203.
Britcher led the American women with a time of 1:24.784, finishing her World Championships in 12th place. Brittany Arndt (Park City, Utah) placed 14th with a time of 1:24.859, and Ashley Farquharson (Park City, Utah) finished in 15th with a time of 1:25.04.
The World Championships continue in Oberhof this weekend. To watch the races live and to view archived competitions, please visit the FIL's YouTube channel: https://www.youtube.com/@FILLuge_Channel.