Four nations score medals as second World Cup weekend in Sochi gets underway
Jonny Gustafson at the start of World Cup #3, held outside Sochi, Russia on December 4, 2021. All photos
FIL / Mareks Galinovskis
KRASNAYA POLYANA, Russia – The doubles team of Chris Mazdzer and Jayson Terdiman, along with singles slider Jonny Gustafson, led the USA Luge effort Saturday near Sochi as the Eberspacher World Cup tour moved into the third of nine weekends of racing prior to the Beijing Olympic Winter Games.
Of the six medals awarded, Latvia and Germany collected two each, with Italy and Russia grabbing the others. Over the races thus far in China and Russia, Germany's hegemony has been mitigated by tracks that are either neutral or frequented mostly by other nations.
This marked the second consecutive weekend of competition at the Sanki Sliding Center – the venue replaced Whistler last week and Lake Placid this week. Had the Adirondacks hosted these events as originally scheduled, competitors would have found cold temps with hard and fast ice. Instead, they got another day of temps in the low 40s. Earlier in the week, a training session was delayed due to thunderstorms and high wind.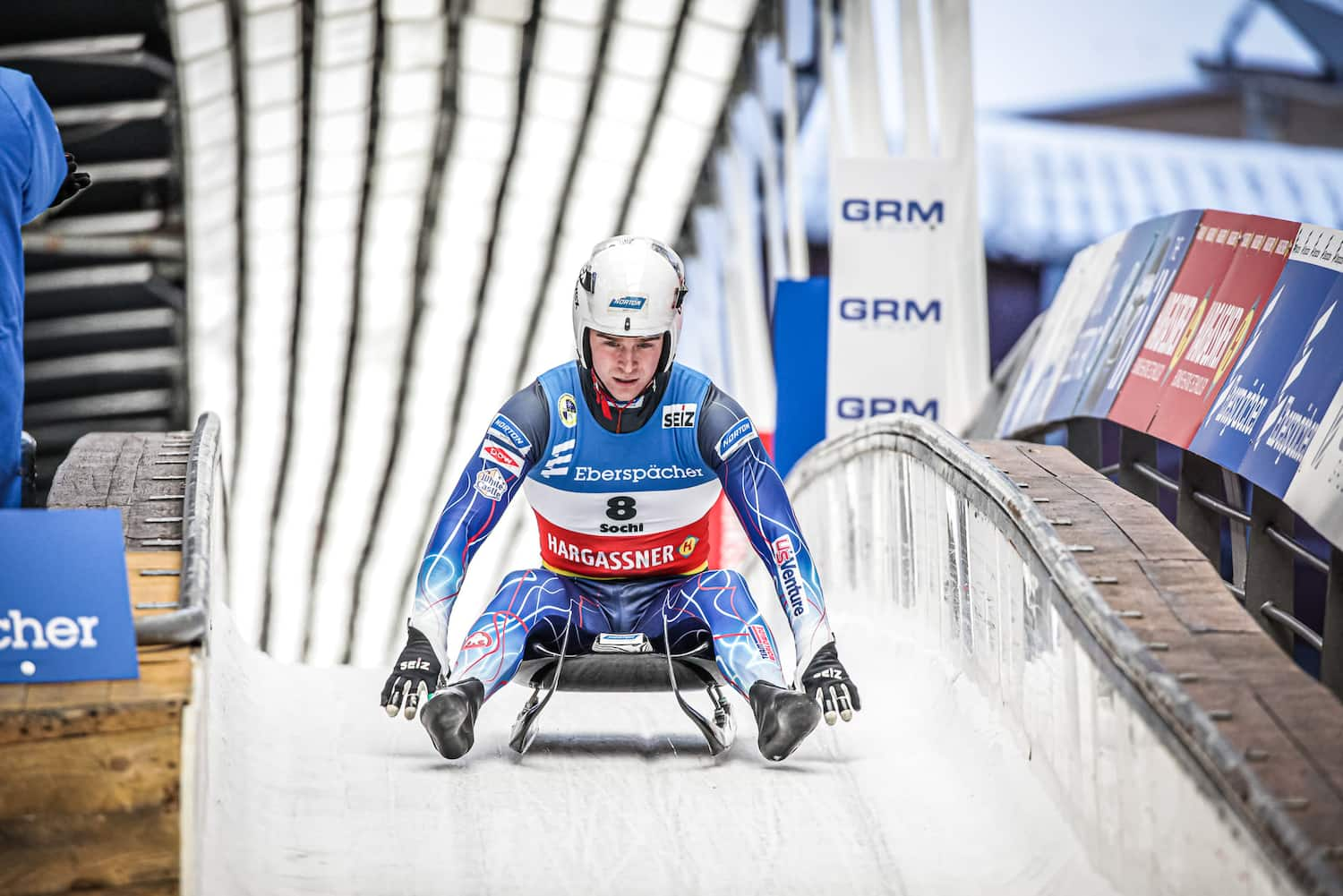 Tucker West
On their new sled, Mazdzer, the 2018 Olympic silver medalist, and Terdiman placed 13th. That gives them two results in the top 13 this season. They've now satisfied two of the three criteria for Tier C Olympic qualification. With this top 15 result, they have also qualified to race in Sunday's initial Sprint Cup of the winter.
In the midst of the doubles event, Mazdzer/Terdiman won the America Pacific Championships silver medal. The race within a race is between North American and Asian teams. Canadians Tristan Walker and Justin Snith took the gold medal. Gustafson, on a borrowed Russian sled for the second straight week, raced into 10th place in the opening singles heat before settling for a 14th place result. That was good enough to advance to the Sprint Cup. The Massena, N.Y. athlete's sled box was one of 33 retained at customs in Beijing. Gustafson, who hit a Tier C qualification marker, had enough speed to capture the America Pacific Championship gold medal with teammate Tucker West second.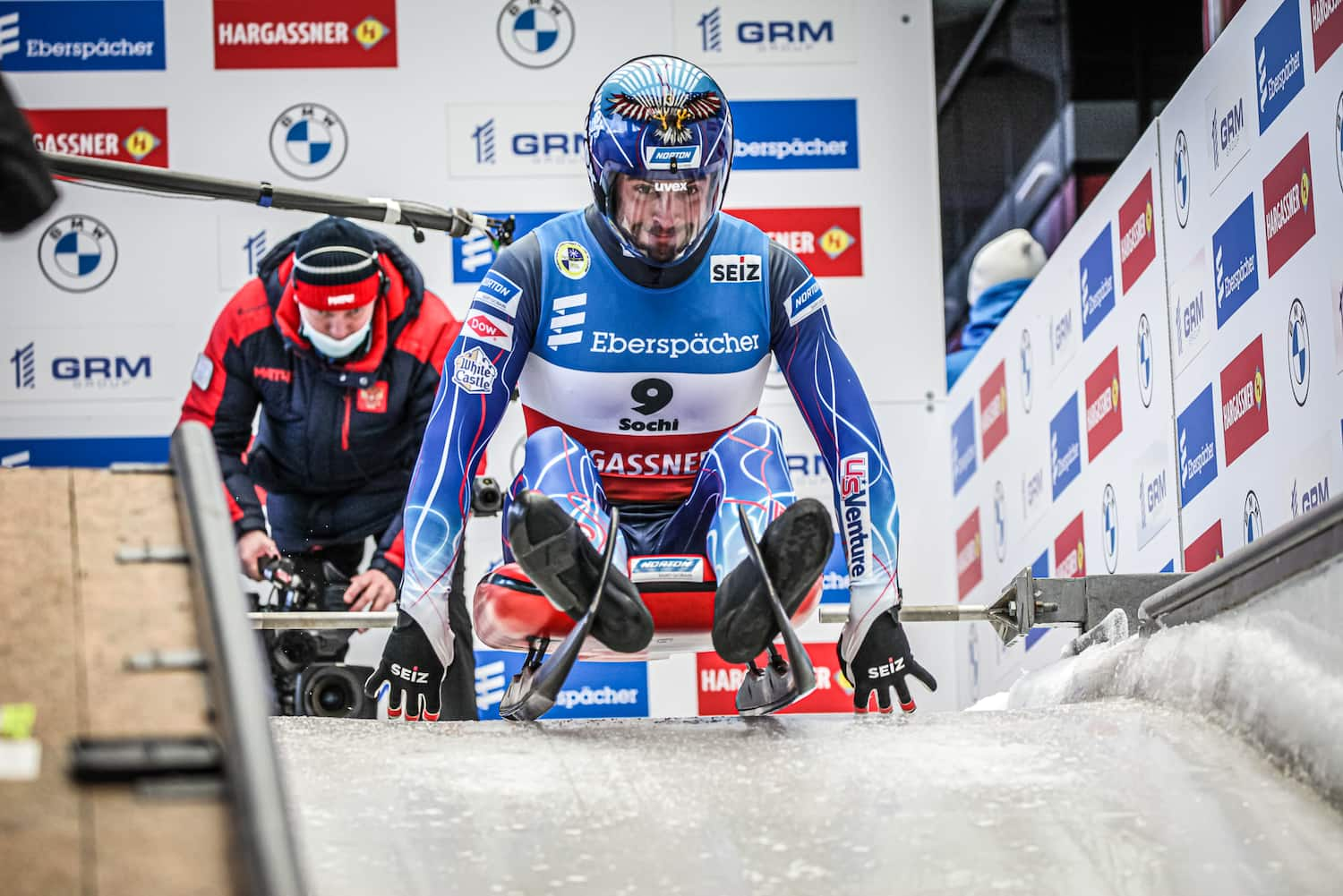 Chris Mazdzer
The detained equipment, impacting a number of teams the past two weeks, is scheduled to arrive in Altenberg, Germany after the weekend and in time for next week's training sessions.
Italy's Dominik Fischnaller shared the sled of teammate Leon Felderer and borrowed a helmet. That he started with the first run lead in track record time and finished with a World Cup bronze medal was nothing short of miraculous and proved his driving skills with or without his own equipment.
In terms of Olympic qualification, many nations in both singles and doubles need to advance all their athletes up the World Cup rankings in order to fill their entire Beijing quotas which are not guaranteed.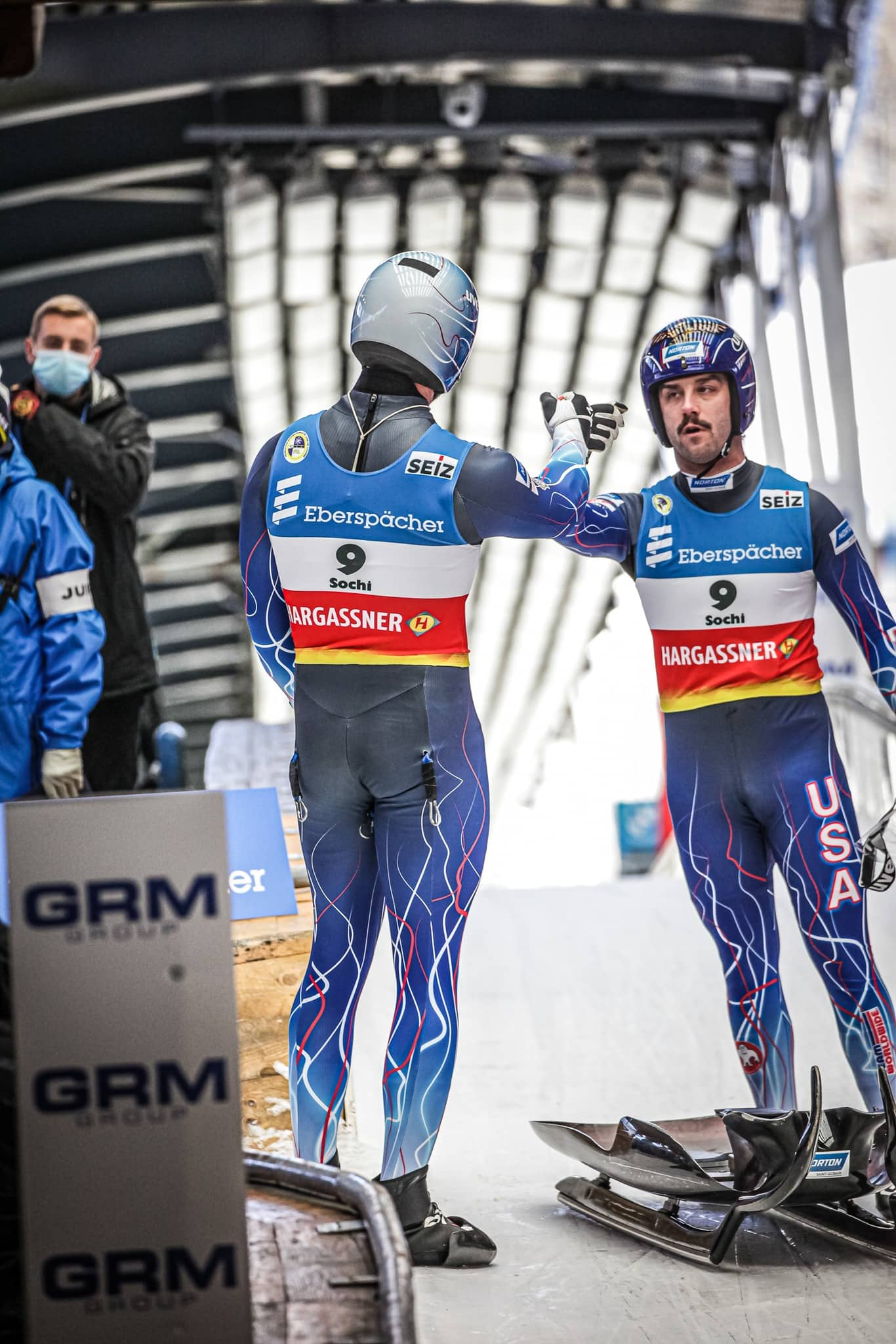 Chris Mazdzer and Jayson Terdiman
DOUBLES
Andrei Bogdanov and Iurii Prokhorov converted home ice advantage into their first career World Cup victory, posting the fastest two runs of the day and holding off German World Cup leaders Toni Eggert and Sascha Benecken.
The Russian victory came a week after their silver medal on the same 2014 Olympic course.
"Of course, we are very happy to have a World Cup win now," said Bogdanov. "Even more so on our home track. The secret on this track is that you simply make fewer mistakes than the others. That's what we did."
Bogdanov and Prokhorov had a two-heat combined time of 1 minute, 39.351 seconds. Eggert and Benecken were next in 1:39.485, with the consistent Sics brothers of Latvia taking the bronze medal about 0.18 of a second behind the winners.
Places four through six went to Italy, Germany and Austria in that order, but did not include defending World Cup champs Thomas Steu and Lorenz Koeller, of Austria. Steu broke his foot in Sochi last week and hopes to return next weekend in Altenberg.
Eggert and Benecken still rule the World Cup overall doubles standings with 245 points, followed by Andris and Juris Sics with 240, and Bogdanov/Prokhorov at 211. The Latvians, who hold three Olympic medals, are the lone team to step on the podium in all three events to date.
Mazdzer, of Salt Lake City, and Terdiman, of Berwick, Pa., are gradually getting accustomed to their Andre Florscheutz built sled, one they feel has the needed speed to contend. Their second heat was over 0.3 faster than the first leg.
Zack DiGregorio, of Medway, Mass., and Sean Hollander, of Lake Placid, were 18th.
Dana Kellogg, of Chesterfield, Mass., and Duncan Segger, of Lake Placid, 22nd at halftime, crashed in the final run and wound up 24th.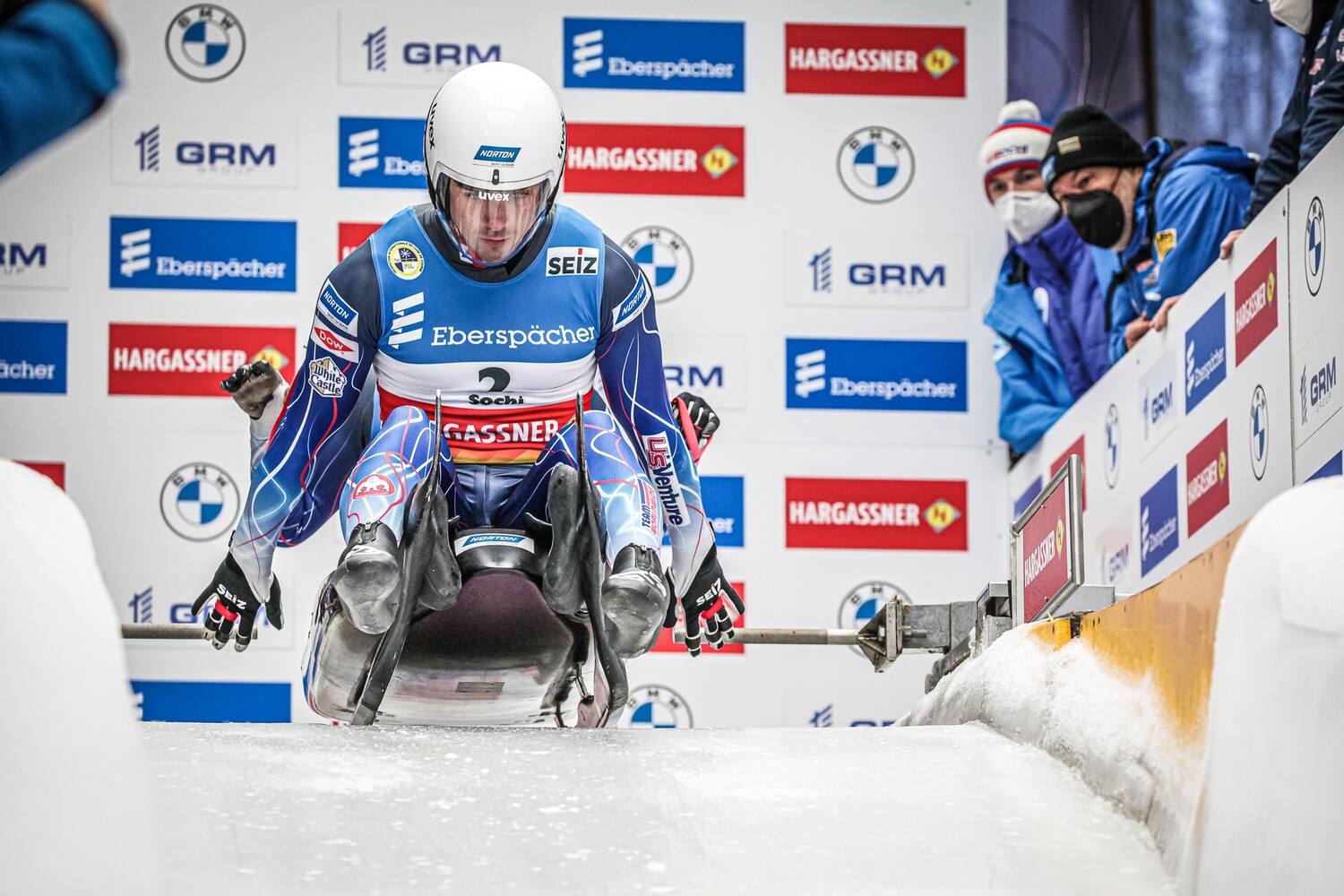 Zack DiGregorio and Sean Hollander
MEN'S SINGLES
Kristers Aparjods, of Latvia, denied German Johannes Ludwig his season-opening hat trick on Saturday, despite Ludwig's second heat track record. In holding off the 2018 Olympic bronze medalist, Aparjods scored his first career World Cup victory after Ludwig took the first two races of the season. It was also Latvia's very first men's win since the inception of the World Cup in 1977. The team treats this venue as their second home track after Sigulda.
Afterward, Aparjods recalled the team that has brought him to the top of the podium.
"To my coaches, my parents and my grandfather, who died this year, he was a big fan of mine," Aparjods stated. "He would have been very proud of me." His sister, Kendija Aparjode, will be in action here Sunday.
Over the two legs of the race, the gold medalist held off Ludwig by merely 0.02 of a second, with Fischnaller in third place, almost 0.04 from the Latvian.
West, a two-time Olympian from Ridgefield, Conn., was 16th. He missed the Sunday sprint, and the bonus World Cup points that come with it, by 0.003 of a second.
Mazdzer, the busiest man in luge, was 20th. The only World Cup athlete who competes in singles and doubles hopes to race in all three events (including the team relay) at the Beijing Winter Games.
Other notables: World Champion Semen Pavlichenko, of Russia, was fourth; double World Champion Wolfgang Kindl, of Austria, was fifth; Felix Loch, of Germany, a three-time Olympic champion, was sixth after holding the track record for a few minutes; Max Langenhan, also of Germany, seventy; World Cup and World Champion Roman Repilov, of Russia, took eighth; Defending Olympic gold medalist David Gleirscher, of Austria, did not finish.
On the current season, Ludwig stands atop the rankings with 285 points. Loch has 220. Langenhan, the early leader to be Germany's third men's singles slider in Beijing, sits in third place with 176, followed by Aparjods at 173.
Two weeks in Sochi will conclude Sunday with women's singles followed by the Sprint Cup in all three disciplines. Live streaming is available at Olympics.com, with broadcast coverage on NBC Sports Network Sunday night from 6:30-8:30 EST.


Dana Kellogg and Duncan Segger