Medals continue for USA Juniors in Igls
by Gordy Sheer with Chris Gregg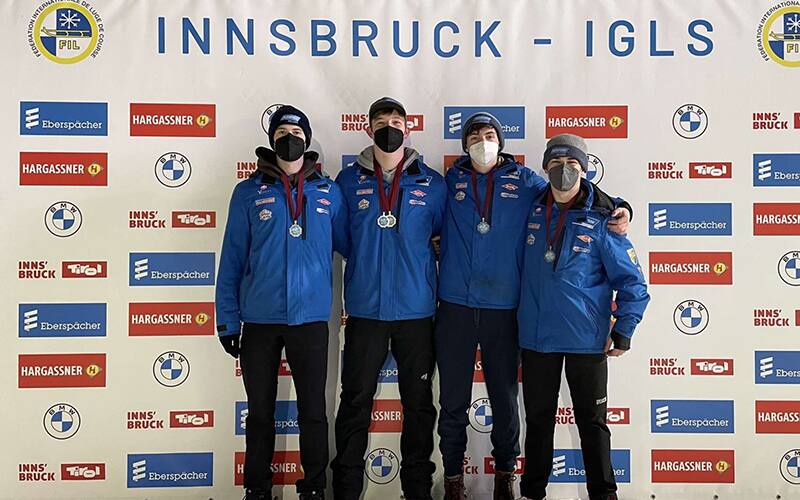 IGLS, Austria - The future of USA Luge continues to look bright, after its athletes added another four medals at a December 10-11 Junior World Cup event in Igls, site of the 1964 and 1976 Olympic Winter Games.

In the Youth A men's doubles competition, Marcus Mueller and Ansel Haugsjaa took their third consecutive win of the season. Mueller, of Brookfield. Wis. and Haugsjaa of Framingham, Mass. hold first place in the overall Youth A World Cup standings with 300 points. Aidan Mueller of West Islip, N.Y. and Frank Ike of Lititz, Pa. placed third and sit fourth in the standings with 140 points.
"I am very happy with our [doubles] success on the podiums this season," said Mueller. "It has been an amazing experience racing on different tracks after the longest pre-season ever last year thanks to COVID!"
"We were able to walk away with a bronze and me and Frank are looking forward to racing the World Cup in Oberhof next week," said Aidan Mueller. "Excited for our last races of the first half and very happy with our results."
"After a tough start to our training here, it was very nice to get some results today," said Junior National Team Head Coach, Ironwood, Mich. native and two-time Junior World Champion Pat Anderson. "The track crew here in Igls did a great job working the ice to make the track a little more forgiving. All four doubles sleds did a great job working together, and seeing them all do well is a great feeling."
In women's Junior doubles, the medals continued with Maya Chan of Chicago, Ill. and Reannyn Weiler of Whitesboro, N.Y. earning silver. They were also able to enter the senior-level race concurrently, where they placed third. They hold second place in the overall Junior World Cup standings with 216 points and fifth in the World Cup with 166 points.
The women's doubles World Cup, being held concurrently with the Junior races, saw the team of Chevonne Forgan of Chelmsford, Mass. and Sophie Kirby of Ray Brook, N.Y. finish fifth and tied for third in overall World Cup standings.
In Youth A men's singles competition, Marcus Mueller finished second. Mueller has been on the podium in all three races this season and ranks third with 240 points. Haugsjaa finished fourth, where he also sits in overall points with 160. Frank Ike finished 12, just in front of Aidan Mueller in 13th. With 150 World Cup points, Aidan Mueller occupies fifth overall, while Ike, who did not start the first two races on his singles sled, ranks 28th with 32 points.
Sophia Gordon of Sussex, Wis. did not finish in the Women's Youth A competition. She holds ninth place overall with 110 points.
Hunter Harris of East Fairfield, Vt. was the lone U.S. racer in the Junior men's competition, placing eighth. Matt Greiner of Park City and Michael O ́Gara of La Crescenta, Calif. are recovering from injuries and did not start.
Emma Erickson of Park City, Utah lead the USA's Junior women's finishers in 14th, followed by Elana Morrison of Muskegon, Mich. in 16th.
The Junior team competition (not a relay) featured Erickson, Harris and the doubles team of Mueller/Haugsjaa representing the U.S. The squad placed fourth.
At the time of publication, overall World Cup standings were not available for Junior men, women or team competition.
The Junior World Cup and Women's Doubles World Cup resumes next week in Oberhof, Germany.
Race results and standings can be found at www.fil-luge.org.