World Cup luge season opens on 2022 Olympic track with Germans on top
YANQING, China – By sweeping the men's singles race and taking gold in doubles, Germany delivered the first message of the Olympic season Saturday as the Eberspacher World Cup luge tour began on the new track near Beijing.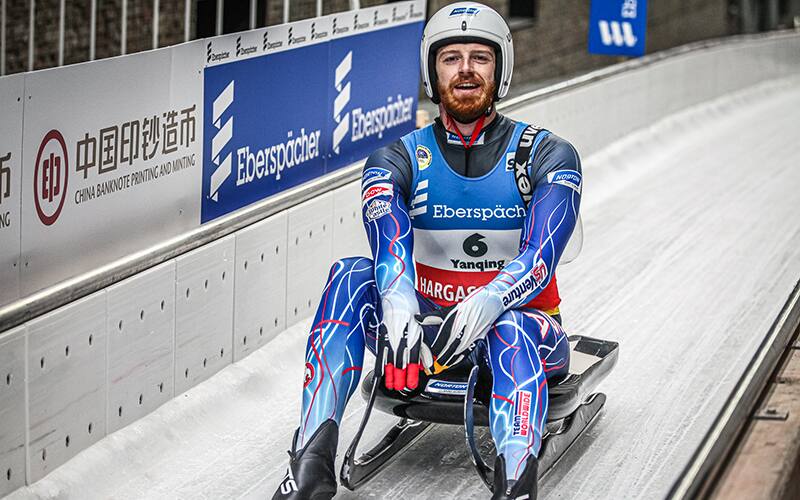 Above: Jonny Gustafson
The weekend events, which also double as the official pre-Olympic test of the venue, saw the American team enter Saturday's two races at less than full strength as veteran athletes were missing. Olympic silver medalist Chris Mazdzer did not qualify in the Nations Cup in either singles or doubles with partner Jayson Terdiman in Friday's Nations Cup competitions, but they will anchor Sunday's team relay for the United States.
Mazdzer, a three-time Olympian from Salt Lake City, broke his foot in late September and is also getting acclimated to new sleds in both disciplines as he recovers. Terdiman, of Berwick, Pa., a member of Team USA in 2014 and 2018, was also sidelined on opening day.
Teammates Dana Kellogg and Duncan Segger, 19th in doubles, recorded the team's best result of the day. It marked the return to action for Kellogg, of Chesterfield, Mass. and Segger of Lake Placid, after COVID travel restrictions kept them training at home last season.
Zack DiGregorio, recovering from injury during the International Training Weeks in China, and Sean Hollander made their World Cup debuts in 23rd place less than a year after forming their team. DiGregorio, of Medway, Mass., and Hollander, of Lake Placid, are just 21 years of age.
The United States singles entries placed 21st and 25th, led by two-time Olympian Tucker West, of Ridgefield, Conn., followed by Jonny Gustafson, from Massena, N.Y. West, one of the fastest starters in the world who is especially adept in the critical reaction start, will be in Sunday's team relay lineup. Sunday's women's runs will determine who races the lead leg for the U.S.
DOUBLES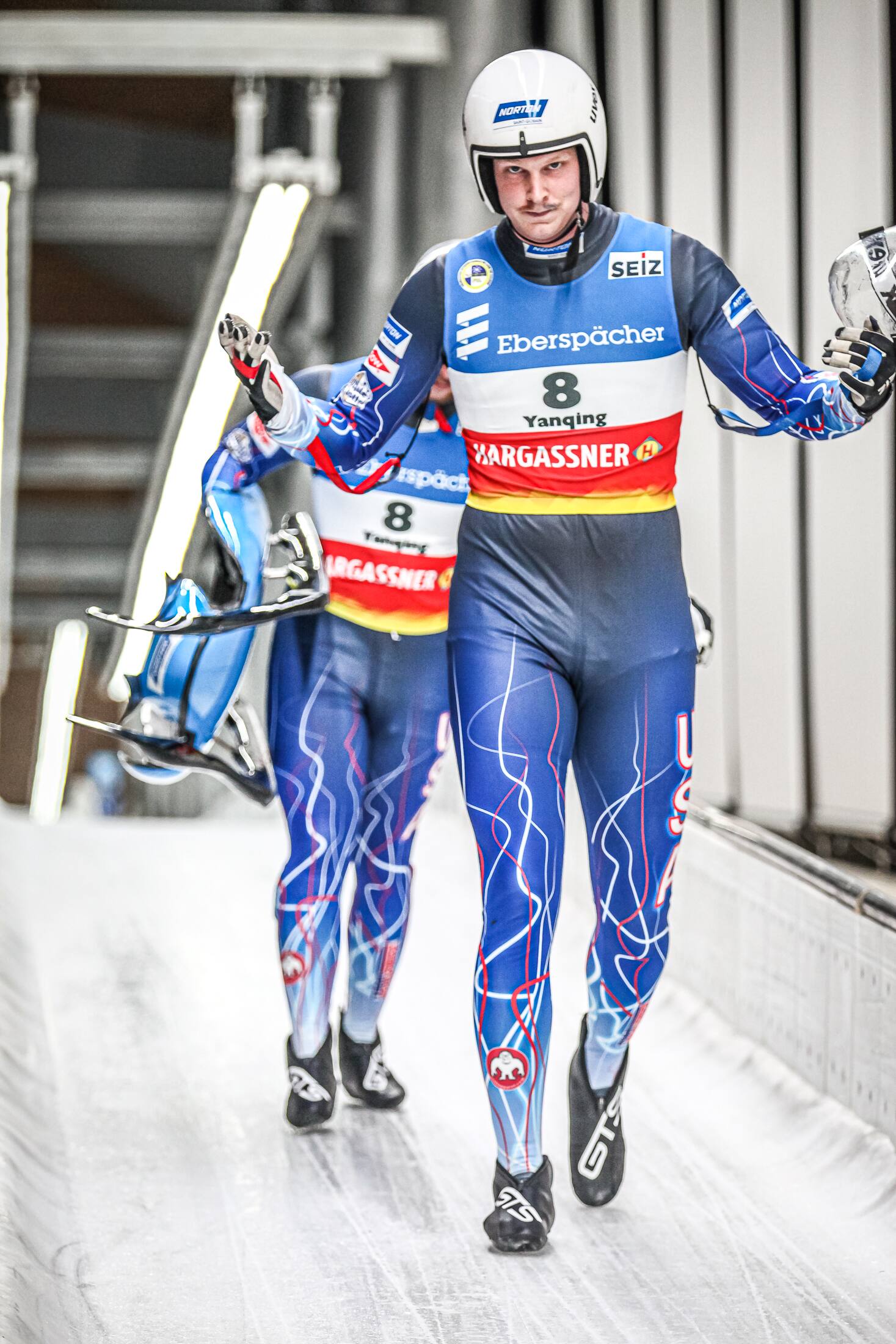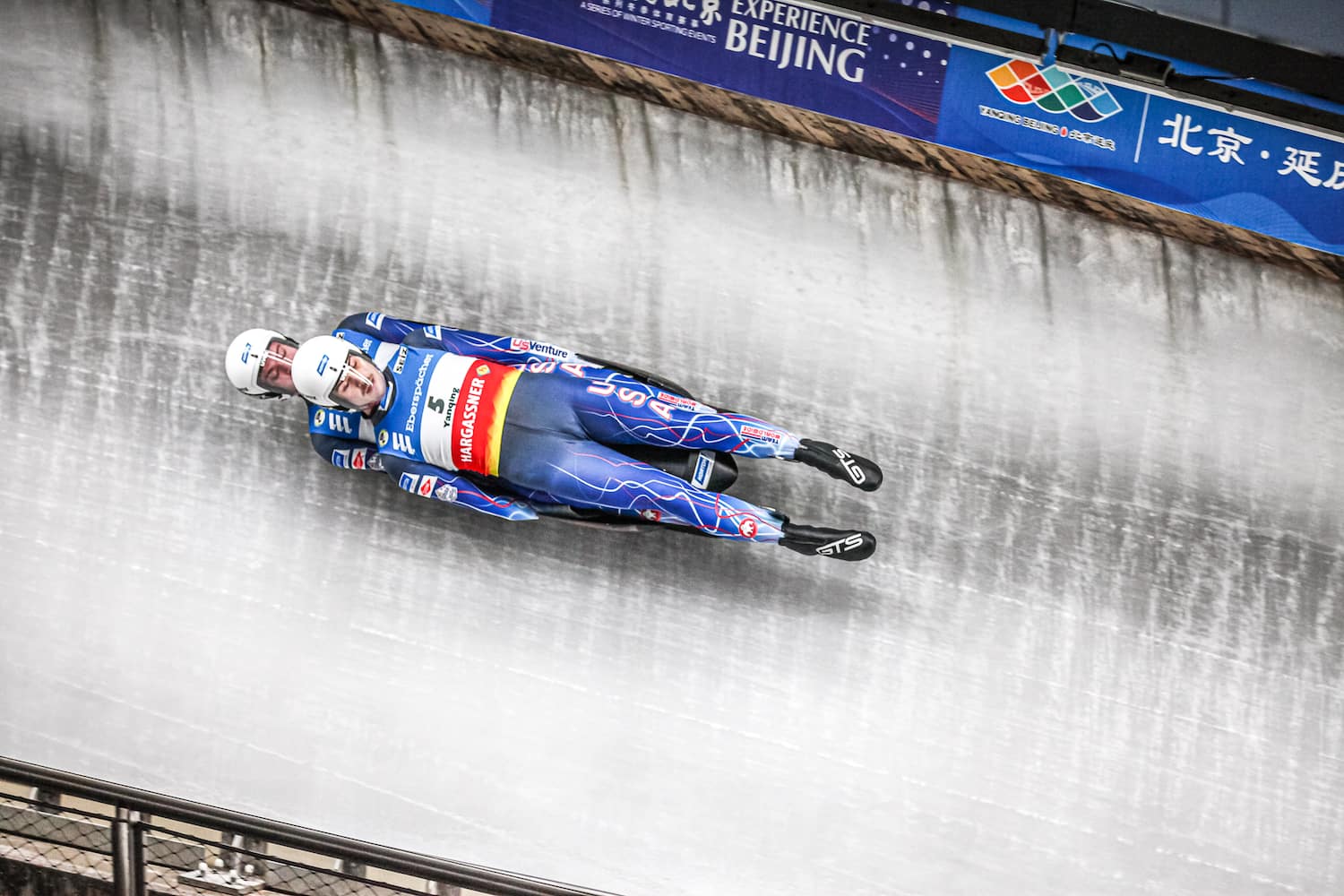 Above Dana Kellogg/Dunca Segger. Below: Zack GiGregorio and Sean Hollander
Toni Eggert and Sascha Benecken, of Germany, conquered this new and long course in the first World Cup luge race in the nation's history. In winning for the 47th time, the world champions and Olympic medalists dominated the field by 0.2 of a second and recorded the fastest times of both runs.
"What is special is that the track is extremely long, which means that you have to focus and concentrate for a very long time," said Eggert. "In addition, the curve pressure is very low and it is difficult to feel the points to steer, which means that you have to look for other landmarks."
With temps in the Yanqing district in the 30s throughout the day, the winners clocked a two-heat time of 1 minute, 57.610 seconds in defeating defending World Cup champions Thomas Steu and Lorenz Koeller of Austria. Third place went to Latvian brothers Andris and Juris Sics, 0.4 of a second behind the Germans.
Sleds from Austria and Latvia finished fourth and fifth, respectively.
Four-time Olympic gold medalists Tobias Wendl and Tobias Arlt, also of Germany, showed the fastest early intermediate times, but slipped to ninth place. They missed several training sessions earlier in the week after Arlt tested positive for the coronavirus.
MEN'S SINGLES: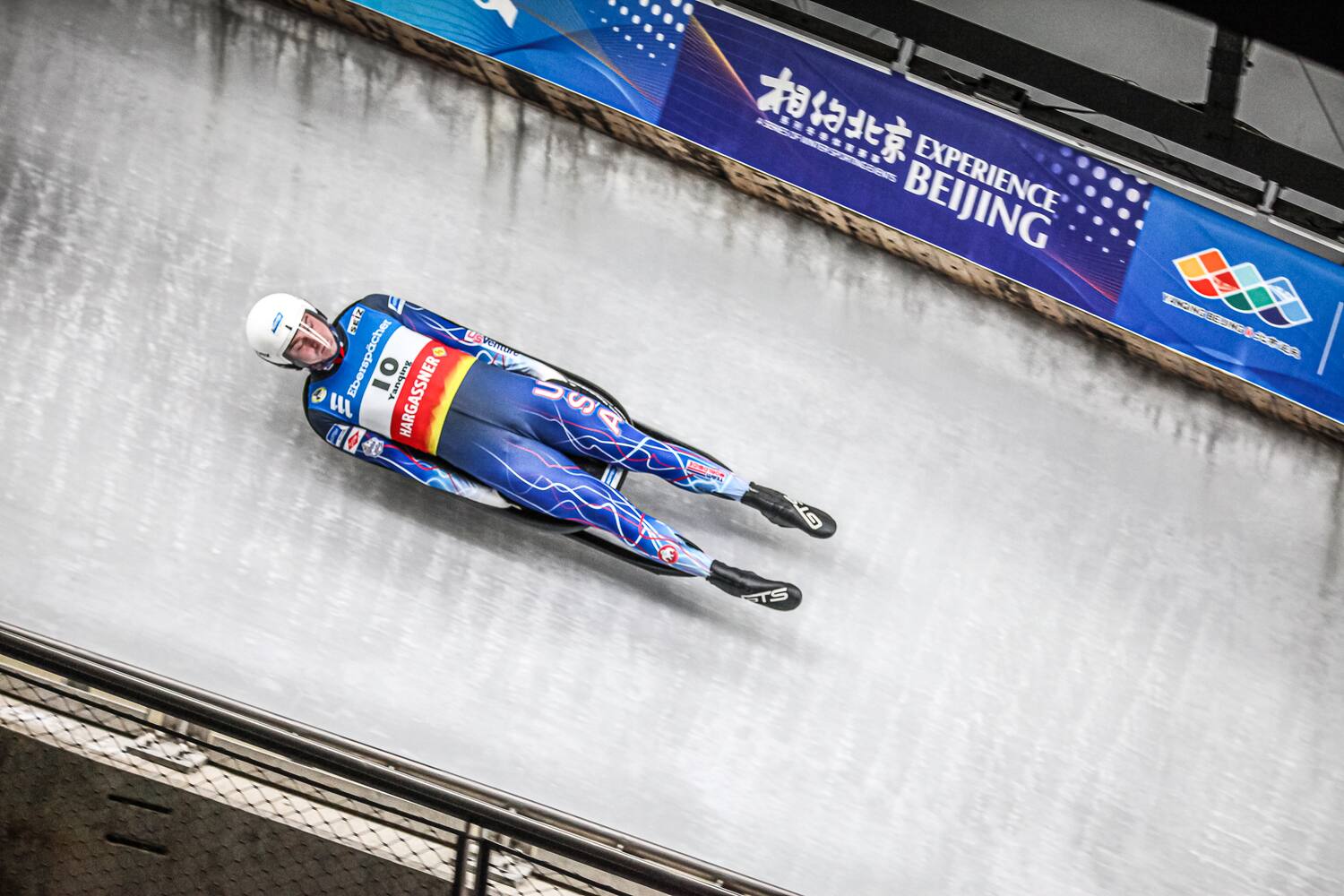 Above: Tucker West
Since winning an Olympic bronze medal in Pyeongchang, Germany's Johannes Ludwig has brought his career to another level. He's been in the World Cup overall top four each year since then and went even better Saturday. The 35-year-old dominated the field with the two best starts and two fastest heats. Ludwig's time of 1:54.597 distanced himself from compatriots Felix Loch and Max Langenhan. Loch, a three-time Olympic champion and seven-time World Cup overall winner, took the silver, while Junior World Champion Langenhan secured the bronze.
The newest course in the world and just the third in all of Asia (after Nagano and Pyeongchang) measures nearly 1,600 meters in length which can produce some unusual looking results, specifically, big time gaps between sliders. Followers of luge are accustomed to seeing races decided by hundredths and thousandths of a second. This men's race, however, had both big and small margins.
Ludwig was over 0.8 of a second clear of the field, while the difference between Loch and Langenhan was merely 0.004 of a second. Defending Olympic gold medalist David Gleirscher, of Austria, in taking fourth place, missed the podium by 0.05 after sitting in second place at the intermission.
"I'm happy with my performance at the start and in the track," Ludwig stated. "Overall, I had very few mistakes in it."
The Fischnaller cousins of Italy, who showed promise over the past two weeks in training, wound up sixth (Dominik) and 10th (Kevin).
Russia's one-two punch of world champions Semen Pavlichenko and Roman Repilov were seventh and eighth, respectively. Similar to Arlt, Repilov had to deal with a positive COVID result in recent days and missed some training runs while in isolation. The team is also dealing with the aftermath of doping sanctions by the IOC and will compete in February under the banner of the Russian Olympic Committee.
Sunday's women's singles and team relay races will end a three-week stay in China before the World Cup shoves off to Sochi for two weeks. Four American women will take to the ice, led by double Olympian Summer Britcher, 2018 Olympian Emily Sweeney who qualified third in the Nations Cup, Brittney Arndt and Ashley Farquharson. The latter two competitors are looking to qualify for their first career Winter Games berths. Arndt took fourth in qualifying, while Farquharson was fifth.
Live coverage Sunday begins at 5 AM ET on Olympics.com with Tim Singer calling the women's action with Olympic bronze medalist and U.S. flag bearer Erin Hamlin. Singer will be joined by 2014 Olympian and World Cup winner Kate Hansen for the team relay that follows.