USA Luge finishes 10-11-12 in World Cup racing as 2 weekends in Sochi begin
KRASNAYA POLYANA, Russia – In a pair of World Cup races Saturday impacted by wet and warm conditions, two-time Olympian Summer Britcher paced the USA Luge effort by placing 10th in singles at the 2014 Olympic site. Teammate Ashley Farquharson took 12th.
The doubles team of Chris Mazdzer and Jayson Terdiman, after not qualifying a week ago in China, put down an 11th place performance.
This was the first of two consecutive weekends in the Western Caucasus Mountains above Sochi, and replaced events that were originally slated for Whistler and Lake Placid. In addition, due to COVID-19 restrictions, the entire two weeks will play out with no spectators.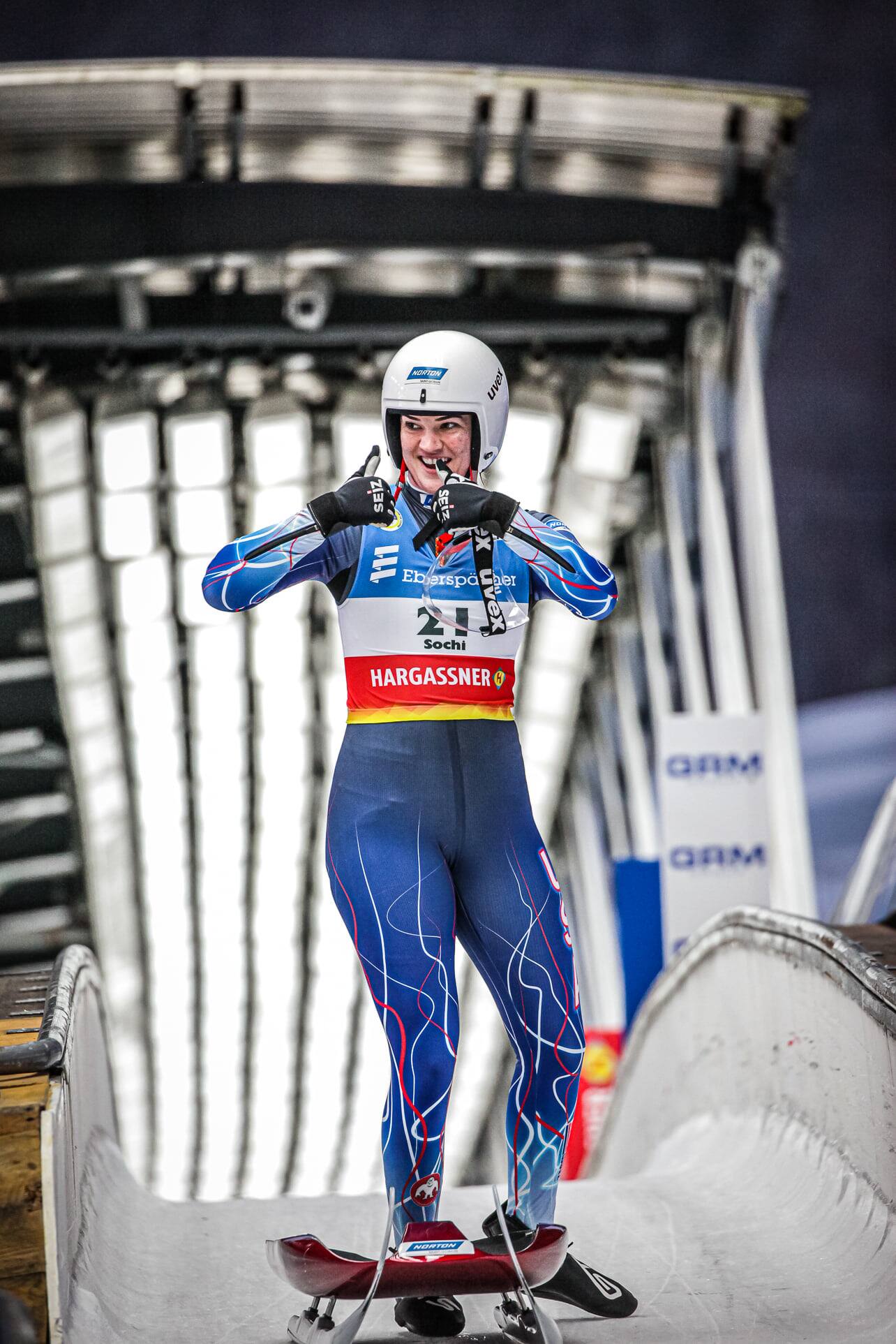 Summer Britcher in the outrun at World Cup #2 in Sochi, Russia on November 27, 2021. Photo FIL/Mareks Gaļinovskis
Russia and Latvia, the teams most familiar with the Sanki Sliding Center, dominated the medals, although German Anna Berreiter came through in the final heat to capture the women's event. It was a story comparable to the 2020 World Championships on this track where the home nation reaped the benefits of course familiarity.
Britcher, of Glen Rock, Pa., rallied from 13th place to post the fifth fastest final run. She was nearly 0.5 of a second from Berreiter, who made a strong statement to be one of Germany's three women athletes at the Beijing Olympic Games just 10 weeks from now.
All three United States sleds checked a box toward Olympic qualification, led by Farquharson. The Park City, Utah slider, now with two top 13 results to begin the season (eighth and 12th), has entirely satisfied a Tier B qualification.
"Our second World Cup in Sochi today was exciting," posted Farquharson on Facebook. She was seventh after the opening run. "The weather was very rainy and the track wasn't holding up super well. Even though both my runs were very consistent I fell into 12th after the second. It wasn't the result I was hoping for, but it was still solid, and it was enough to secure a B Tier which is a huge step in qualifying for the Games."

Britcher's 10th place gives her a start also on a Tier B qualification, while Mazdzer/Terdiman now have part of a Tier C qualification.
The USA Luge tier process is hierarchical and fluid in nature. Tier A supersedes all (at least one finish in the top five for all disciplines) and within each tier there are different levels of qualification.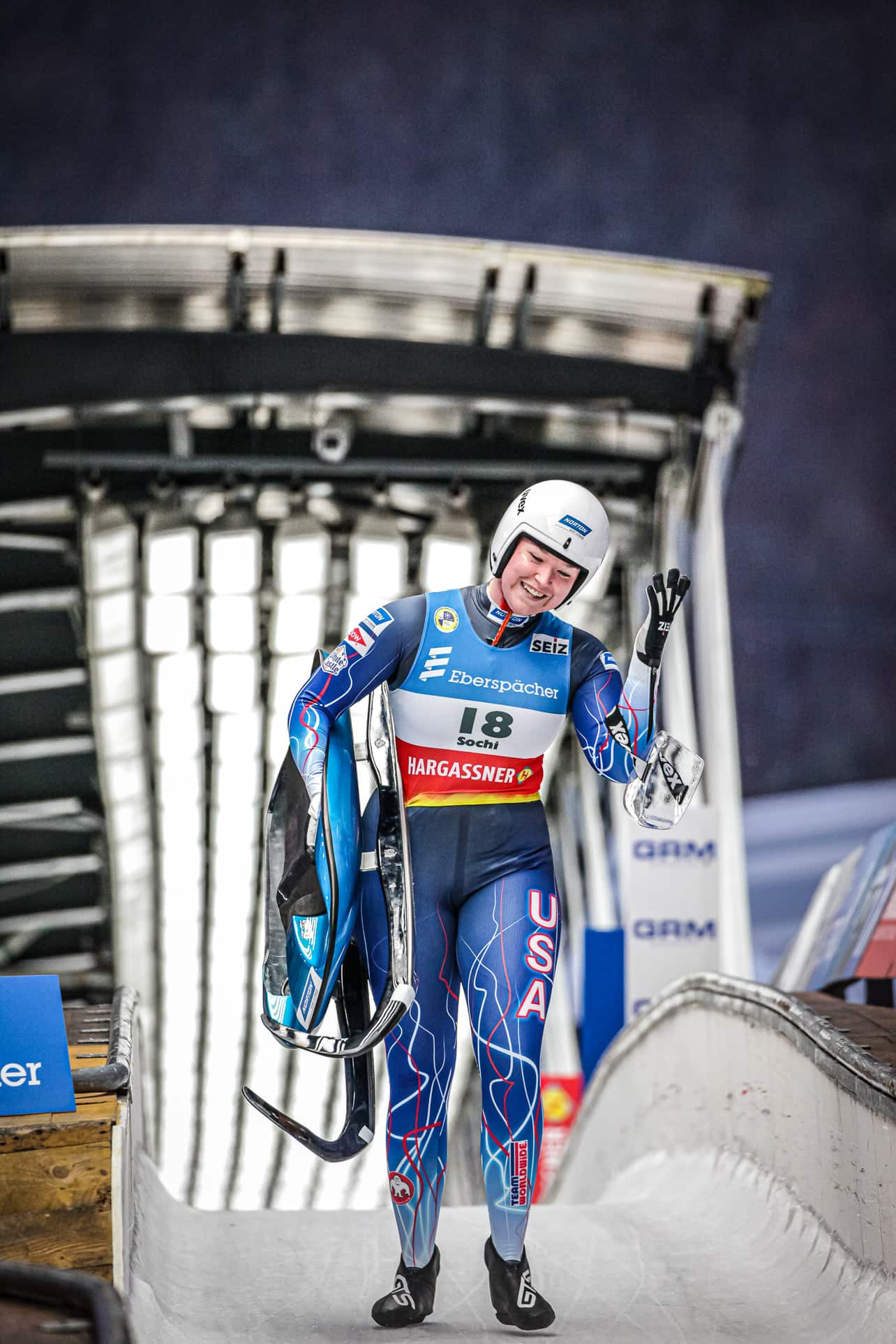 Ashley Farquharson. Photo FIL/Mareks Gaļinovskis
The USA Luge tier process is hierarchical and fluid in nature. Tier A supersedes all (at least one finish in the top five for all disciplines) and within each tier there are different levels of qualification.
Brittney Arndt, also of Park City, was on her way to a berth in the field Friday in the Nations Cup qualifying race, when she encountered difficulties late in the one-heat event and did not finish.
The new doubles team of Zack DiGregorio, of Medway, Mass., and Sean Hollander, of Lake Placid, in their first full season together, were 16th.
The Eberspacher World Cup circuit will be used by American athletes to earn nominations to the 2022 Olympic team. The first seven races of the season will advance those sliders to the United States Olympic and Paralympic Committee. That process will end on the weekend of Jan. 8-9 in Sigulda, Latvia.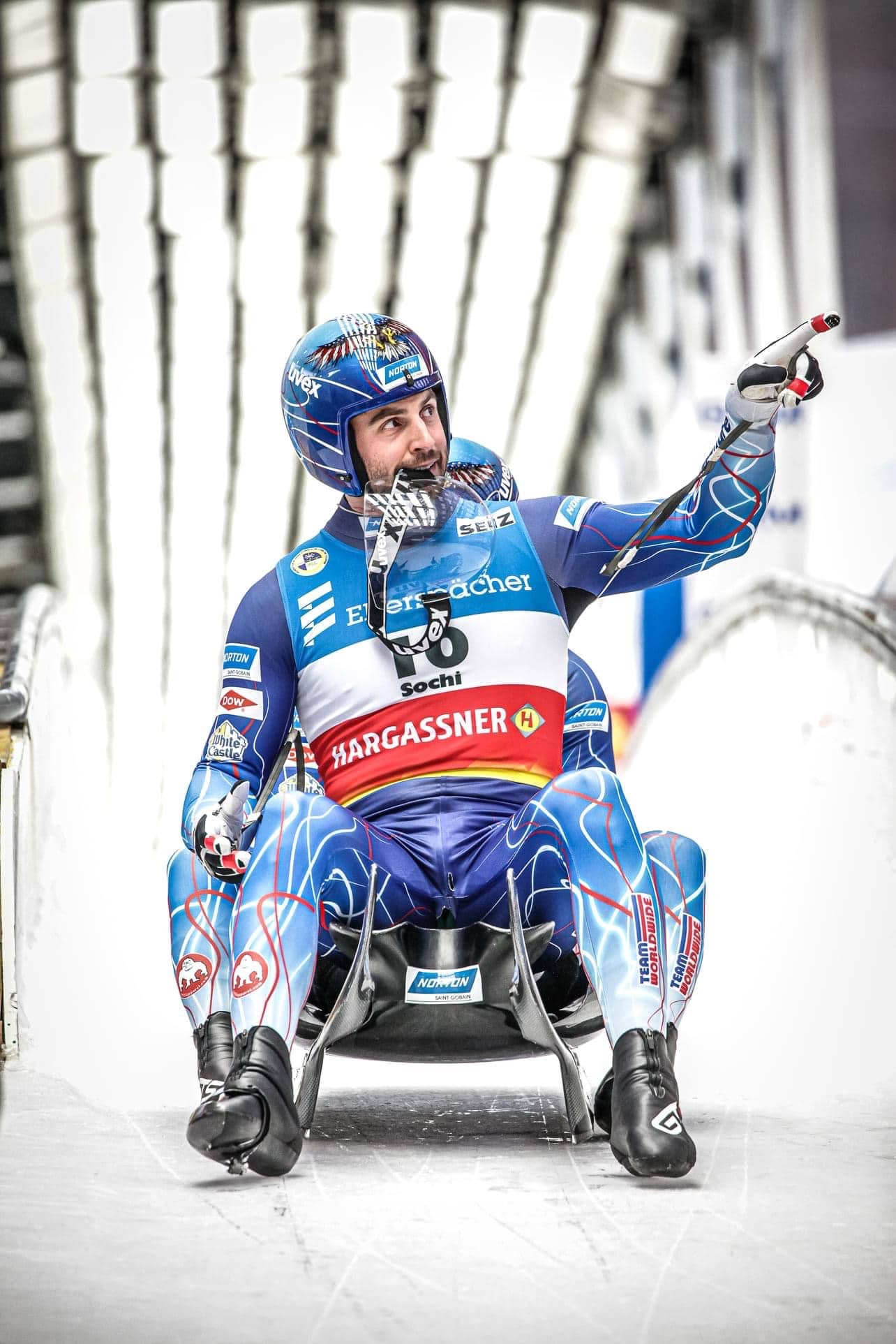 Chris Mazdzer and Jayson Terdiman. Photo FIL/Mareks Gaļinovskis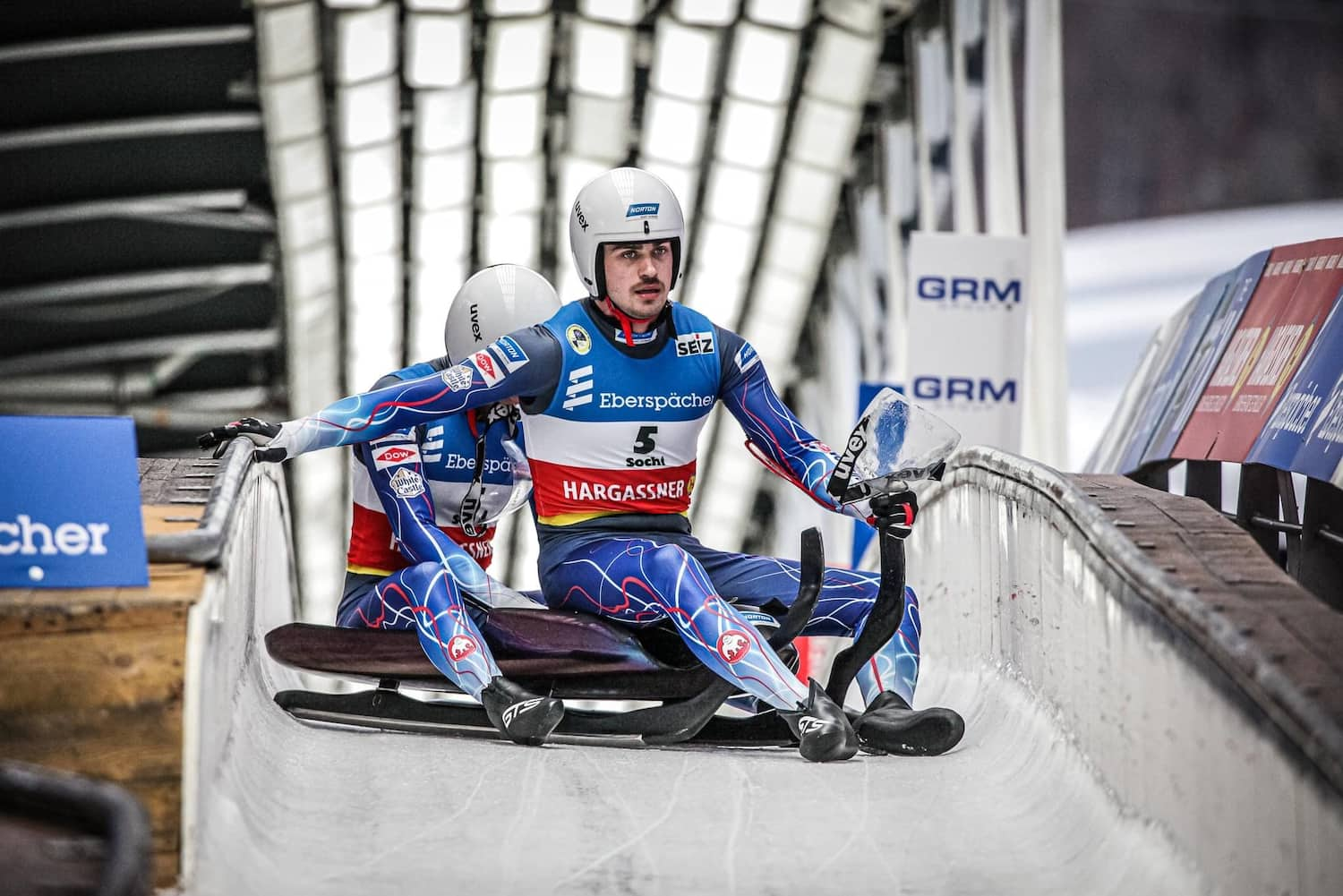 Zack DiGregorio and Sean Hollander. Photo FIL/Mareks Gaļinovskis
Emily Sweeney, of Lake Placid, will not race in either of the Sochi weekends. A member of the U.S. Army World Class Athlete Program (WCAP), she was prevented from traveling to Russia as a result of the U.S. Department of Defense's policy which does not allow military personnel to enter that nation. She is currently training in Europe and will rejoin her teammates two weeks from now in Altenberg, Germany for World Cup racing.
Dana Kellogg, of Chesterfield, Mass. and doubles partner Duncan Segger, of Lake Placid, were in a similar position to Sweeney. To pursue Olympic qualification, Kellogg, with Segger, traveled to Russia to compete. Unfortunately, Kellogg injured a hand in mid-week training and could not enter the Nations Cup race to qualify for the World Cup. They will try again next week on this track.

WOMEN'S SINGLES
Berreiter wasn't the fastest in either run, but on a day when start numbers and conditions were closely related to results, she was good enough. High temps, rain and frost did not create optimal track conditions.
Nations Cup winner Ekaterina Katnikova was trying to complete a Nations Cup-World Cup sweep and was headed in that direction after taking the opening run lead, courtesy of an early start. But as the final slider in the race, the softer ice coupled with several errors in the second run dropped her to sixth place at the end.
Berreiter was second at the intermission and came back with the eighth fastest final attempt. The combination gave her an aggregate time of 1 minute, 40.649 seconds.
"Maybe the weather played into my cards a bit," she stated. "Nevertheless, you first have to get two runs to the finish. I managed to do that."
Katnikova, a World Champion here two seasons ago, was 0.3 behind the gold medalist. Latvia's Kendija Aparjode registered the fourth and sixth best heat times, respectively, and gladly accepted the silver medal marking her World Cup singles career high point. She was 0.1 of a second from Berreiter. Victorii Demchenko, of Russia, was the bronze medal winner on her father Albert's 50th birthday. The elder Demchenko, now a national team coach, won three Olympic silver medals in a career that lasted into his early 40s.
Other notables victimized on Saturday included World Champion and World Cup overall winner Julia Taubitz. The German track record holder was ninth, right behind teammate and four-time Olympic gold medalist Natalie Geisenberger. Dajana Eitberger, 2018 Olympic silver medalist from Germany, was fifth Saturday. Given the conditions, no competitors came close to Taubitz's record mark of 49.601 set at the 2020 World Championships.
Austria's Madeleine Egle, the Beijing winner a week ago, had the fastest second heat after finding herself 21st at the break. The combination led her to seventh place at the end. She was the only luge athlete to break a run time of 50 seconds (49.977).
The top three in the early World Cup rankings are Berreiter (160 points), Egle (146) and Taubitz (124). Farquharson is ninth at 74; Britcher is tied for 10th at 64.

DOUBLES
The Olympic track near Sochi has been a friendly confine for Andris and Juris Sics. It was here in 2014 where the Latvian brothers won bronze in the Olympic doubles event and returned later to anchor another bronze medal in the team relay.
"We like the track," said front man Andris Sics after their fifth race title. "We were here before in autumn and tried out new sleds and a new setup. That was an important experience."
Their new ride enabled Team Sics, the current World Cup leaders, to overtake Nations Cup qualifiers Andrei Bogdanov and Iurii Prokhorov of Russia in the second heat. The victors had the second best runs of each leg, while the Russians second attempt was just the sixth fastest.
The Latvians two runs totaled 1:39.783 which was 0.12 of a second faster than the runners-up.
German Olympic medalists followed with Tobias Wendl and Tobias Arlt, four-time gold medalists, in third place, nearly 0.23 off the pace. Last week's Beijing winners Toni Eggert and Sascha Benecken took fourth, only 0.005 of a second from the podium.
The veterans Sics and Sics powered off the handles with the fourth best start times of the two runs. If they can be that competitive to begin a race, they figure to contend at the end, given their driving skills. This event proved the theory, especially on a somewhat longer than usual doubles layout where good driving can gain a team precious fractions of a second on the trip down.
On home ice, Russia's three doubles sleds all performed in the top seven. Noticeable by their absences were the defending World Cup overall champions from Austria. After racing to a silver medal last week at the Yanqing National Sliding Center, Thomas Steu and Lorenz Koeller were knocked out of this race. During the week of training, Steu broke a foot, ironically, on the same course where Mazdzer suffered a similar fate in fall training two months ago. The Austrians hope to return to racing in two weeks.
Like Saturday's winners, Mazdzer, of Salt Lake City, and Terdiman, from Berwick, Pa. are also working with new equipment. They fared much better this week than last when they did not qualify for the doubles race as a result of Mazdzer's injury resulting in lack of fall runs together. At first glance, there is speed there as a result of their driving capabilities and the sled technology created by German Olympic doubles medalist Andre Florscheutz. Mazdzer/Terdiman gained five places from start to finish in the opening leg and six spots in the finale.
"We still have quite a bit of work to do with the new sled so that we are confident and comfortable with how it's tracking and steering, but things are heading in the right direction for sure," said Terdiman. His teammate concurred in anticipation of putting together clean runs.
"The track has been extremely challenging and I am really happy that we made it across the finish line on both of our runs," added Mazdzer, 2018 Olympic silver medalist, on Facebook. "We are still trying to figure out this new sled and I am optimistic that each week we're going to feel better and better."

The Sics bros have 170 overall World Cup points, starting the season with bronze and gold medals. Eggert/Benecken trail by just 10 points, with Bogdanov and Prokhorov third at 111 points.
The first Sochi World Cup weekend concludes Sunday with men's singles and the team relay. Live streaming on Olympics.com will be offered starting at 2:50 AM EST. Also, broadcast coverage is set for Sunday night from 7-9 PM EST on NBC Sports Network.