Sweeney takes home silver in women's singles sprint; Gustafson achieves personal best in men's singles
Austrians prove team to beat going into Whistler after taking gold in all disciplines in Igls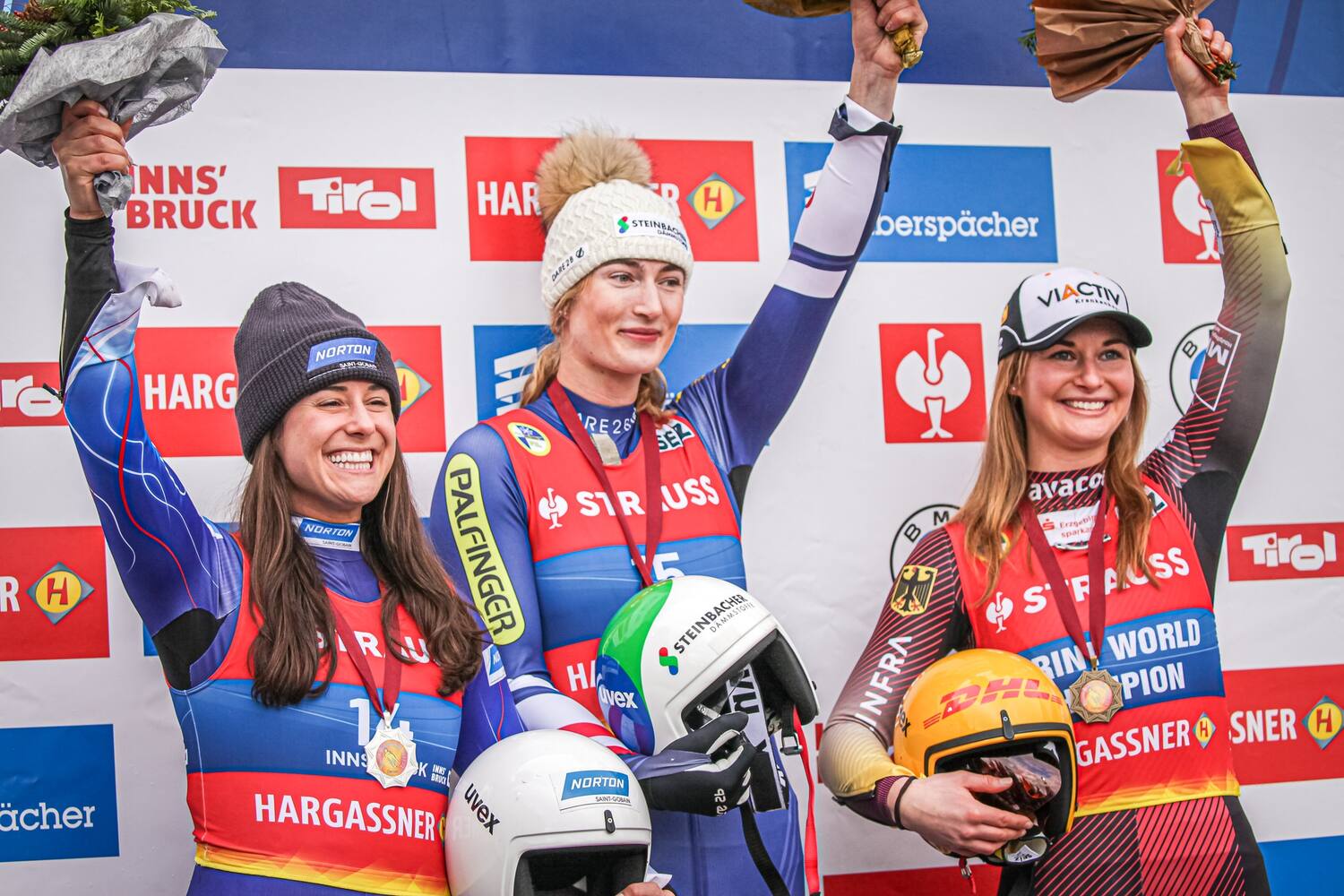 Above: Emily Sweeney, let, wins silver again in Igls, Austria. Photo:FIL / Mareks Galinovskis
IGLS, AUSTRIA –USA Luge women's singles athlete Emily Sweeney continued gathering medals at the 45th EBERSPÄCHER FIL World Cup in Igls, Austria, winning a silver medal in women's singles sprint, while Johnny Gustafson achieve his best-ever result in a men's race.
Sprint races feature the top 15 athletes in each discipline based on their finish in the World Cup races, which took place on December 3 and 4 in Igls. Start times for the single-heat sprint races begin at a lower point on the track than traditional races, placing an emphasis on driving skill over speed at the start. Instead of a start time, initial velocities are displayed. Points earned during the sprint races count toward overall World Cup points.
Sweeney, of Lake Placid, N.Y., raced in the singles sprint just minutes after her fourth place finish in the doubles sprint with Summer Britcher, of Glen Rock, Pa. She clocked in with a time of 29.927 seconds after driving very strong lines at the bottom section of the track. Sweeney was just .019 behind yesterday's World Cup winner, Madeleine Egle of Austria, who added another gold medal to her collection in Igls with a time of 29.906. German Julia Taubitz earned bronze with a time of 29.937. Taubitz's third place finish created a mirror image of the previous day's World Cup podium.
"It feels really good," said Sweeney. "I'm happy to come out in day two and do the same thing and still have the speed. It's really exciting to start the season this way and it's great to see the speed of the rest of the team, too, with Johnny having his best results! We have some good momentum going back to North America."
Britcher placed seventh with a time of 30.051, with teammate Ashley Farquharson, of Park City, Utah, placing 13th with a time of 30.193. As Britney Arndt did not place in the top 15 in Igls World Cup, she did not race in the sprint.
In men's singles, 2022 Olympian and Massena, N.Y native Jonny Gustafson recorded his best-ever result, sixth, with a time of one minute 39:950 seconds. His previous best result was also on the Igls track back in 2018 where he placed seventh. Tucker West, of Ridgefield, Conn., the ten-time Norton National Indoor Start Champion, had trouble at the start of the first run and a skid in curve nine during his second heat, finished 12th with a time of 1:40.300.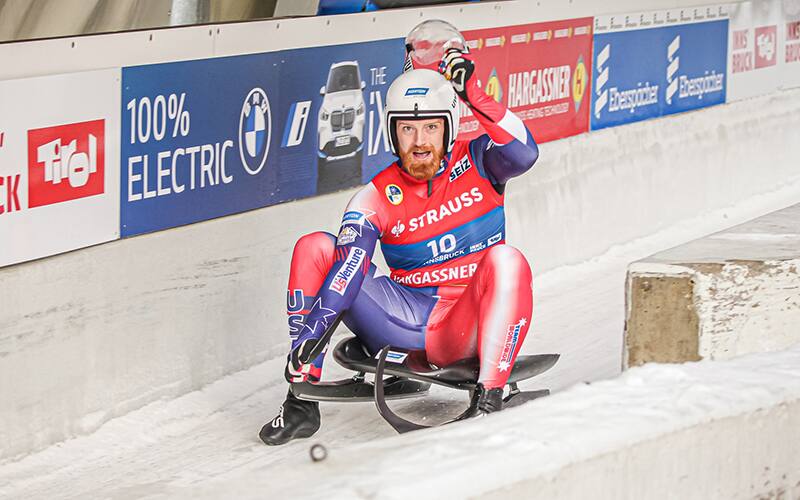 Above: Jonny Gustafson places a personal best 6th in Igls during the men's World Cup. Photo:FIL / Mareks Galinovskis
"I'm coming off a sixth place finish, my best ever finish in a World Cup here in Igls, Austria," said Gustafson. "I'm trying to figure out how I did as well as I did, but I really cannot put a finger on it! I just slid as good as I could, and my sled is running as well as it could."
The Austrian team, coming off a podium sweep in men's doubles the day before, achieved another sweep in men's singles with Nico Gleirscher in first with a time of 1.39:283, Wolfgang Kindl in second with 1:39.327, and Jonas Müller in third with 1:39.378.
The men weren't done competing, with the Sprint World Cup next on the competition docket. Gustafson remained strong in the sprint and placed eighth with a time of 32.817. Despite hitting the right wall at the start, West's start speed was 51.1 mph, and placed him 14th with a time of 33.040. Austria's Nico Gleirscher grabbed the gold for the second time of the day with a start speed of 51.07 mph and a finish time of 32.599. Teammate Wolfgang Kindl took the silver in 32.611 seconds. Dominik Fischnaller of Italy rounded out the podium with a time of 32.633, winning the bronze.
In the men's doubles sprint, Zack DiGregorio, of Medway, Mass., and Sean Hollander, of Lake Placid, reached a start speed of 45.4 mph, finishing the sprint in ninth place with a time of 29.956. Austria secured gold with Yannick Muller and Armin Frauscher leading the heat with a time of 29.822, followed by Latvia's Martins Bots and Roberts Plume earning silver with a time of 29.837, and Germany's Hannes Orlamünder and Paul Gubitz taking bronze in 29.858. Dana Kellogg, of Chesterfield, Mass., and Duncan Segger, of Lake Placid, did not qualify.
Women's doubles sprint saw Austria's Selina Egle and Lara Kipp win with a time of 30.219. The win gave Austria a clean sweep of all gold medals available during the weekend. While Britcher/Sweeney had the slowest start speed among the top five at 44.7 mph after a minor mistake in the start curve, they picked up the pace, landing in fourth with a time of 30.384. Maya Chan, of Chicago, Illinois, and Reannyn Weiler, of Whitesboro, N.Y., secured sixth place with 30.508, followed by Chevonne Forgan, of Chelmsford, Mass., and Sophie Kirkby, of Ray Brook, N.Y., in seventh with a time of 30.643.
Last season, the women's doubles World Cup traveled with the Junior World Cup circuit. This year, women's doubles join the rest of the Olympic-level athletes on the World Cup circuit. Reflecting on her first proper experience in World Cup competition, Weiler said, "It was super exciting competing in my first World Cup, and it was great that my family and friends could all watch back home. Overall, I am happy with our runs, we had some small mistakes in our first run but overall, I'm satisfied with our performance this week. Competing in our first sprint this weekend was also a great experience and I'm very happy with our sixth place finish. I'm looking forward to heading back to North America and ending the first half in Park City on one of our home tracks! My family will be there so I'm very excited!"
EBERSPÄCHER World Cup action continues next weekend in Whistler, and then returns to the U.S. for the first time since 2019 on December 16-17 in Park City, Utah. 2018 Olympic Silver Medalist Chris Mazdzer, of Salt Lake City, Utah, is scheduled to compete in North America during the next two World Cups in Whistler and Park City.
World Championships are slated to take place in Oberhof, Germany on January 27-29, 2023. To watch the races live and to view archived competitions, please visit the FIL's YouTube channel: https://www.youtube.com/@FILLuge_Channel. The entire World Cup and World Championship season can be accessed from this portal.
WORLD CUP OVERALL STANDINGS AND TOP US (after two events with points)
Men:
1) Nico Gleirscher, AUT, 200
2) Wolfgang Kindl, AUT, 170
3) Dominik Fischnaller, ITA, 125
6) Jonny Gustafson, USA, 92
T 13) Tucker West, USA, 60
Women:
1) Madeleine Egle, AUT, 200
2) Emily Sweeney, USA, 170
3) Julia Taubitz, GER, 140
8) Summer Britcher, USA, 81
11) Ashley Farquharson, USA, 76
19) Brittney Arndt, USA, 22
Men's Doubles:
1) Yannick Müller/Armin Frauscher, AUT, 170
2) Juri Gatt/Riccardo Schöpf, AUT, 160
3) Martins Bots/Roberts Plume, LAT, 135
10) Zack DiGregorio/Sean Hollander, USA, 91
17) Dana Kellogg/Duncan Segger, USA, 24
Women's Doubles:
1) Selina Egle/Lara Kipp, AUT, 200
2) Andrea Vötter/Marion Oberhofer, ITA, 155
3) Anda Upite/Sanija Ozolina, LAT, 130
4) Summer Britcher/Emily Sweeney, USA, 115
7) Maya Chan/Reannyn Weiler USA 96
8) Chevonne Forgan/Sophie Kirkby USA 88