Junior national team takes medals at Lillehammer double World Cup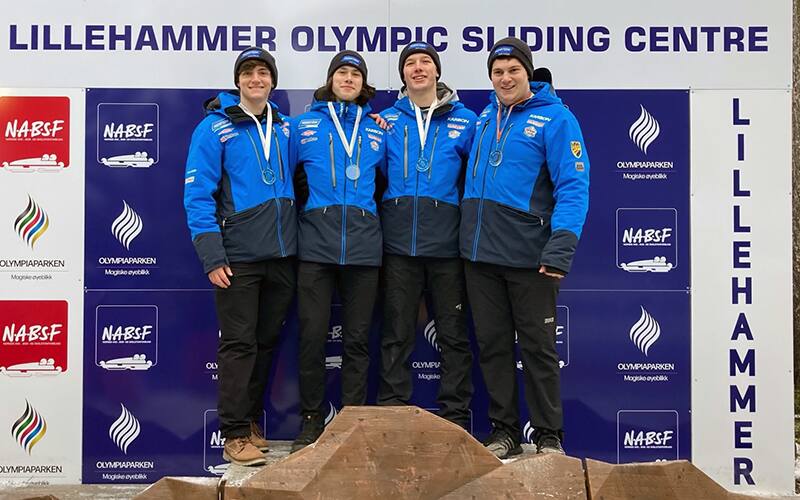 Above: Aidan Mueller, Ansel Haugsjaa, Marcus Mueller and Mat Greiner.
LILLEHAMMER, Norway – The USA Luge Junior National Team walked away from the first two World Cups of the season, both held on the 1994 Olympic Track in Lillehammer, Norway, with two silver and two bronze medals. The races took place from Nov. 30-Dec. 3.
The medal haul was led by the doubles team Marcus Mueller (Brookfield, Wisc.) and Ansel Haugsjaa (Framingham, Mass.), who claimed bronze and silver in the respective competitions. The German duo of Moritz Jager and Vaentin Steudte won both races.
Teammates Aidan Mueller (West Islip, N.Y.), and Frank Ike (Lititz, Pa.) were sixth in the first race and did not finish the second race.
The junior men also took medals but had to wait until the second race to hit their stride. The first race saw a fifth place finish from Aidan Mueller seventh place for Marcus Mueller, 11th for Frank Ike, 14th for Matt Greiner (Park City, Utah) and 17th for Haugsjaa. Hunter Harris (East Fairfield, Vt.) did not finish the competition.
The second men's race saw Aidan Mueller win silver behind Marco Leger of Germany, with Greiner in third. Hunter Harris bounced back to finish ninth, while Marcus Mueller was 10th. Haugsjaa was 12th, while Ike did not finish the competition.
In the first women's race, Sophia Gordon (Sussex, Wisc.) was ninth in a race won by Anke Jaenicke of Germany. Emma Erickson (Park City, Utah) showed speed but had problems down the course, placing 18th.
Erickson improved in the second race, placing eighth, with Gordon placing 11th. Germany's Anton Pietchmann won the second race. Delaney Duncan (Park City, Utah) had problems and did not finish both competitions.
The lone team event, held during the second World Cup, saw the U.S. entry place sixth, with Germany winning gold.
With two of six Junior World Cup events, top ranked U.S. athletes in overall points include the team of Mueller/Haugsjaa tied for second place with 155, while Aidan Mueller is in third with 140 points. Complete results and standings can be found below.
In Youth Continental Cups, catering to athletes younger than Junior age, a race took place in Sigulda Latvia. Logan Barnes (Milwaukee, Wisc.) was 25th and Orson Colby (Riverston, Utah) was 26th.
The Junior World Cup resumes Dec. 9-10 in Winterberg, Germany.