West places fifth in Whistler World Cup; Loch takes 50th career victory
Britcher seventh in women's competition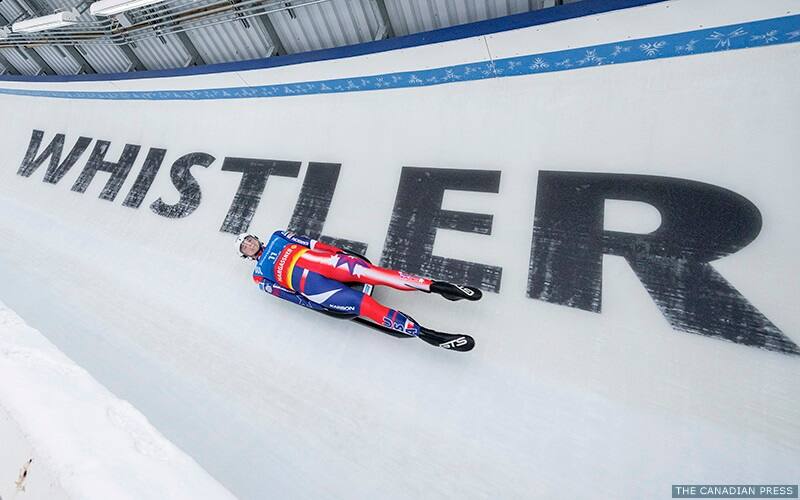 Tucker West, of the United States, competes during the Eberspacher Luge World Cup in Whistler, British Columbia, Friday, Dec. 9, 2022. (Jonathan Hayward/The Canadian Press via AP)
WHISTLER, B.C.—For the first time since 2019, the FIL World Cup circuit raced in North America, returning to the 2010 Olympic venue. German Felix Loch won the 50th gold medal of his career. Tucker West was the top American in the men's singles competition, placing fifth.
Austria's Madeleine Egle continued her perfect season, winning the women's competition. Summer Britcher led the U.S. squad in seventh.
Men's Singles
Germany's Felix Loch set a track record enroute to securing the gold medal and his 50th career World Cup victory with a time of one minute 39.619 seconds. The result places him seven wins behind the record held by Italian Armin Zöggeler.
Austria's Wolfgang Kindl finished three-hundredths of a second behind the German 1:39.653. Dominik Fischnaller of Italy took the bronze with a time of 1:39.689.
Tucker West of Ridgefield, Conn., a three-time World Cup winner on the 2010 Olympic track, led the U.S. men, placing fifth in 1:39.914.
"It's nice to finally be back in North America after the hiatus from COVID," said West. "To see smiling fans is always fun, and we had a lot of family and friends here so that was great. The race went well for me, and I think it's a step in the right direction. The starts went very well today, and I think that definitely helps with the speed on this track with such a flat section at the top. We'll see how that speed translates into Park City next week."
2018 Olympic silver medalist Chris Mazdzer placed 10th. It was the first World Cup race of the season for the Salt Lake City, Utah resident. Mazdzer is only competing in the North American races during the 2022-2023 season. Johnny Gustafson, of Massena, N.Y. placed 12th.
Wolfgang Kindl sits at the top of the overall World Cup point standings with 255. Austrian Nico Gleirscher is second with 146, with Fischnaller third with 195 points. U.S. athletes are led by Gustafson with 124 points in eighth, and West in ninth with 115 points. Mazdzer is in 21st with 36 points after only competing in one event.
Women's Singles
Madeleine Egle of Austria remains the woman to beat, winning with a time of 1:17.137 seconds. In another agonizingly close race, Egle edged past Germany's Julia Taubitz, who was second with a time of 1:17.161. Germany's Merle Fräbel, took bronze in 1:17.182.
Summer Britcher, a three-time Olympian from Glen Rock, Pa., paced Team USA in eighth, thanks to a strong second heat. Emily Sweeney, of Lake Placid, N.Y., was fifth after the first heat. She had trouble at the start of her second run and dropped to 10th. Britcher and Sweeney will compete together tomorrow in the women's doubles competition.
Brittany Arndt, of Park City, Utah, placed 12th. Ashley Farquharson, also from Park City, did not qualify.
Madeleine Egle leads the overall World Cup point standings with 300. Taubitz is in second with 225, and Sweeney in third with 206. Britcher sits in ninth with 127, Farquharson in 13th with 86, and Arndt in 16th with 54.
World Cup action returns to the U.S. for the first time since 2019 next week, December 16-17, in Park City, Utah. World Championships are slated to take place in Oberhof, Germany on January 27-29, 2023. To watch the races live and to view archived competitions, please visit the FIL's YouTube channel: https://www.youtube.com/@FILLuge_Channel. The entire World Cup and World Championship season can be accessed from this portal.