Britcher and Sweeney fourth in Whistler...Story to come
Britcher/Sweeney place fourth in women's doubles, USA fifth in relay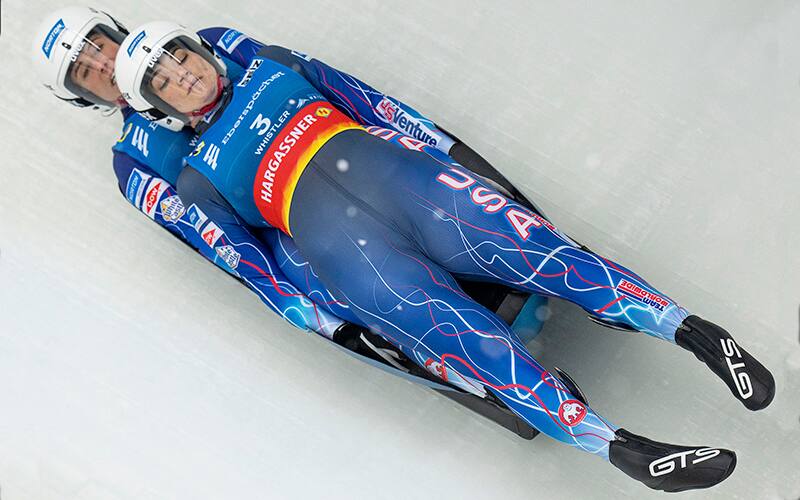 Summer Britcher and Emily Sweeney of the United States during the luge World Cup in Whistler, British Columbia, Saturday, Dec. 10, 2022. (Jonathan Hayward/The Canadian Press via AP)
WHISTLER, B.C.— Toni Eggert and Sascha Benecken of Germany stood on the top of the podium twice at the Whistler Sliding Centre today, taking gold in men's doubles and team relay, ending Austria's hope for another podium sweep.
Summer Britcher and Emily Sweeney were the top finishers for Team USA, placing fourth in women's doubles following a short-lived track record. Later in the day, the United States placed fifth in the team relay event.
Men's Doubles
Following an Austrian sweep last weekend, Germany took the top two spots on the podium with Toni Eggert and Sascha Benecken setting a track record of 38.249 seconds on their second run and clenching the gold medal with a time of one minute 16.554 seconds. The silver went to Tobias Wendl and Tobias Arlt of Germany who missed the gold by five-hundredths of a second with a time of 1:16.605. The Austria team of Thomas Gatt and Martin Schöpf placed third after their first-place finish in Igls with a time of 1:16.740.
USA Luge men's doubles Zack DiGregorio, of Medway, Mass., and Sean Hollander, of Lake Placid, N.Y., sat in 12th place going into the second run, ultimately placing eighth. Duncan Segger, of Lake Placid, and Dana Kellogg, of Chesterfield, Mass., who kicked-off the men's competition, were 10th.
Gatt/Schöpf hold the lead in overall World Cup standings with 230 points, followed by Germany's Eggert/Benecken in second with 215 points, and Austria's Yannick Müller and Armin Frauscher with 204 points. DiGregorio/Hollander are in ninth with 123 points, and Kellogg/Segger are 16th with 56 points.
Women's Doubles
It was a fight to the finish in women's doubles, with just .056 separating the top three teams, but Italy's Andrea Vötter and Marion Oberhofer came out on top. Vötter/Oberhofer won the gold with a time of 1:17.912 after securing a track record on their second run with a time of 38.896. They took the World Cup champion bib away from Selina Egle and Lara Kipp from Austria who placed second with a time of 1:17.953.
The start record was broken by Jessica Degenhardt and Cheyenne Rosenthal from Germany with a time of 3.368, earning the team a bronze medal with a time of 1:17.968.
Americans Summer Britcher and Emily Sweeney hit a track record on their first run before it was taken away from the Italian team. Britcher, from Glen Rock, Pa., and Sweeney, from Lake Placid, sat in second place, but dropped to fourth place after troubles at the bottom portion during their second heat. .
"I wish we could've put together a cleaner run, but that's racing," said Britcher. "It's good to know the speed is there, and I'm excited to move on and get on ice in Park City."
Chevonne Forgan, of Chelmsford, Mass., and Sophie Kirkby, of Ray Brook, N.Y., finished in fifth. Maya Chan, of Chicago, Ill., and Reannyn Weiler, of Whitesboro, N.Y., experienced a heart wrenching crash at the end of the track, but still finished the race and landed in seventh place.
Egle/Kipp lead the overall World Cup standings with 285 points, followed by Vötter/Oberhofer with 255 points, and Degenhardt/Rosenthal with 191 points. The Americans follow with Britcher/Sweeney in fifth place earning 175 points, Forgan/Kirkby in sixth with 143 points, and Chan/Weiler in seventh with 142 points.
Team Relay
Germany took home the gold medal in the first team relay of the season with a time of 2:04.222, outracing their competitors in all disciplines.
Coming in a close second was Latvia with a time of 2:04.369. Austria's Madeleine Egle experienced a skid, but the doubles team of Gatt/Schöpf were able to bring home the bronze for Austria with a time of 2:04.949.
Tucker West, of Ridgefield, Conn., started with a strong exchange time for Team USA, but some minor slips by Britcher and a strong run from DiGregorio/Hollander kept the team in the top five, securing a fifth place finish.
World Cup action returns to the U.S. for the first time since 2019 next week, December 16-17, in Park City, Utah.World Championships are slated to take place in Oberhof, Germany on January 27-29, 2023.To watch the races live and to view archived competitions, please visit the FIL's YouTube channel:https://www.youtube.com/@FILLuge_Channel. The entire World Cup and World Championship season can be accessed from this portal.
The USA Luge relay team of Summer Britcher, Tucker West, Zack DiGregorio and Sean Hollander