Mazdzer, 9th, leads US trio midway through Beijing Olympic singles race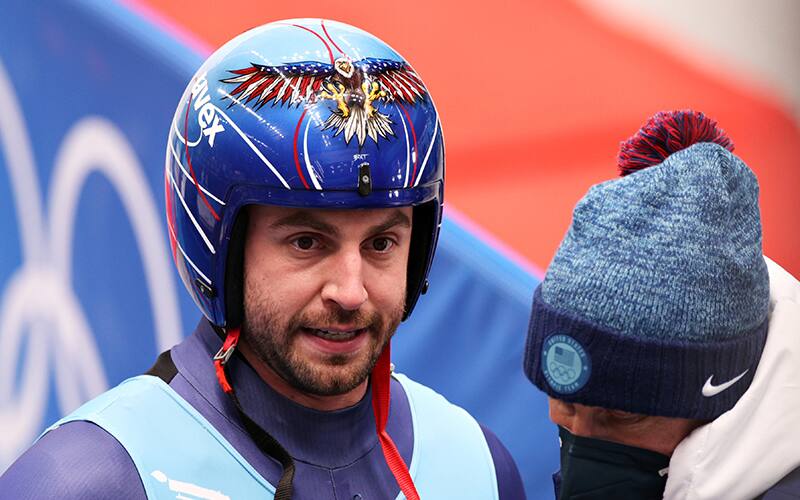 Above: Chris Mazdzer. Getty Images.
YANQING, China – Chris Mazdzer, 2018 Olympic silver medalist, came back from a hard crash in the final training run to lead the American contingent in ninth place Saturday night as the Beijing Olympic luge competitions got underway at the Yanqing National Sliding Center.
The Salt Lake City, Utah resident negotiated the two heats at the Ice Dragon after rebounding from a training run mishap on the day of the Opening Ceremony. It prevented the four-time Olympian from attending his final such Olympic event. Mazdzer's sled went to the roof before deflecting down to the short wall where he took the impact on his neck and shoulder. He remarked that he was lucky to be racing.
"I don't want to say that it got to me today, but I was pulling my left hand….to protect from riding on the wall," he analyzed. "It threw me into a skid. I lost a lot of time. Tomorrow, I just have to commit and not be scared to go all out."
Mazdzer's two runs were the 10th and ninth best on a clear, cold night where wind chills were in the mid-teens. The resulting rock-hard sliding conditions led to track records. Mazdzer's combined time was 1 minute, 55.819 seconds. Teammate Tucker West is in 11th place at the midpoint of the event against a field of 35 athletes.
West, a three-time Olympian from Ridgefield, Conn., was a tentative 15th in the opening leg, but showed noticeable improvement with the eighth quickest second attempt. He clocked a total time of 1:55.910.
"What's been difficult for us and what's been frustrating this year is that typically we'll see the (Olympic) track two to three times prior to the Games," said West. "But that was canceled due to COVID this year so we only saw it one time, so it's been frustrating due to the pandemic. You see experience really shining through here. The more experienced guys are putting down the better runs."
First time Olympian Jonny Gustafson, of Massena, N.Y., posted a 13th place time in his initial run at an Olympic Games. However, Gustafson was beset by problems on his second attempt on this long, 16-curve course and fell back to 18th place by the end of the session.
Top row: Chris Mazdzer, Middle Row: Tucker West. Bottom row: Jonny Gustafson. Getty Images/FIL/Mareks Galinovskis
The overnight leader is Johannes Ludwig of Germany, with Austrian Wolfgang Kindl in close pursuit. Italy's Dominik Fischnaller is third, looking past his cousin's removal from the Athletes Village for a positive COVID test. Kevin Fischnaller was conspicuously absent from the final two training runs before the news broke.
Ludwig, Olympic gold and bronze medalist in Pyeongchang, was the overall 2022 World Cup champion on the strength of five triumphs including the tour opener on this course. As the second athlete on the track to begin the race, he saw Kindl lower the track record just in front of him. The reticent German then promptly went to the start handles, set a start record, and less than one minute later, replaced Kindl's name from the record book.
"I don't see myself under so much pressure," Ludwig stated before the competition. "I achieved my target four years ago with gold in the relay and bronze in the individual race. Everything else is an encore."
The leader's two-heat aggregate time of 1:54.501 is merely 0.039 faster than Kindl who "won" the second heat by 0.008 over Ludwig. Dominik Fischnaller, fourth in 2018, trails Ludwig by 0.3 of a second. Three-time Olympic champion Felix Loch of Germany is fourth, with Kristers Aparjods of Latvia fifth. Defending Olympic gold medalist David Gleirscher of Austria is eighth.
The Olympic singles races will determine which athletes advance to the team relay that ends the luge schedule.
The action at Yanqing will continue Sunday night at 7:30 PM local time with the final two deciding runs. Women's singles will be held Feb. 7-8, with doubles on Feb. 9 and the team relay Feb. 10. These night races at the Yanqing National Sliding Center are morning races in the U.S.
Live coverage of all competitions can be found at https://www.nbcolympics.com/schedule/sport/luge. Also, Peacock offers live coverage of every run.