Farquharson top American in 12th place as Geisenberger wins 5th Olympic gold medal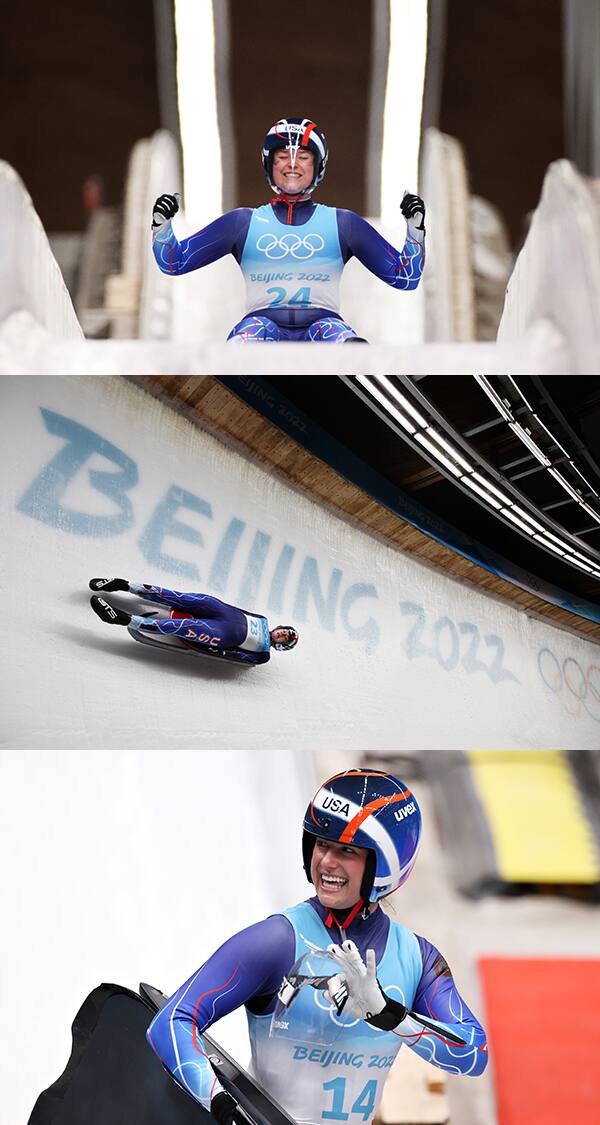 Above: Ashley Farquharson, Summer Britcher and Emily Sweeney. Photos: FIL/Mareks Galinovskis and Getty Images
YANQING, China – Ashley Farquharson returned to the Yanqing National Sliding Center for the Beijing Olympic Winter Games and turned in USA Luge's top singles performance, concluding her initial Team USA berth with a 12th place finish.
She started the night in 18th place after two legs and steadily climbed the leaderboard with final attempts that were eighth and seventh best, respectively, on the night. Her final time was 3 minutes, 56.407 seconds down the lengthy, 16-turn design.
"The last run speaks to the speed that was there the whole time," said Farquharson after another cold night that created record ice. "I put too much pressure on myself. For the first time, I found myself worried about what other people were thinking of my results and that's never really happened to me before. All of a sudden, I was like what if my mom cares that I get 20th. Of course, she doesn't care. I had that bad first run and my mom was like, 'it was so fun to watch you'. I'm like, 'you're right'. What am I worried about?"
The Park City, Utah resident had her best World Cup result of the season here when she finished eighth in November. Ironically, Farquharson's second and third heat times were also eighth best in the field. Her singles efforts over the past two nights also gained her the lead leg in Thursday night's team relay that ends the Beijing luge program.
Teammates Summer Britcher, of Glen Rock, Pa. and Emily Sweeney of Lake Placid finished 23rd and 26th, respectively.
"It wasn't my best result. It wasn't my worst result, but it was the most fun I've ever had racing," continued Farquharson. "It was incredible. I can't wait for the next one. The environment made it fun. We had some fans and had people spectate and cheer for you. It was really nice."
That was a marked contrast to the last two seasons that were very quiet as the pandemic kept crowds at home and in front of their television sets and computers.
Britcher, in her third Games, was the victim of bad luck and timing. She broke a finger last month, the setback hampering her from the start handles. Her start ranks were no better than 20th, a far cry from normal. The injury cost Britcher about 0.1 of a second in each heat. Nevertheless, she remained grateful for the experience and learned a valuable lesson after Pyeongchang.
"The only way for me to continue in sport (after 2018) and to come back and to try to come back stronger, was to change the way that I was doing things and the way that I saw things," she reflected. "And that's what I did. I'm walking away right now with my head held high. I am really joyous to be able to compete here."
For Sweeney, the past two seasons have provided more roadblocks than pathways. But she persevered, overcoming the crash in Pyeongchang, the obstacles of these pandemic years, and made it to Beijing.
After sitting in 10th place after the first run, costly problems in the final section of the track in the second leg took her out of the running.
"My results aren't showing it, but I'm more competitive than I've ever been," stated Sweeney. "I have more eyes on me from other countries than I've ever had. I'm actually sliding very well on the sled. People have been complimenting me from all different walks of sliding. It's crazy, but I feel good on the sled. It's just something's missing, and in a sport that's timed to the thousandth of a second, you can't have something missing."
Natalie Geisenberger of Germany won her third consecutive Olympic singles crown dating back to 2014. Her medal-winning run actually began with a bronze in 2010. She has also captured a pair of Olympic titles in the team relay and will get her third opportunity on Thursday night.
The most experienced women's racer in China used that to her advantage in mounting a substantial lead over the course of the first three runs. Her track record third heat essentially ended the suspense as she took a 0.33 of a second gap over teammate Anna Berreiter into the finale.
Geisenberger put her fourth run right down the middle of the Ice Dragon and clocked a four-heat aggregate time of 3:53.454. Berreiter was nearly 0.5 of a second off the pace, while Tatyana Ivanova of the Russian Olympic Committee took bronze, over one second from the winner.
Madeleine Egle led a 4-5-6 Austrian finish. The World Cup overall runner-up was one of many to struggle with the sliding center's uphill sections and opened her race in 17th position. A furious rally over the next three heats left her 0.3 of a second from Ivanova.
Hannah Prock, the daughter of Austrian federation chief Markus Prock and a three-time Olympic medal winner, took fifth. Lisa Schulte, third after the first run, settled for sixth.
The third German in the field, World Cup and World Championship winner Julia Taubitz, was seventh. Her medal-winning hopes were dashed in the midst of the second run carnage that saw her crash through the finish line.
The victory by Geisenberger was in marked contrast to her experience in Yanqing three months ago when she was isolated due to contact tracing. Three knocks on the door each day brought her nourishment, she worked out on her own over those days, and wanted desperately to return home. Most importantly, the new mother was kept off the ice, losing what little time the athletes could spend preparing for the Games on a unique track. The results were almost predictable, leading to a World Cup crash in late November. But in training here this week, the victor was clearly on her game, dominating most of the sessions, and put the nightmare of November in the history books along with her achievements.
The action at Yanqing will continue Wednesday night at 8:20 PM local time with the Olympic doubles race, followed by the team relay on Thursday night at 9:30 PM. These night races at the Yanqing National Sliding Center are morning races in the U.S.
Live coverage of all competitions can be found at: https://www.nbcolympics.com/schedule/sport/luge. Also, Peacock offers live coverage of every run.