DiGregorio/Hollander officially qualify for Beijing but Mazdzer has to wait until Monday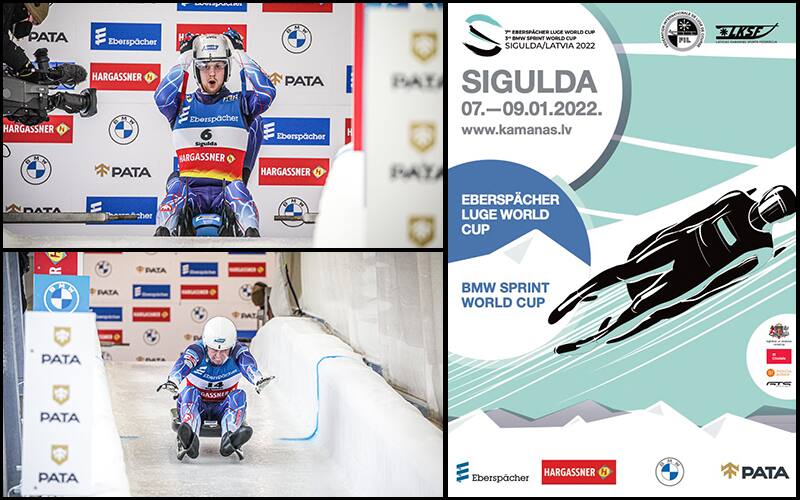 Above: Dana Kellogg/Duncan Segger. Below: Tucker West. Photos: FIL/Mareks Galinovskis
SIGULDA, Latvia – The first day of the Eberspacher World Cup luge meet in the Baltic region Saturday was not devoid of Olympic drama and multiple stories, as first 2018 Olympic silver medalist Chris Mazdzer finished 25th in the final World Cup singles race of the Beijing qualifying period, and perhaps, of his career.
"It's been a fun ride," he said, giving the live internet audience a thumbs up prior to the second heat. "If this is it love you guys. Thanks for following."
That was followed by the USA Luge doubles team of Zack DiGregorio and Sean Hollander officially meeting the organization's Olympic qualifying criteria that came down to a pressure-filled, two-day scenario.
"It's been a very surreal and stressful past two days," admitted Hollander. "I was very happy with how fast Zack and I were able to slide in Sigulda our first time here on a doubles sled. We were really struggling in training to figure out our sled setup, so the night before the race-off (Nations Cup), we swapped over to some equipment we hadn't slid on yet and were able to pull it off."
Meanwhile, Mazdzer is now hanging on the International Luge Federation's (FIL) announcement on Monday where all team quotas in the three disciplines for Beijing will be officially released. Nations can use their best four results and drop their three worst in each event.
USA Luge will get at least two men in the Olympic field next month. They are Tucker West and Jonny Gustafson, both satisfying Tier C qualifying status in December. Mazdzer needed a top 16 Saturday to join them in Tier C. He flies to China at the end of January if the Americans get three sliders according to the FIL calculation.
"It's been a fun career," he added upon exiting the track after the second heat. "I think that's all she wrote. Thanks for following along." But not so fast, Chris. It may not be. Stand by for Monday.
DiGregorio and Hollander placed 16th in their event, while teammates Dana Kellogg and Duncan Segger took 12th. According to the team's Olympic selection policy, if no sled achieved a tier – and no doubles team did - the one-heat Nations Cup on Friday would serve as the tie-breaker.
Mazdzer and Jayson Terdiman were eliminated Friday with a late crash after holding the intermediate time lead. DiGregorio/Hollander placed eighth, just in front of Kellogg/Segger in ninth. The latter team, essentially, needed to defeat their teammates with a top five World Cup finish. When Kellogg/Segger wound up 12th, the matter was decided, sending DiGregorio/Hollander, a first-year doubles team that's been training together for the past 18 months, to their inaugural Olympic Games.
"The past two days have been surreal," reflected DiGregorio. "I could not be more excited to be able to represent the USA on the biggest stage in the world. Extremely grateful for every single one of my teammates especially the ones in the doubles field."
In recent days, the team's head coach Robert Fegg has decided to move DiGregorio and Hollander off the World Cup tour and will have them train for two weeks at the Utah Olympic Park. As a young team, it was felt that a high-volume of training runs per day would be more beneficial to them instead of the usual seven runs offered in a World Cup week. Fegg and Terdiman will accompany the sliders to Park City as will Brittney Arndt, who will continue her training on the 2002 Olympic track while also helping her teammates with time comparisons.
Terdiman has offered DiGregorio/Hollander the use of his two sleds for the Beijing Games. Components of both may be put in play, based on findings in Park City training.
Kellogg and Segger are headed back to Lake Placid after Sunday's Sigulda Sprint Cup. They will resume their training on home ice. With no doubles teams on the World Cup tour USA Luge will forego the final two discipline races and team relays of the season.
The U.S. women's Olympic nominees were determined Friday when Arndt did not qualify for the World Cup and did not complete a tier. The team will consist of two-time Team USA member Summer Britcher, 2018 Olympian Emily Sweeney and Games newcomer Ashley Farquharson.
Based on the various determining factors that impact Mazdzer, the American luge squad in Beijing will have seven or eight members. The maximum quota is 10.
The 2022 Opening Ceremony is 26 days away, taking place Feb. 3 in the U.S. (Feb. 4 in China).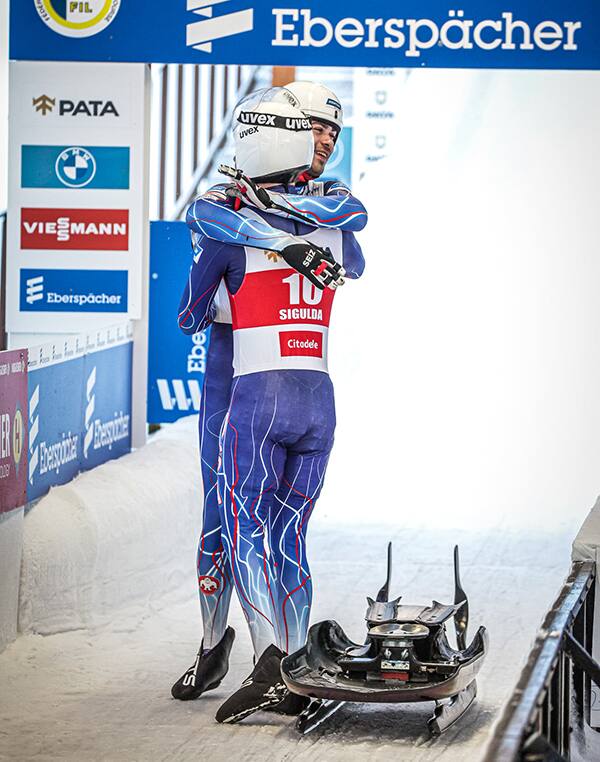 Zack DiGregorio and Sean Hollander celebrate after earning a nomination to the 2022 Olympic Team on January 8. Photo FIL/Mareks Galinovskis
MEN'S SINGLES
World Cup tour leader Johannes Ludwig of Germany took a step back to the pack Saturday with a pair of uncharacteristic runs that placed him 13th. Wolfgang Kindl, second in the overall standings, saw his streak of podium results end at five as the Austrian settled for ninth place.
The day belonged to local racer Kristers Aparjods, who recorded the two fastest heat times on his home track and won for the second time this season. His victories are the nation's first in World Cup singles annals.
With temperatures in the high 20s and no spectators due to COVID, Aparjods slid to a total time of 1 minute, 36.483 seconds, distancing himself from German Felix Loch by 0.18 of a second. Loch, the three-time Olympic gold medalist, had not been on the podium since late November. He missed two races with a positive test.
"This year I definitely wanted to get two good runs down," said Aparjods. "If I ride well, then the right results will come."
Italy's Dominik Fischnaller, tied with Loch after one leg, took the bronze medal, 0.2 from the winner.
The top U.S. result came from Gustafson, in 21st place. Mazdzer was 25th, and Tucker West did not finish the first run.
Ludwig, an Olympic gold and bronze medalist, is atop the World Cup list with 705 points, with Kindl second at 590 and Fischnaller third at 497.
DOUBLES
Germany took gold and bronze as they continue to tune up for Beijing. Latvia's Sics brothers kept the country's television viewers engaged with a silver medal as they show great consistency. Andris and Juris Sics, leading the World Cup, have only been off the podium twice going back to last January, and are looking to add to their total of three Olympic medals next month.
Toni Eggert and Sascha Benecken edged out the Latvians by 0.03 of a second as the Germans recorded the two fastest legs of the competition. They captured their 49th tour title but are still chasing the leaders. Tobias Wendl and Tobias Arlt, four-time Olympic gold medal winners, were in third place in a time of 1:24.049. Wendl/Arlt captured their 46th event last week, giving the nations top two doubles sleds a preposterous 95 total victories combined.
With nine of 13 World Cup races now in the books, Team Sics has 673 points, Eggert/Benecken 606, Wendl/Arlt 556.
Defending Austrian World Cup champions Thomas Steu and Lorenz Koeller, with two gold and two silver medals thus far, were absent in Latvia this week. Steu broke his foot early in the season and reportedly wanted some time off to continue the healing.
At first glance, it appears that in addition to Germany, unofficially, teams from Austria, Russia and Latvia will receive the maximum two doubles sleds in Beijing.
The U.S. will have DiGregorio/Hollander in Beijing in doubles and to anchor the team relay. But for the moment, it's about the wonder of the team's newest pairing having the run of their lives when it mattered most.
"From Jayson Terdiman being an amazing coach and teammate to us this year, to Chris who has been my role model since I first started luge, it's been an absolute honor to get to race and train with them," added DiGregorio. "Duncan and Dana have been some of my best friends since I've started doing luge, and forever thankful to have them by my side through everything, so when it comes down to it, the best way I could describe the past two days is extremely thankful because without every single person surrounding me helping me, this dream would've never been possible."
The Sigulda World Cup concludes Sunday with women's singles at 3 AM EST followed by the Sprint Cup. Live streaming is offered on Olympics.com.