Oberhof World Cup concludes, setting up women's showdown in season finale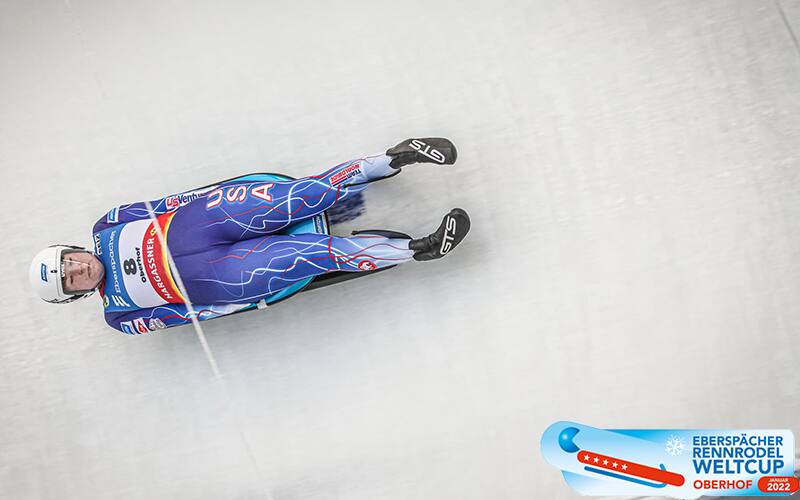 Ashley Farquharson in action in Oberhof, Germany on January 16, 2022. Photo FIL / Mareks Galinovskis
OBERHOF, Germany – Ashley Farquharson carried the flag Sunday for USA Luge as the Eberspacher World Cup stop came to an end with women's singles and the team relay.
The Park City, Utah resident finished in a tie for 23rd place in the singles race. Her teammates did not compete as Emily Sweeney, of Lake Placid, N.Y., and Summer Britcher, of Glen Rock, Pa., sat out the event.
Sweeney rested her neck this week and will return for the season finale in St. Moritz. Britcher, meanwhile, broke a finger last weekend in Sigulda and cannot start comfortably. She did take one training run and entered the Nations Cup, but without the ability to accelerate the sled at the start by paddling with her spiked gloves, her efforts were hampered.
All three American women will be nominated to the United States Olympic & Paralympic Committee for official inclusion in the upcoming Beijing Winter Games. The Opening Ceremony is 19 days away.
For Sunday's final race – the team relay – USA Luge was out of the lineup with no doubles teams on site. The same will occur next weekend at the final team relay in St. Moritz.
Olympic nominees Zack DiGregorio, of Medway, Mass., and Sean Hollander, of Lake Placid, the lone U.S. doubles sled headed to Beijing, are getting many training runs in Park City for the next two weeks. They are using a Jayson Terdiman sled which they believe will afford them more speed. Terdiman, a two-time Olympian from Berwick, Pa., is on site with them, along with Head Coach Robert Fegg and local women's team member Brittney Arndt.
DiGregorio/Hollander won the winner-take-all Nations Cup tiebreaker in Sigulda as none of the three teams had secured a qualification tier.
Dana Kellogg, of Chesterfield, Mass., and doubles partner Duncan Segger, of Lake Placid, have returned home to continue training at Mount Van Hoevenberg in Lake Placid. Terdiman, with his front man Chris Mazdzer, of Salt Lake City, were eliminated from Olympic consideration with an unexpected race-off crash in the Sigulda Nations Cup.
On the season, the Americans scored World Cup silver and bronze in the team relay.
WOMEN'S SINGLES
Madeleine Egle, of Austria, had enough of a first heat lead, helped by a start record, to withstand a second run rally by German Julia Taubitz, and claim her fifth World Cup victory in her break-out season.
"Unbelievable how Julia drove in the second run," praised Egle. "I'm glad that it was still enough." Added German head coach Norbert Loch, "Madeleine shows it - from top to bottom twice sparkling clean runs. Then you are also in front."
With temperatures in the 20s, some fog and fast ice, Egle posted a combined time of 1 minute, 24.074 seconds, just 0.02 ahead of Taubitz. The World Cup chase, after 11 of 12 events, will be determined next weekend in St. Moritz with Taubitz holding a 57-point advantage over her new rival. The tour leader has four gold medals and five silvers to date this year.
"I'm really looking forward to St. Moritz," said Egle. "It's a track I haven't raced on that often."
The home nation, which traditionally dominates in Oberhof, placed second through fifth. Anna Berreiter was third, 0.26 of a second from Egle. Four-time Olympic champion Natalie Geisenberger placed fourth, with Cheyenne Rosenthal in fifth.
As was the case in Saturday's competitions, the athletes with the quickest getaways from the handles dominated the race.
Berreiter is third in the overall World Cup rankings; Geisenberger is fourth.
Taubitz, Geisenberger and Berreiter will represent the nation at the Beijing Olympic Winter Games.
Egle's teammate Hannah Prock was sixth and perhaps made a last-ditch statement for inclusion on the Olympic team.
Farquharson's total time was 1:25.315. She stood 16th at the intermission, but her final attempt never got on track on this short, luge-only course.
TEAM RELAY
Germany won its second team relay of the season with a convincing gold medal time of 2:21.536. Their quartet of Taubitz, Saturday winners Johannes Ludwig and the team of Toni Eggert/Sascha Benecken, all registered best heat times in defeating Latvia, anchored by brothers Andris and Juris Sics, by over 0.5 of a second. Austria claimed third place.
Five of six team relays have been held to date, with Germany leading by 31 points over Austria. Latvia is third and Russia fourth.
USA Luge dropped from third place to sixth, having raced in only four of the five races.
On the weekend, Germany captured eight of the 12 World Cup medals that were handed out. Austria, with two medals, and Italy and Latvia with one each, took what remained.
The Oberhof stop, part of the final three events of the year that will be used to determine the Olympic A seeds and ensuing rankings, essentially assures Germany that all their sleds will have priority seeding. The nation hosted three events in 2021-2022, a massive advantage in terms of maximizing Olympic allotments and Beijing race positioning. Other countries, such as the U.S. and Canada, had no home races and did not max out their allotments.
However, with the Beijing events to be held at night in cold temperatures, coupled with limited fields, it stands to reason that track conditions at Yanqing will be equitable for all starters. The nighttime forecast for the sliding center over the next two weeks indicates average temps in the mid-teens.
At the World Cup final in St. Moritz, overall titles will be decided in women's singles, doubles and the team relay. Ludwig ended the men's suspense Saturday with his fifth win, thus clinching the Joska crystal.