USA Bronze in Sigulda relay
DiGregorio/Hollander make first World Cup podium appearance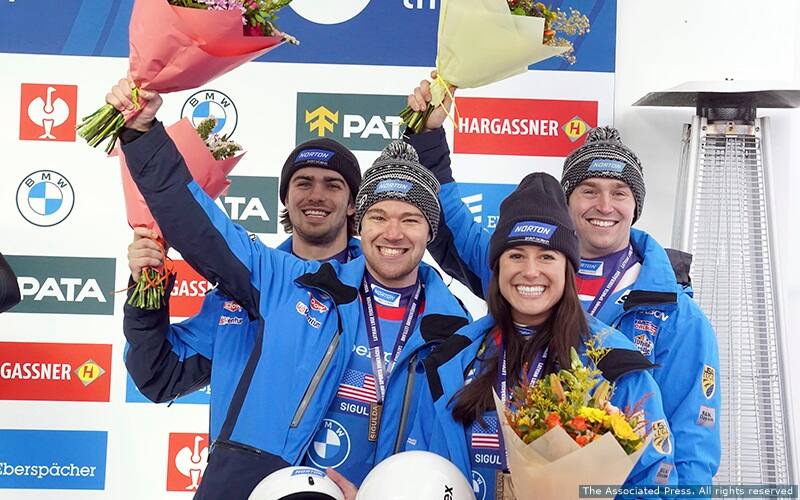 Third placed team USA, from left, Sean Hollander, Zachary Di Gregorio, Emily Sweeney and Tucker West, celebrate during award ceremony of the team relay race of the Luge World Cup race in Sigulda, Latvia, Sunday, Jan. 8, 2023. (AP Photo/Roman Koksarov)
SIGULDA, Latvia—The FIL Luge World Cup continued today in Sigulda, with Team USA winning the bronze medal in the relay event. Zack DiGregorio and Sean Hollander, who anchored a team that included Emily Sweeney and Tucker West, notched their first World Cup podium appearance.
Team Relay
Sweeney (Lake Placid, N.Y.) was the first sled to hit the ice for the United States, putting the team in second place. West (Ridgefield, Conn.) followed, setting the fastest reaction time out of the start gate and the third fastest finish time. DiGregorio (Medway, Mass.) and Hollander (Lake Placid) also posted the third fastest time of the race, giving the quartet a bronze medal with a time of two minutes, 12:948 seconds.
"It feels amazing to get our first World Cup podium today," said DiGregorio, a 2022 Olympian. "We have been close in the past, but to finally do it was great. The whole team performed top notch, so hoping we can try and make another step next weekend."
Hollander, also a 2022 Olympian, added: "A huge thank you to all the support we've had, from teammates to coaches to family and sponsors. The whole operation made this happen today. We couldn't be more thankful for everyone involved and cheering us on."
Coming off a fourth place finish in yesterday's women's singles race, two-time Olympian Sweeney said, "Yesterday was pretty rough so that's why I was a little tentative coming out of there so I wish I could have done better, but with third, we are happy."
"It's always a difficult jump to go from men's start to women's start as the lines are similar but the slower speeds change your lines for sure," said West. "Sigulda is a scary relay. The pad comes quick, and the upper curves are a little different than from the top. I'm just happy to keep it sealed down and come out with a medal."
An FIL Studio video interview with the U.S. relay team can be found here:https://www.youtube.com/watch?v=ejs-MWNcUag
Team Latvia, comprised of Elina Vitola, Kristers Aparjods and the doubles team of Martins Bots and Roberts Plume, won the gold medal and secured a track record in 2:12.111. Germans Dajana Eitberger, Felix Loch, Tobias Wendl and Tobias Arlt took silver with a time of 2:12.339.
Germany and Latvia are tied for first place in the World Cup overall standings with 185 points, with Team USA in third with 125 points.
Men's Singles
Latvia's Aparjods reached the podium for the first time this season, winning the gold medal on his home track with a time of 1:35:228. Aparjods also secured a track record in both heats. That mark now stands at 47.613, set in the second heat. Max Langenhan of Germany took silver with a time of 1:35.481, and Italy's Dominik Fischnaller took bronze with a time of 1:35.495.
Three-time Olympian West completed two clean runs, landing him in 10th place with a time of 1:36.358. West's teammate, Jonny Gustafson (Massena, N.Y.) experienced a crash at the exit of curve 14. He recovered and finished the race but was disqualified for losing sliding equipment. As a result, Gustafson will compete in the Nation's Cup to qualify for the second Sigulda World Cup next weekend.
Fischnaller leads the overall standings with 465 points, Germany's Wolfgang Kindl is in second with 372 points, followed by David Gleirscher of Austria with 351 points. U.S athletes are led by West in seventh with 257 points and Gustafson in 12th with 210 points. 2018 Olympic silver medalist Chris Mazdzer only competed in North America and finished his season with 114 points.
World Cup action continues in Sigulda on January 14-15. To watch all races live and to view archived competitions, please visit the FIL's YouTube channel:https://www.youtube.com/@FILLuge_Channel. The entire World Cup and World Championship season can be accessed from this portal.