World Championships end in Oberhof; USA places fifth in team relay
Austria's Jonas Mueller takes gold in men's race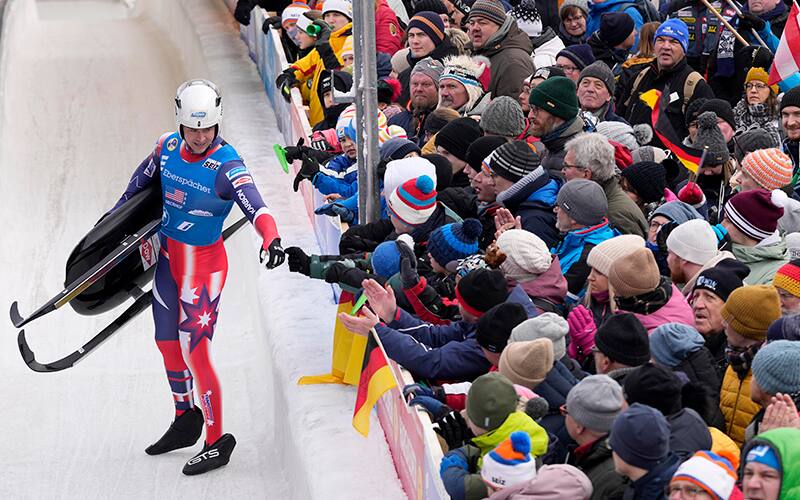 Tucker West of the United States celebrates during the team relay race at the Luge World Championships in Oberhof, Germany, Sunday, Jan. 29, 2023. (AP Photo/Matthias Schrader)
OBERHOF, Germany –The 51st FIL Luge World Championships concluded today with men's singles and team relay races at the LOTTO Thüringen EisArena Oberhof. The United States team finished fifth in the team relay, while Tucker West and Jonny Gustafson placed 13th and 15th, respectively in the men's race.
Austria's Jonas Mueller robbed Germany of a gold medal sweep at these championships, however, the home team fought back in the relay, winning their ninth medal of the meet.
Men's Singles
Mueller won his first World Championship gold with a time of one minute 25:478 seconds, with Germany's Max Langenhan placing second with a time of 1:25.582. 2018 Olympic gold medalist David Gleirscher of Austria placed third with a time of 1:25.599.
Three-time Olympian Tucker West (Ridgefield, Conn.) had a difficult second heat and finished in 13th place with a time of 1:26.463. Teammate Jonny Gustafson (Messina, N.Y.) placed 15th with a time of 1:26.574.
"Today's race wasn't exactly what I was hoping for. My first run was decent; however, I had some weird issues on the second run," said West. "In the end, I only dropped back two spots, so it wasn't the end of the world for the place I was competing for. The gap to the top sleds was just too large today. As is evident from the results of all the disciplines, there was just no competing with Germany and Austria's technology this weekend. We'll regroup and try to learn from this race weekend and hopefully bring some more speed to Altenberg."
Team Relay
Team Germany ended the World Championships with a golden exclamation point and taking 18 out of the 28 available medals. Anna Berreiter, Max Langenhan and the duo of Toni Egger/Sascha Benecken, won with a time of 2:22.266. In a tight race, Austria took home silver with a time of 2:22.289. Latvia got their first podium finish of the championships, a bronze, with a time of 2:22.666.
Team USA, led by Summer Britcher (Glen Rock, Pa.), West and the duo of Zack DiGregorio and Sean Hollander were fifth with a time of 2:23.229. DiGregorio (Medway, Mass.) and Hollander (Lake Placid, N.Y.) stood at the top of the podium during the medal ceremony for the U23 race held yesterday.
World Cup action continues in Altenberg, Germany on February 4-5, 2023. To watch the races live and to view archived competitions, please visit the FIL's YouTube channel: https://www.youtube.com/@FILLuge_Channel. The entire World Cup and World Championship season can be accessed from this portal.