Day in the life with Tucker West
A Day in the Life with Tucker West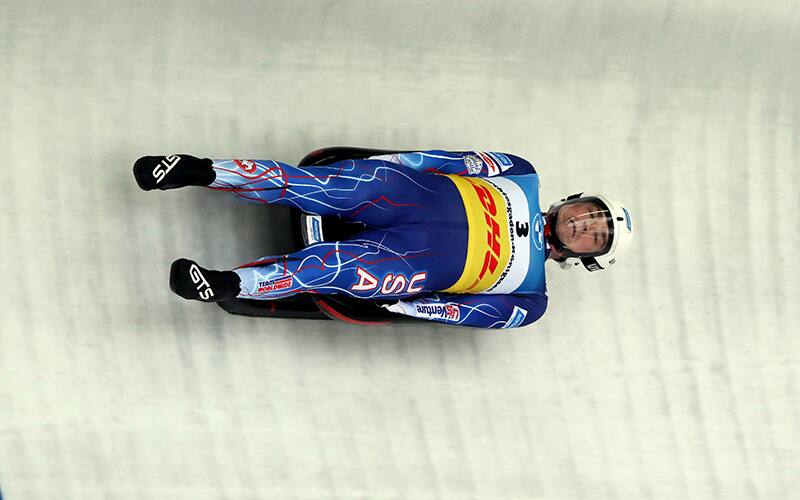 Hi! I'm Tucker West, I'm 26, and I compete in the Men's Singles discipline. I'm currently living and training in Lake Placid, NY.
Wake up- 7:00 AM
Breakfast: 7:15-7:45 I live offsite from the Olympic/Paralympic Training Center (OPTC) so I like to eat breakfast at home before heading in for training. A typical breakfast for me is an egg, sausage, and pepper breakfast burrito that I meal-prepped the week before and a coffee.
Training specifics: 8:30-9:15 Warmup at the OPTC. We work through a warmup to prepare our bodies for the day of training. Warmups are important for performance and injury prevention. 9:15-10:30 Start training. We practice our starts in the USLA's newly renovated start facility. What I am specifically working on in my start varies depending on the time of the offseason. Now, as we are coming to an end of the offseason I am working on speed, which means pulling starts on our steeper ramp and making sure my paddle turnover is quick. Also, now that our ramps are longer I have been putting an emphasis on practicing settling into the sled. 10:30-12:45 Lifting. After starts, we move back over to the OPTC to work on our strength training in the weight room. Again, my focus shifts depending on the time of year. Currently, we are transitioning into a power/speed phase, which means lower reps, higher weights, and faster bar speed. 12:45-1:15 Warm down and recovery. I try to do some form of stretching or recovery everyday after training. This helps my flexibility, which is important in the start, and also aides in injury prevention.
Lunch: 1:15-1:30 I eat lunch at the OPTC because it's convenient for me to grab before heading home after training. A typical lunch is chicken, rice, and some sort of vegetable. I'll also usually grab a protein bar to snack on later in the day before leaving for home.
Downtime: 1:45-2:45 My girlfriend Raychel Germaine and I got a dog over Christmas! When I get home from training I like to take him outside for about an hour. 3-? After taking Ziggy out, I usually start my schoolwork. My workload really varies, but that can take anywhere from 1-2 hours to the rest of the night. I graduated a couple weeks ago, though, so I have no idea what I'll fill my free time with now. That's still TBD!!
Dinner- 6:00-6:30 Since Raychel and I are fairly busy during the day, we use HelloFresh for our dinners because it's more convenient than planning and buying food for the week. The meals are actually fairly well balanced to get the nutrients I need to perform athletically, plus it's fun to cook with Raychel!
Bedtime- 10:30 I try to get to bed by 10:30. Sleep is so important for recovery, so I try to stay as consistent as I can with this. It doesn't always work out but I do my best.