Emily Sweeney silver in Austria!
U.S. men's and women's doubles place four in top ten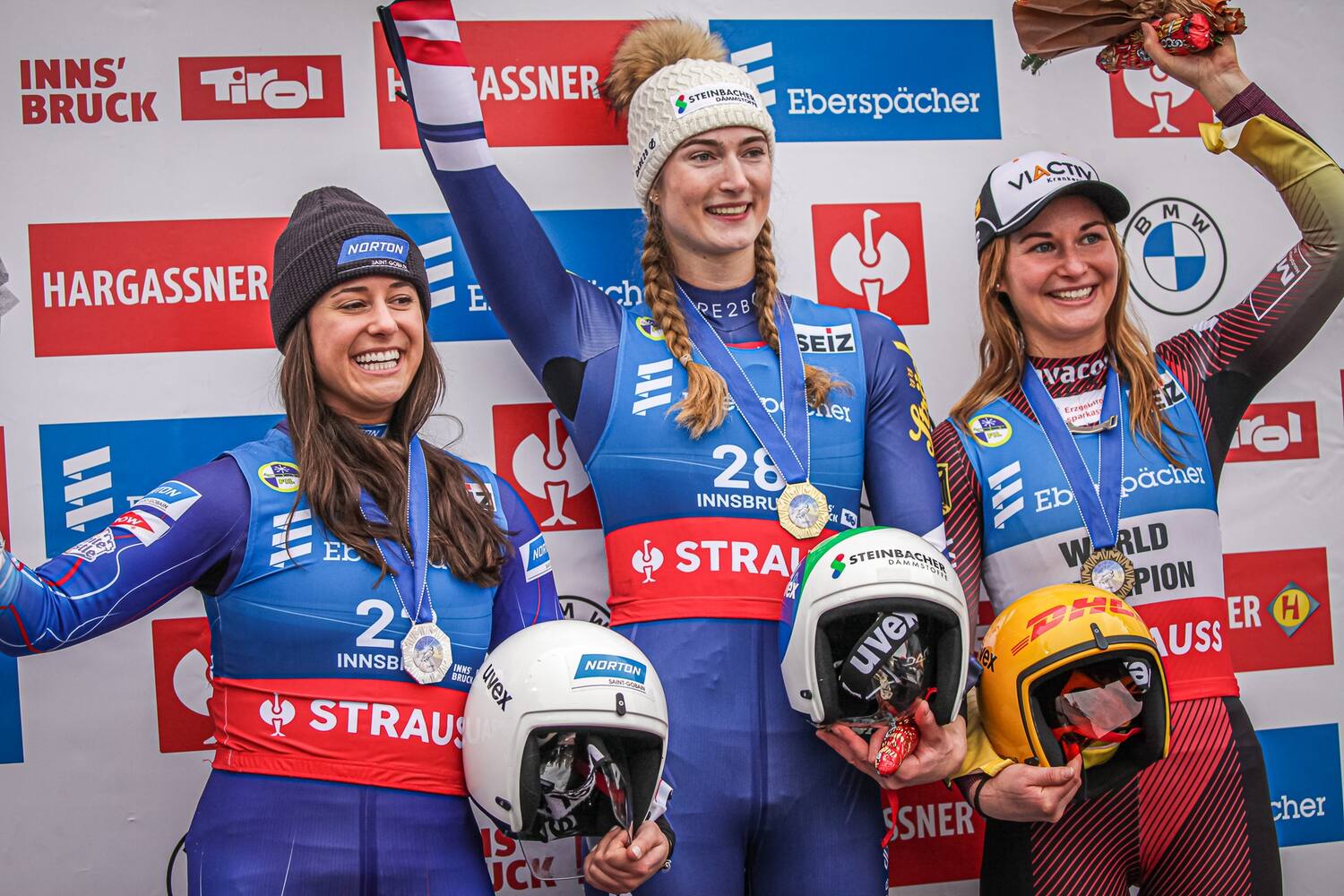 Above: Emily Sweeney, let, wins silver in Igls, Austria. Photo:FIL / Mareks Galinovskis
LAKE PLACID, N.Y. –USA Luge athlete Emily Sweeney took home the silver medal today as international luge competition began at the 45th Eberspächer FIL World Cup in Igls, Austria.
After winning Friday's Nations Cup qualifying race, Sweeney, of Lake Placid, was in the middle of a very intense podium battle. She had a strong first run with minor mistakes clocking a time of 39.718 seconds. She was in third place behind Austria's Madeleine Egle, who inched out a track record of 39.701, and Germany's Julia Taubitz with 39.714. The final heat saw an excellent run from Sweeney and series of small mistakes from Taubitz, who slipped into the third by .032. Sweeney won the silver medal with a time of one minute 19.404 seconds. Egle took home the gold with a time of 1:19.188.
The last time American women opened the season with a podium finish in the World Cup was in 2019 when Summer Britcher, of Glen Rock, Pa., won silver.
"It was a really good day, and my runs were pretty good," said Sweeney. "My first run had a little bit of a bobble at the start and a really good save, and my second run was awesome. Team USA showed a lot of speed throughout all the disciplines today, and Summer and I had our first doubles race, which was exciting and a really great way to start off the season!"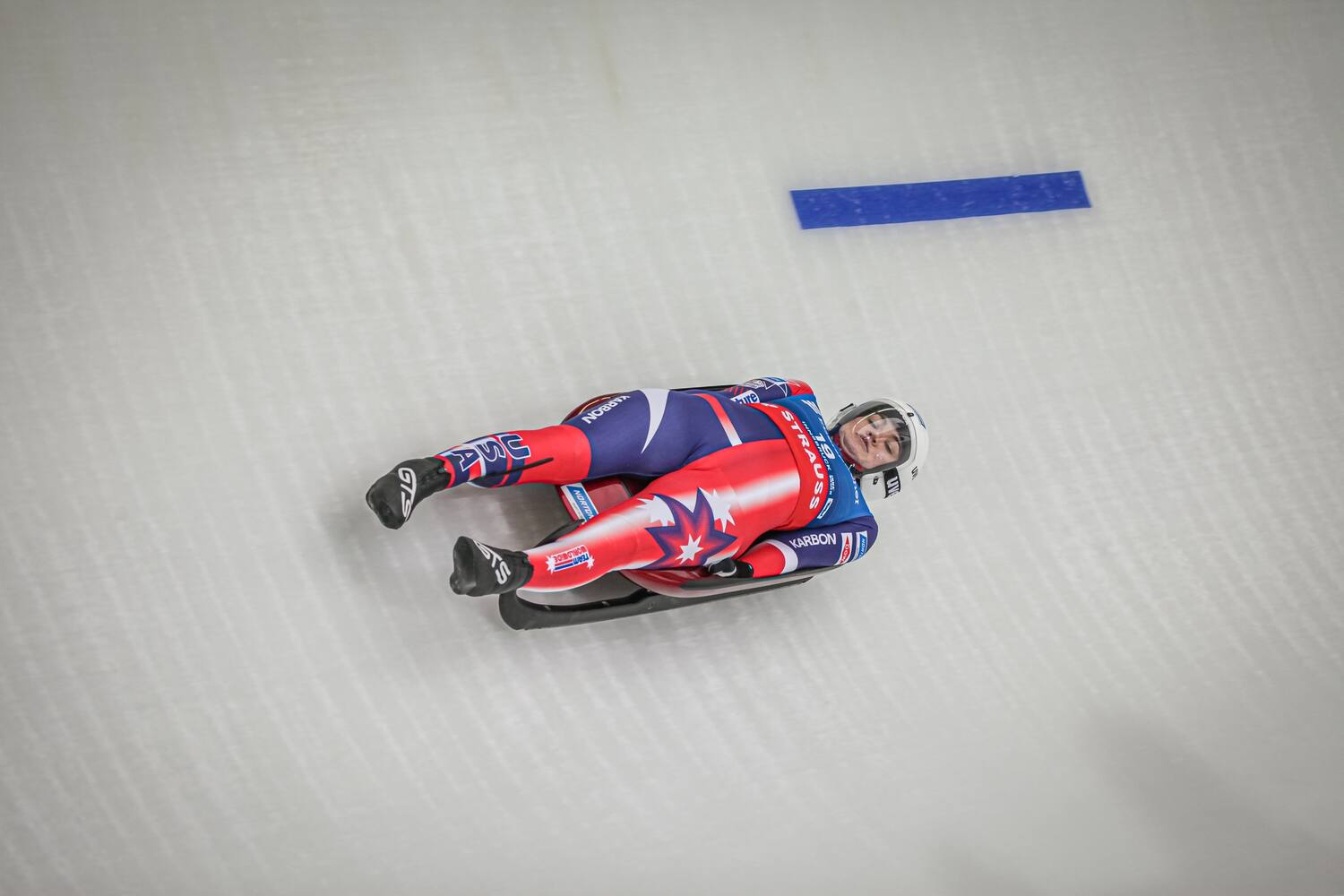 Above: Summer Britcher. Photo: FIL / Mareks Galinovskis
Also in the top ten for the American women was Ashley Farquharson, of Park City, Utah, who experienced a fast first run and finished in seventh place with a time of 1:19.696. Britcher showed consistency across both runs and the fastest start time of the second heat, placing her in ninth with a time of 1:19.708. Britany Arndt, of Park City, Utah, finished in 19th place with a time of 1:20.106.
The first race of the 2022-23 season was a significant milestone for gender equity in luge. Today's race marked the first time women's doubles used the same starting point as the men's doubles athletes. It also marked the first time the women are competing together with the rest of the World Cup. For the 2021-22 season, the women's doubles World Cup traveled in conjunction with the Junior World Cup tour. Now that the discipline has been added to the 2026 Olympic schedule, the women's doubles athletes travel with the rest of the Olympic-level athletes on the World Cup tour.
Selina Egle and Lara Kipp of Austria won the women's doubles gold medal with at time of 1:20.019, followed by Jessica Degenhardt and Cheyenne Rosenthal of Germany earning silver with a time of 1:20.195, and Italians Andrea Vötter and Marion Oberhofer taking the bronze with a time of 1:20.252.
Making their debut in the field, Britcher/Sweeney were fifth in 1:20.550. Maya Chan, of Chicago, Ill. and Reannyn Weiler, of Whitesboro, N.Y., bronze medalists in last year's overall World Cup rankings, placed seventh. Reigning World Championship bronze medalists Chevonne Forgan, of Chelmsford, Mass., and Sophie Kirkby, of Ray Brook, N.Y., placed eighth.
Forgan/Kirkby struggled with the start on their first run but were .001 off of the start record in the second heat, finishing with a combined time of 1:21.265. Chan/Weiler experienced a slower start on their second run but crossed the finish line faster than their first heat with a race time of total 1:20.788 in the seventh spot.
With more than 35 combined medals between them as singles athletes, Sweeney/Britcher raced consistently strong and improved from their first run, maintaining a fifth overall place with a time of 1:20.550. The pair began training together in July 2022 shortly after the International Olympic Committee announced women's doubles would join the Olympic schedule.
A significant change in the rulebook required a total redesign of sleds for the men's doubles field this season, with the goal of lowering the center of gravity to promote safety. The rule change didn't seem to slow down the home team as the Austrians made history with the country's first podium sweep in the discipline. The U.S. team of Zack DiGregorio and Sean Hollander posted their best-ever result in eighth.
The Austrian sweep was led by Thomas Gatt and Martin Schöpf with a time of 1:18.915. They were joined on the podium by teammates Thomas Steu and Lorenz Koller, in second. Steu/Koller, who won in Igls last season, established a new track record of 39.387 in the first heat and finished with an overall time of 1:18.994. Rounding out the podium were Austrians Yannick Müller and Armin Frauscher, who took home the bronze medal with a time of 1:18.988.
Following their Olympic debut at the 2022 Beijing Games, DiGregorio, of Medway, Mass., and Hollander, of Lake Placid, were the fastest U.S. team today, placing eighth with a time of 1:19.100. However, a third-place finish time on the second run showed the young team's true potential. Additionally, the duo battled for the start record all day with the Italian team of Ludwig Rieder and Patrick Rastner. The Italians, who consider Igls their home track, set the start record of 1.994 in the second heat. DiGregorio and Hollander's fastest start was 2.001, also in the second heat.
"Today was a big step for us, both being competitive at the start and competitive in the finish times," said DiGregorio. "With it being such a close race and some mistakes in the first run, it was great to throw down the second run and have a third place finish time. A start record today was also amazing and shows the work we have put in with Mandi (Hillebrand, USA Luge start coach) over the summer has been worth it. Looking forward to next week and hoping to clean some things up and keep the speed we have shown."
Dana Kellogg, of Chesterfield, Mass., and Duncan Segger, of Lake Placid, showed good speed and lines, but curves nine and ten proved troublesome for the team, and they placed 17th with a time of 1:20.363.
Men's singles begin their World Cup season tomorrow, December 4, from Igls, followed by the Sprint races, featuring the top 15 finishers in all four disciplines racing just one run for a chance at the podium.
EBERSPÄCHER World Cup action continues next weekend in Whistler, and then returns to the U.S. for the first time since 2019 on December 16-17 in Park City, Utah. World Championships are slated to take place in Oberhof, Germany on January 27-29, 2023. To live stream the races and to view archived competitions from Igls, please visit the FIL's YouTube channel: https://www.youtube.com/@FILLuge_Channel. The entire World Cup and World Championship season can be accessed from this portal.